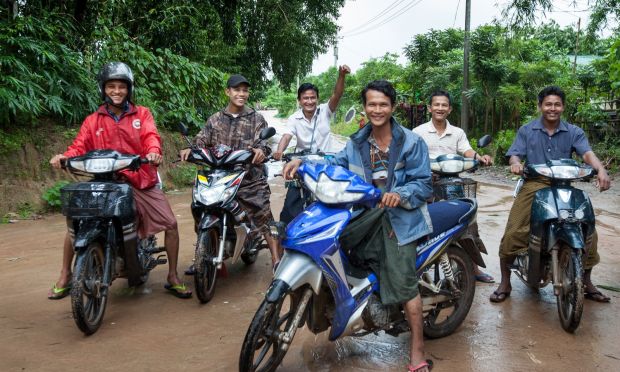 Anyone is able to achieve great results for oneself, family and even for the communities around them when appropriate support such as financial, technical or psychological is given to them. This statement is being proven right through the example of a Community Based Organisation (CBO) in Lat Yat San village, consisting of a group of volunteers when their sale of motorbikes with hire purchase becomes successful over the years.
Lat Yat San is one of the villages in Thanlyin Area Development Programme where World Vision is Myanmar implementing development projects.
Even though agriculture has always been the main source of livelihood for the people of Lat Yat San village, the income earned has never been sufficiently enough for the residents to meet their families' needs.
Acknowledging this reality, the CBO decided to explore other options to raise fund for their group. They also realised that motorbikes are essentially, the mode of transportation in Thanlyin town including Lat Yat San village on the outskirts of the town. It's then when the CBO committee came up with this brilliant idea of selling motorbikes on hire purchase and consequently pitched the idea to World Vision.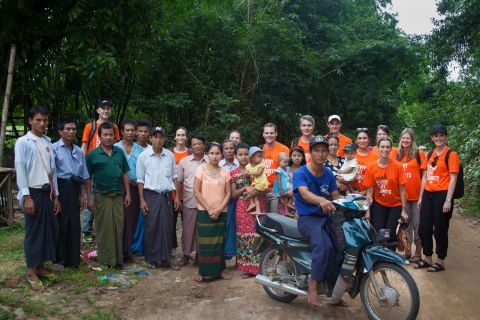 To start the CBO off, in 2014, World Vision supported the initiative by donating three motorbikes worth approximately 1.5 million Kyats (equivalent of $1,400 US).
The cost for each bike is 500,000 Kyats, (approximately $450 US) and the buyer has to pay back 90,000 Kyats ($80 US) per month within a period of six months.
In total the CBO receives 588,000 Kyats ($490 US) from one bike after six months. Therefore, the total profit for three bikes is 264,000 ($200) Kyats.
According to the CBO members, the business is a success, however they say the demand for motorbikes is higher than they can meet.
"Since everyone wants to buy motorbikes on installments, we have to carefully select who we should sell to. When choosing a potential buyer, usually, we prioritise a person we have carefully determined is needy but also look at their good personal attitude as well as assess their ability to pay back regularly," said U Myint Khaing, the Chairman of the health committee.
Noted impact
Lat Yat San CBO started with the three motorbikes in 2014 and by mid 2017, they had sold 97 bikes, earning 7,744,000 kyats ($ 5700) in profits.
As a result, the members have been able to meet their families' health expenses. For maternal health care, they support 30,000 Kyats to any pregnant women with financial difficulties to go to hospital for delivering babies and 15,000 Kyats for those who deliver at home. The profits also go toward supporting members with emergencies and for the elderly and poor households.
Selling motorbikes on hire purchase system really made an impact on the people of the village. 30-year-old U Than Win and U Ye Win Naing, who purchased motorbikes through the CBO, is one shinning example. U Than Win, used to work at a construction site where he earned a paltry 7,000 Kyats ($ 5) daily. "The $5 was not enough for me to support my wife and our one and half year old daughter," said U Than Win. After buying the motorbike, things started to slowly change for the better for him and his family. Now, he's using the motorbike as a taxi.
"I get up at five in the morning and am on the road transporting passengers until seven in the evening". U Than Win now earns between 15,000 and 20,000 Kyats ($10-15) daily.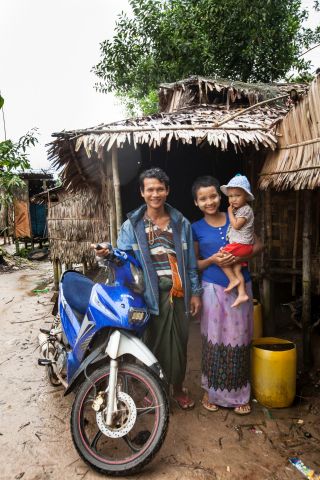 "Now I am earning enough to pay back to the CBO each month and have some to meet my family's needs. Having the motorbike is not only earning me much better than the construction site, but also when there's an emergency especially at night, I am able to rush quickly and offer transportation.". I really want to thank the CBO and World Vision for making this possible."
27-year-old U Ye Win Naing is also purchased a motorbike from the CBO. The father of one and a half year old child works as a daily laborer in the iron works business. The motorbike not only earns him additional income from operating it as a taxi, but it also transports him to his workplace.
"The motorbike has given me two sources of income and I am also relieved that I do not have to spend so much money on cycle taxi like I used to. So now I can save up for my family," U Ye Win Naing said.
For now, the CBO is selling only three motorbikes monthly but as the demand keeps growing, Lat Yat San CBO is putting all efforts to expand their business and raise more funds by selling more motorbikes in order to make more profit for the group.
"Since we are using all the profits for medical support for the members and meeting other urgent needs, we do not have enough money to invest back to the business in order to buy more bikes to sell. So, we would really appreciate if World Vision could help us address this issue," said one of the health committee members.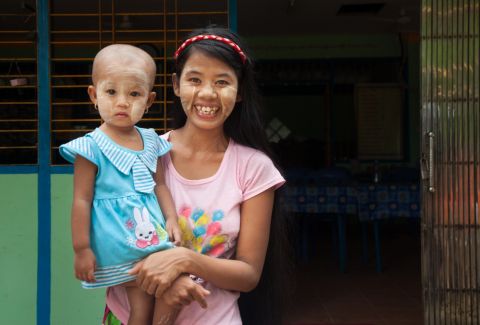 To promote sustainability of this initiative, World Vision has connected the CBO with the motorbikes business dealer, that way they can deal directly. Coupled with the enthusiasm of the members, World Vision is fully confident that the CBO will be able to go on even when the project comes to an end.
Alongside the motorbike business, Lat Yat San CBO is also running other income generating activities that include vegetable production and chicken rearing.
Thanlyin is one of the Area Development Programmes funded through World Vision Australia. World Vision has been operating in Thanlyin for about nine years and is also supporting other initiatives such as livestock keeping and provision of seeds for agriculture.