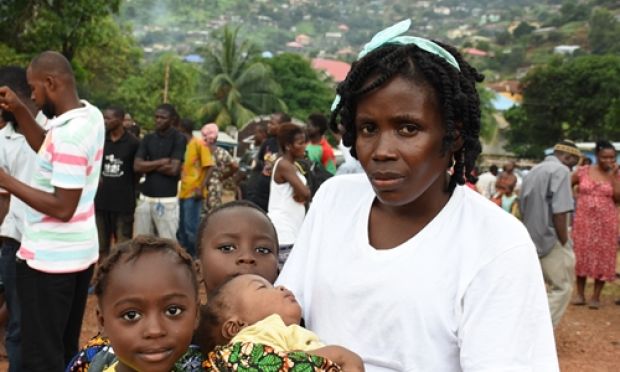 Twenty-nine-year-old Gifty lost her mum to the flood and lost her property. Her five-month old baby, Mary, caught some severe cold due to extreme exposure after the flood. ''My daughter has been suffering pneumonia after the flood. We have been sleeping in the open air. To worsen the situation, My children and I have been sleeping on the bare floor, she says.
Gifty is also scared and concerned about the health of her seven-year-old twins, Cecelia and Andrew, all of whom sleep on bare floor. ''Mary is not the only one I am scared about. I am equally worried about my twins. I don't want them to fall ill.

The catastrophic flashflood and mudslide that hit the capital, Freetown, is headlining most international and national media. Death toll, according to authorities, is over 400, with 600 people missing and thousands displaced. Dozens are also injured and hospitalized.
 On August 17 2017, the Government of Sierra Leone expedited a mass burial of fallen brothers and sisters. A total of 300 corpses were laid to rest at the Waterloo cemetery in the outskirt of Freetown. Dead bodies are still being exhumed along beaches, river sides and drainage, often they are too disfigured for identification.
The sound of the siren is very familiar to Sierra Leoneans now. It brings back memories of the Ebola virus that unsparingly claimed many of their lives.
As flashflood and mudslide claim the lives of hundreds of people, and leave many homeless, World Vision responds with providing non-food items (NFIs). World Vision's donation of NFIs has benefited over 3,000 people so far, in the Kamayama Extension, Kamayama Pentagon, Wilberforce, Gbangbayilla communities in Sierra Leone. 

Children hit by flashflood in Kamayama did not only lose parents, siblings and personal property, but they also lost educational materials. Schools will officially reopen on September 11 2017 and World Vision wanted to make sure children are able to attend. School bags, books, pens, pencils, mattresses among other items, were distributed. World Vision's response to this crisis extends to areas of health, water, sanitation, hygiene and child protection.
The organisation gave out water purification powder in all communities, while demonstrating healthy tips for purifying water for consumption. The P&G water purification tabs are used to purify contaminated water. It turns dirty, contaminated water to a cleaner and purified water (within five minutes) for immediate consumption.
Distribut
ion of non-food items—especially mattresses by World Vision, is well appreciated by many. Each household receives two mattresses, among many more items. Gifty says this about the mattresses she received from World Vision: ''I was worried about my child's health. She has severe cold and we have been sleeping on the bare floor. But with these mattresses I have received, I and my children will no longer sleep on bare floor.''
Like Gifty and her children, 28-year-old Amie from Gbangbayilla community, also appreciate the mattresses.
Sitting on her newly-gotten mattresses, she

says: ''right now, where I sit, I am cold and headachy. I have been sleeping in the open and on the bare floor. I am short for words for these mattresses. This thing World Vision has done for us is a memorable one.'' Amie did not lose any member of her family, but her landlord who stayed in the same building with her died during the twin disaster. Their house was swept away completely.
James Chifwelu, national director of World Vision Sierra Leone, says: ''As an organisation, we value the welfare of children and families, which is why we are responding in this manner. Children need all the love, care and affection. We would like to treat them as we would, our own.''
Gifty appreciates the mattresses as much as she does, the education materials. ''World Vision has helped us solve multiple problems. We no longer sleep on bare floor, and we have begun planning for our children's return to school,'' Gifty concludes.
World Vision's response to this crisis is in Health, Water Sanitation and Hygiene (WASH), Child Protection.