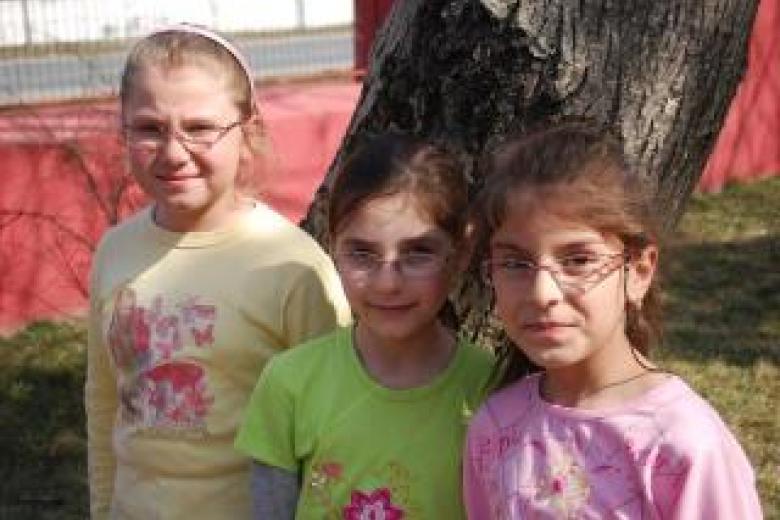 Maria, 8, sees clearly again & thrives in school with World Vision's help
Friday, August 12, 2011
But for this young perfectionist, the ease and enjoyment of study changed when in the third grade Maria's eyesight began to deteriorate. Initially her parents didn't address her complaints and Maria didn't speak up in the classroom for fear of being labeled either a liar or lazy. Maria put on a brave face but in reality her eyesight only worsened until she couldn't see to read at school or watch television.
"My eyes hurt me very much and a dense fog scatted over my view every time I tried to read on the table and to write in my copy book. I would squint my eyes and force myself to see the words. Many times I was seeing two notebooks instead of one and was putting out my hand to see which one was real. I saw double for an entire month", Maria remembers.
I would squint my eyes and force myself to see the words. Many times I was seeing two notebooks instead of one...
A social worker with World Vision noticed that Maria was struggling to focus. From that moment, Maria's clouded world began to clear.
"When I took Maria's monitoring picture, I saw that her eyes looked in different directions. I asked her to look straight into an object and she couldn't do it. By chance, an ophthalmologic doctor was in Cobadin, checking elderly people and I asked him to check Maria's eyes", recalls Anisoara Orascu, World Vision social worker from Cobadin.
Anisoara learnt that Maria's elder sister, Cristina, also had an eye condition but that Maria's condition was more serious. Maria and Cristina underwent a more thorough examination, funded by World Vision and Maria was diagnosed with severe strabismus (crossed-eyes).
The most recent available statistics on ophthalmological conditions in Romania, documented in the National Report released in 2007 by the Romanian Public Health, revealed that Constanta, Cluj and Arges Counties and the capital Bucharest are home to the majority of children with eyes problems.
I will become a good physician and I will cure sick, poor people
Doctors suggest that parents ensure their child undergoes their first ophthalmological check at age three in order to correct any eye problems as soon as possible.
Earlier intervention for Maria would have revealed that her eye muscles weren't developed properly and she needed glasses as soon as possible.
World Vision not only covered the costs of the examinations and transport for Maria, Cristina and another 14 children from Cobadin village, but also purchased two pairs of reading glasses for each child.
For these students who were struggling to keep up at school because of their eyesight, the future suddenly looks very different.
"I will become a good physician and I will cure sick, poor people", shares Maria, about her dream for the future".
"I was surprised to hear that my girls had these problems with their eyes. World Vision's help was extraordinary because it has impacted the children's health and their future. We are really thankful for this support because the cost of the glasses is the same as my husband's monthly salary and we cannot afford to pay this for the girls", says Claudia, their 43-year-old mother.
Maria now reads without any problems and continues to achieve good results at school. Is she self-conscious about wearing her glasses? Absolutely. She's happy with her pink, modern pair of glasses that she chose herself in Constanta and which earn the admiring glances of her classmates.
With consistent use, the glasses should help to correct Maria's eyesight and help her to be the physician she dreams of becoming.
World Vision's social outreach and assistance to students like Maria are part of a broader programme that seeks to ensure all children enjoy good health and are educated for life.
-Ends-