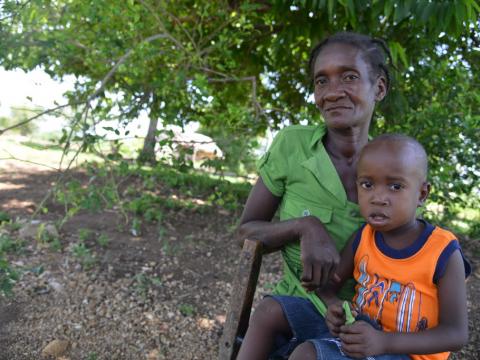 New agricultural techniques to reduce malnutrition
Tuesday, September 1, 2015
By projecting an admirer look at her latest son who stands on her legs, Simone, 40, is a relieved woman. "My boy is resurrected," she says. If she speaks of resurrection, it is simply because she lived in pain the worsening health status for the last of her eight children.
The shiny face little boy was supported through the therapeutic project of the OKODEM Area Development Program (ADP). "He had just the bones under the skin," recalls Simone. "His temperature was often very high and he had acne all over his body."
"Like any malnourished child, we administered him iron and other vitamins," shares Joliette Beaugé, head nurse of the program in the area of the OKODEM ADP through a strategy known as the CSAM (Community Supported of acute malnutrition). "Every Tuesday I take him to the centre to measure his weight," adds the mother, while emphasizing on the fact that she is encouraged to feed her family using food rich in vitamins. "I grow vegetables and beans which are very nourishing for the body," she says with a bit of confidence about the total recovery of her son.
"The fresh vegetables from our gardens are richer than the products from the public market," rejoices Roland, 65.He is the president of the Association of Planters of Calabatte, an area covered by the OKODEM (ADP) Area Development Program. "The number of (PTFA) cases, meaning in French, a child whose weight is considered too low for his age, is getting lower and lower these days, " declares Joliette, while mentioning the benefits of mothers awareness in regard to the nutrition of their children.
Up to 30 mothers meet every Tuesday in a club to talk about the health of their children. "We discuss how to better prepare the meals to ensure the development of their body," reveals Simone. In an effort to help families improve their production in order to reduce malnutrition, training sessions of four hours per week are provided for the planters. Added to this, pumps are installed to facilitate watering the land within dam systems erected in communities according Iliano Bien-Aimé. He has worked for World Vision as an Economic Development Agent for 15 years.
"Without World Vision's support we could not withstand the dry period," admits Gustin Dorisca, 49. The father of seven seems very happy to see his offspring developed in good shape thanks to the consumption of products that are harvested in his own garden.
An average of 30 families receive World Vision's assistance to grow vegetables including but not limited to carrots, beets, tomatoes, eggplants, peppers, etcetera, through two localities registered in the programme.