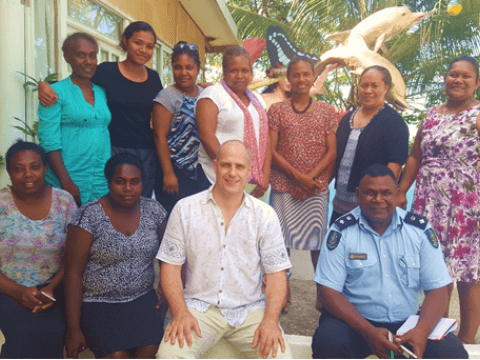 New monitoring and evaluation framework to aid implementation of National Action Plan
Wednesday, December 13, 2017
December 13th, 2017 Honiara - Implementation of the National Action Plan (NAP) on Women, Peace and Security in the Solomon Islands can now be successfully coordinated.
Thanks to World Vision Solomon Islands for making this possible through the development of a Monitoring and Evaluation Framework that will ensure the National Action Plan is implemented and monitored by the Ministry of Women, Youth, Children and Family Affairs (MWYCFA).
An agreement signed by World Vision Solomon Islands with the Ministry of Women on 27th September this year ensured the completion of the framework.
Funded by UN Women through the Peacebuilding Fund, the framework provides the tools to ensure that various initiatives to implementing NAP will be properly monitored and reported. This will also provide opportunities for timely evaluation and necessary adjustments. 
The framework was developed in consultation with key stakeholders who have been actively involved in the development of the National Action Plan. 
Implementation of the Action Plan will also represent the Solomon Islands Government's commitment under the Convention on the Elimination of all forms of Violence against Women (CEDAW) and the UN Security Council Resolution 1325.
World Vision Solomon Islands Interim Country Director, Colin Dyer thanked Director of Women's Development Division at the Ministry of Women, Ms Pauline Soaki, for her leadership and support towards the project.
"I would like to take this opportunity to thank Director Pauline Soaki for her leadership and support to the project. It has been an honour working with the Ministry on this project and we look forward to our continued partnership," he said. He also thanked UN Women for their support towards the development of the framework. "We are also grateful to the UN Women team for their technical and financial support for this project," he added.
Meanwhile, Director Pauline Soaki noted the framework's applicability with other policies under the Gender Equality and Women's Development Policy – Solomon Islands Government's overarching framework for gender equality.
A two-day pilot-testing of the Framework tools was also conducted at Honiara Hotel in November to make the process more inclusive and participatory.
Training for the ministry's staff on how to use the monitoring and evaluation framework will convene once a National Action Plan Coordinator is appointed.
World Vision has been working on women's peace and security concerns in Solomon Islands since 2011, through specific programming to address gender-based violence.
Under its current programming, gender-based violence (GBV) does not occur in a vacuum and that broader peace and security concerns impact women's overall well-being and can increase their risk of experiencing violence.