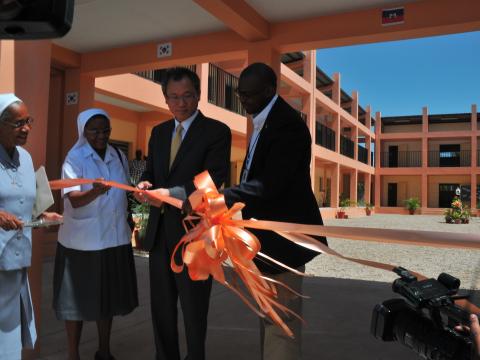 A new school means progress towards a better future for students with disabilities
Wednesday, March 13, 2013
World Vision Korean-funded school inspires parents and authorities in Haiti
"It's like I am still dreaming," says Marie Claude, 43, who can't believe the new 24 classroom school building in Croix-des bouquets is a reality. Marie is the mother of two children with disabilities, Nephtanaelle, 21, and Nicassandra, 22, who have attended the Institut Monfort school since they were respectively 4 and 5 years old.
Following the January 12 earthquake that devastated Haiti and collapsed the old school building, students of the Montfort Institut for deaf and mute children were educated under makeshift tarps and tents. However, since World Vision funded a new building—worth over $1 million USD—  students can now focus on their studies rather than the sun, heat or other distracting elements.
"From now on we no longer have to worry about wind, rainfall or even earthquakes," confidently claims Sister Rose André Fièvre, a nun who manages the school on behalf of the Daughters of Wisdom Congregation, who educates the students with the help of 36 dedicated staff.
All children should access quality education
World Vision believes that all children should have improved access to quality, holistic education. Children with special needs are no exception, and the aims of World Vision Haiti's Rehabilitating Schools and Facilities for Students with Disabilities project are aimed at supporting education for life for all Haitian children.
World Vision's investment in the Montfort Institute will provide sustainable educational opportunities for 350 deaf and mute students. Furthermore, World Vision is providing additional funds to support the rehabilitation of four other schools for children with disabilities throughout Haiti, so many more students will benefit in similar institutions.
Aside from constructing a new, earthquake resistant building for the Institut Montfort, World Vision also provided appropriate furniture. Each of the 24 classrooms are equipped with desks, chairs, boards, and book shelves; and the school boasts 2 storage rooms and 4 toilet blocks.
This school brings hope to those who have been marginalised and forgotten
Mr. Gérald Oriol, Junior, the Secretary of State for the Integration of People With Disabilities, who is disabled himself, could not have been more grateful. "This gift means hope for those who are always marginalized and forgotten in society," he mentioned while alluding to the 800,000 people with disabilities living in Haiti. "On behalf of the Government of Haiti, I must say thanks to all of those who contributed in Korea so that World Vision could build this," he expressed through an inspired voice.
Gratitude was also expressed by Mr. Sae Chul OH, Head of the Korean Agency for International Cooperation. "Today we're giving back what we received from Haiti in the 1950's,"gratefully said Mr. OH, as he remembered what his country received militarily and financially in terms of support in the wake of the Korean War. "Education is the road to hope," he finished.
No other school in Haiti provides educational opportunities for deaf and mute students, so World Vision recognized the reconstruction of this school as a priority. "We could not wait to see this happen," confides World Vision Haiti's National Director, Jean-Claude Mukadi, as he recalls that education is one of the top priorities for new Haitian president, Michel Joseph Martelly.
World Vision aims to provide children with disabilities with inclusive educational opportunities to prepare them to be responsible and contributing members of their communities, and Institut Monfort is doing just that. "All those who attend this school rely on their own skills and abilities to have an income, and we intend to keep supporting the students so that they can succeed in life," rejoices Sister Rose André as she praised the benefactors of the school whom she promised to keep in her prayers.
Most of the Institut Monfort's school attendees come from the countryside and the suburbs of the Haitian capital, Port-au-Prince. Providing these children and those at similar educational institutions with hope for their futures is critical to promoting inclusive development in Haiti.