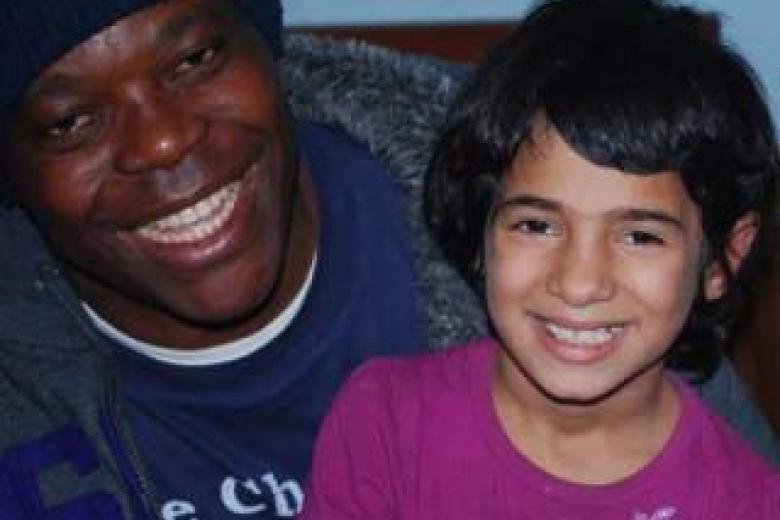 A Nigerian deacon's fight against HIV in Romania
Monday, February 14, 2011
When McGreg Duru left Nigeria in 1994 at the age of 28 he had one clear mission in mind – to enrol in the Polytechnic faculty in Bucharest majoring in Mathematics, graduate, and return home to Africa.
But God had something very different in store for him. A different life, a new mission, a new heart full of joy and the challenge and privilege of serving and helping disadvantage people in a foreign country, far from home.
I was shocked to see the street children and the poor old people begging. Their suffering broke my heart and transformed me
In fact McGreg's heart was touched almost immediately upon landing in Romania when at the Bucharest airport he saw for the first time, several Romanian children on the street. They were hungry, only partly dressed and in desperate need of help.
"I was shocked to see the street children and the poor old people begging. Their suffering broke my heart and transformed me. I suddenly made the decision to do everything I could to relieve their pain and I changed my options, studying theology instead of mathematics", shares McGreg Duru.
"It was a decision that upset my entire family. For them that decision was nonsensical but for my soul it was exactly what I needed to do", he explains.
A series of events were set into motion after that. McGreg, known as 'Father Matthew' by the communities in which he works, became a Pentecostal deacon and began working with street children and elderly people through different foundations in Bucharest. In 1999, five years after arriving in Romania, McGreg moved to Constanta city where he worked with disadvantaged people from Medgidia city for the next four years.
When Romanians welcomed the new millennium McGreg celebrated his own new beginning when he married Estera, was granted Romanian citizenship and bought a house for this own family in Valu commune, Constanta County. Also, McGreg founded an association named "Salon Ministries" through which he started to work with poor Roma, Turkish and Tatar families from Constanta city.
"How did I choose these beneficiaries? Not me, but my heart chose them…Every time when I meet Roma people, my heart starts to beat faster. Even though it is very hard to work with them and I can't always see results, I continue to help because they are in need and suffering", the deacon continues.
How did I choose these beneficiaries? Not me, but my heart chose them…
McGreg participated in the "Channels of Hope and Reach for Life" workshop, organised for 12 Christian pastors and evangelists by World Vision Romania's Constanta Office, in May 2010, following a workshop for 40 Orthodox priests from Constanta County in 2009.
"In the past, I had worked with some families with children living with HIV and knew something about this virus, but the workshop gave me more detailed information in order to be able to explain to the people, what I learned. The training is well structured, so I follow the same structure in my sessions. Also, it is logical and very simple and offers the right information for people with limited education", says McGreg.
Since November last year he has been running informative sessions on HIV prevention for 30 very poor Roma, Turkish and Tatar families who live in the old part of Constanta town, in very harsh conditions, sometimes without electricity or a source of warmth. Here, 15 to 20 people share a 9-metre square room, but, in spite of all of this, many children go to school and their parents work or try to find stable jobs in order to meet their families' needs.
'Father Matthew', as they call him, visited these families every week and spoke with the parents and children, in their own home, about HIV, AIDS and how the infection can be prevented.
"As a consequence of the poverty and their lifestyle, Roma people are at higher risk of becoming infected with HIV. Some girls practice prostitution which exposes them to infection. Although some of them knew that HIV is passed through sexual contact, the rest didn't know anything about this subject", he shares.
"One girl was panic-stricken and another one asked me if kissing a boy could transmit the virus", explains McGreg.
"I knew something about HIV and AIDS, but not so much…Father Matthew explained to us how HIV is passed from people to people and asked us to reflect on how important our life is and how important it is to protect ourselves using condoms", said Angelo Tamer, a 27-year-old father of two children aged four and five.
One girl was panic-stricken and another one asked me if kissing a boy could transmit the virus
Both adults and children were very interested to know more about HIV and AIDS and asked Father Matthew if he would replicate the training in the future, as they want to invite their friends, colleagues and relatives to take part.
"The most interesting information for me was how HIV is transmitted. Before, I heard HIV talked about as a grave, mortal illness, nothing more. Together with my sister, we took part in all the HIV sessions organised by Father Matthew. I learned that the best method to protect myself from HIV is to begin a sexual relationship when I'm going to be responsible and only after marriage", said 14-year-old Anamaria.
"When she had a project about teen health at school, Anamaria used the Channels of Hope and Reach for Life presentation materials and the CD", shared her mother, Miahela Ciulin.
"COH and Reach for Life training organised for Evangelical Church leaders offered the necessary instruments for HIV prevention and Christian instruments to combat discrimination against HIV positive people. The essence of this workshop was Jesus Christ's teaching which is directly addressing all of us and we understand through love for others. In this sense, we believe that following a life after Christ is the authentic solution for living a safe and harmonious life", shares Gabriel Mitroi, World Vision's spiritual councillor in Romania.
"I didn't know how HIV is transmitted but I found out [through the training]. Father Matthew also explained to us how important it is to lead a proper life, a Christian life in order to avoid HIV. I decided never to go to a prostitute because there is a higher risk of contracting the virus and it is also a sin", says Selvin, a 20-year-old Turkish man.
Father Matthew will run a series of HIV sessions in February 2011 for a large number of children and young people in a rented building in Constanta. He also intends to run the same informative session for foreign students from Constanta city and for a team of medical students who will replicate the training in rural areas of Constanta County.
Levent, a 21-year-old boy who took part in the HIV sessions, expresses his opinion about the usefulness of these HIV sessions. "I believe that it is very important that all young people know about HIV in order to be able to protect themselves".
The 44-year-old deacon confesses that in Nigeria he doesn't have any contact with HIV positive people; even though the number of infected people in Nigeria is large. He suspects that his cousin, who died of an unknown illness, most likely died from AIDS.
Some 17 years after leaving his homeland, McGreg Duru is determined to stay in Romania and to continue his mission. "Sometimes I miss Nigeria but Romania is my new home now. The most I like here is the people, with a good heart and an open soul", he concludes.
Meanwhile, McGreg also reached his initial goal and has since graduated from the Math-info faculty course of the Ovidius University of Constanta, and helps poor children with their homework.
World Vision Romania organised COH workshops for priests, pastors and other religious leaders, in Dolj, Valcea and Constanta Counties.
-Ends-