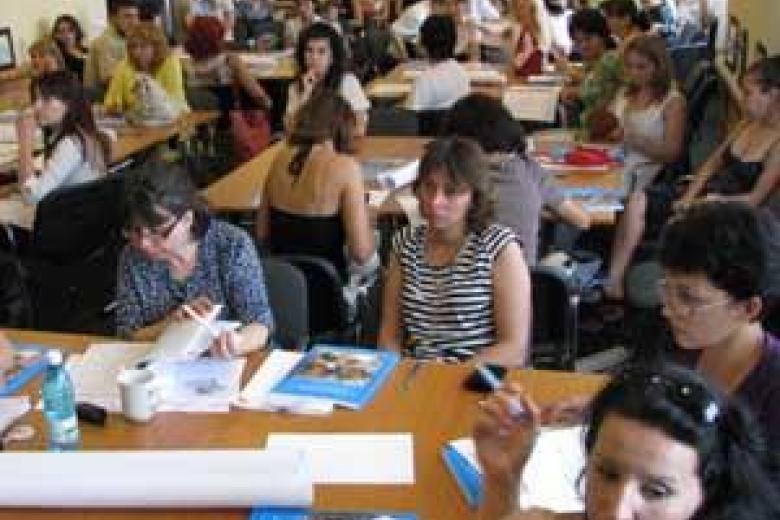 Parents of children with disabilities start working together for their children's future
Tuesday, September 14, 2010
The National Conference for parents of children with disabilities was organised by World Vision and Puzzle Association in Romania's capital, Bucharest and brought together around 100 participants; the majority of whom were parents but also volunteers and students interested in the issue.
For parents it was an opportunity to access information and link with other parents.
The most important need communicated during the open panels was the need for specialists and prompt diagnosis for children with disabilities, especially for children with autism.
"Salaries for specialists and care givers working in the field of disabilities are very low. The work is hard and can be unattractive unless the people have a deep inner motivation", observed Mariana Arnautu, education manager with World Vision, while trying to explain the challenges.
We do not have enough information; physicians do not have a specific way of diagnosing autism correctly
"We do not have enough information; physicians do not have a specific way of diagnosing autism correctly", said Mihaela Stan, president of Puzzle Association and mother of two children with autism.
According to Ms Stan, it took two months to diagnose her children's problem. "The hardest part was to go from one physician to another. They used to tell me to stay relaxed and go home, and come back maybe in one year", said Ms Stan.
Specialists say autistic children need to be diagnosed early, to start the recuperation process and maximize their chances of becoming integrated socially.
In order to cover the informational gap and also train parents to act as co-therapists, World Vision Romania and Frontiere Publishing House launched during the conference the first volume of the book "A Work in Progress. Behavior Management Strategies and a Curriculum for Intensive Behavioral Treatment of Autism", by Ron Leaf and John McEachin.
The manual is a translation from English and is intended to supplement the lack of specialists and give parents some important tools to work with their children.
The conference also aimed to bring together parents of children with different disabilities; representatives of the associations already established by these parents, in order to encourage them to start working together to advocate for their children's rights.
"I am confident that parents are the ones that can make the change possible at the local level, in mayor's offices and local administrative councils. We encourage them to create groups of pressure where they live and act in favour of their children. These children will grow up soon and we do not have the time to wait for change to happen", explains Ms Arnautu.