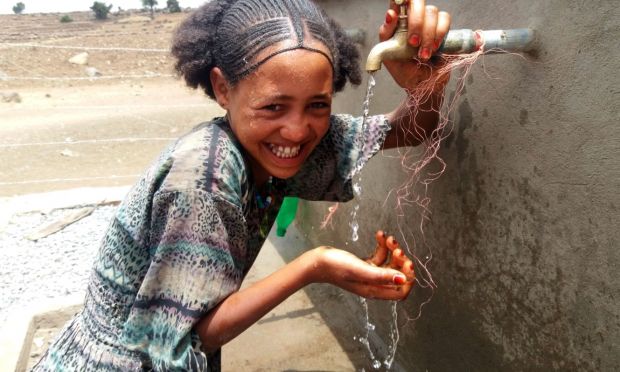 Partnerships with communities, governments, and like-minded organizations have always been at the heart of WASH operations at World Vision Ethiopia. Such partnerships at times are expressed in ways that are truly humbling. Some communities organize colorful events and feast when World Vision inaugurates water schemes. Others celebrate with World Vision when a village is declared open defecation free. Children learn songs by heart to share their happiness during such events, providing a strong encouragement for World Vision to serve more and do more. The partnerships with the government have also evolved over the past years from a simple signing of a memorandum of understandings to covering significant costs of WASH projects implemented by World Vision.
Such partnerships help girls like Maarenet Tseare, 12 and 6th grader to have clean water nearby and grow healthy, without trekking for hours to fetch water, missing school.
"I am now thinking only of my school. I no longer wake up early to fetch water. I never miss class or be late. My community is just thrilled that we have not been forgotten," says Maarenet.
A recent example of strong partnership between local government and World Vision to reach communities comes from Tigray region where four water projects were inaugurated in Samre and Enderta Area Programs benefiting 23,000 people. Out of the 18 Million Birr project cost, 3 Million Birr was a contribution from the local government for the projects.
Seyoum Tadele, Water and Energy Office Head at Samre District, says World Vision's goal of creating better future for children is equally shared by his government.
"This is an area prone to drought. World Vision has remained a friend of the people in this part of Tigray where access to water was very poor. We never considered World Vision as an outsider as it is here to support us. There's so much development challenge. We're in this fight together," says Seyoum.
World Vision had dug three deep wells in Gijet Kebele of Samre woreda. The government spent more than 340,000 Birr to construct the water reservoir and 174,000 Birr for transformers for this deep well water project. World Vision's Adikala water supply project in the same district has reached 3,600 people with clean water. Seyoum's office supported World Vision Project starting from study design to following up construction activities through their geologist.
"The new water project we just inaugurated has helped us to increase the water coverage of the district from 52.6% to 54.9 %. There is still a large gap to be filled in terms of coverage. Thousands of people still suffer from lack of clean water," notes the office head.
Enderta Area Program in Tigray has also a similar show of support and partnership with World Vision in reaching children and families with WASH Services. The Dergagen and Felege Selam water supply project implemented by World Vision had a strong support and contribution from the local government.
"While we contributed with technical follow up of the project with some financial contribution, World Vision covered the lion's share of the project. We are grateful for that," says Tsegabu Berhe, Hydrogeologist at Enderta District Water and Energy Office.
The projects at Enderta, where 11 water points were constructed under the Global Development Alliance (GDA) project, funded by USAID, helped 12,400 people (1,300 students) get access to clean water.
Story by: Yosef Tiruneh