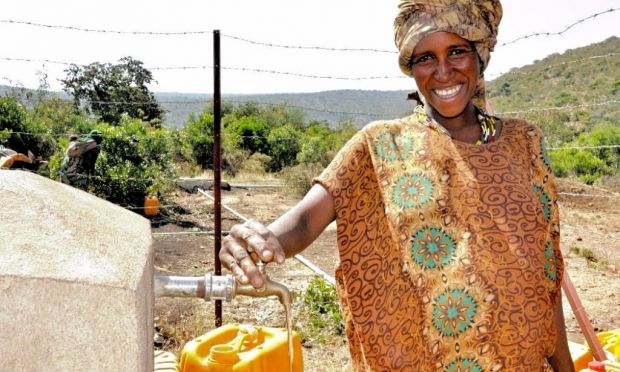 The humanitarian context in Ethiopia continues to evolve affecting children and families as well as livelihoods tremendously. The triple challenges of drought, flood and the current inter-communal conflict are putting heavy toll in the health and wellbeing of communities, most notably in Eastern part of Ethiopia.
Tokuma Bilisuma Kebele, a village in Melka Belo District of Oromia Region, Eastern Ethiopia, some 190 kilometres from the nearest major city, Dire Dawa, has seen some of the impossible situations. The area is one of the driest places where water is hard to come by and coverage is as low as 40 %. Good number of the human population and their cattle lean on small size springs and ponds to get water for drinking and cleaning purposes. The ongoing drought further exacerbated the situation in the past year depleting even these water sources. Children and parents were put in a vulnerable position and exposed to a wide variety of diseases and their wellbeing was in danger.
"Almost all of our daily lives were consumed in searching water, wherever it is available. Even the small amount of water at the spring was shared with the donkeys and cattle, sometimes mixed with the cow dung and urine. Why my children are still alive drinking from that source is just God's mercy," says Alif Ibrahim, 30 and a mother of two children.
Members of the senior World Vision Ethiopia's team visited the area in June 2017 where they saw immediate response was evidently needed to save lives and improve wellbeing. While World Vision is already operating in the area implementing Water, Sanitation and Hygiene (WASH) project, among others, the drought has put more pressure and the demand for water was dramatically increased.
With funding from UNOCHA and sponsorship budgets, World Vision constructed 10 water points and two cattle troughs along with a 100m3 water reservoir to respond to the needs of the community. One of the water points was constructed in a primary school. Water connection was also made available through pipe line extension to another school. This humanitarian emergency response has helped more 13, 737 people (5,111 children) to get access to clean water. The cattle troughs also help the livestock with water. The water points were inaugurated on 16 November 2017 on the site with community members, government representatives and members of World Vision Ethiopia senior leadership team members, where words of praise for God and local songs of cheer marked the event.
"We witnessed the dire situation when we visited the village about six months ago. We saw the vulnerable children and families and the need for emergency response. With the support of partners and the community, we were able to respond and save lives," notes Alex Whitney, Integrated Programmes Director for World Vision Ethiopia.
Because the problem of water is very severe, the government, with some supporters was trucking water and rationing to members of the community, transporting it from Jaja town, 35 Kilometres away from Melka Belo town. But that did very little in sustainably addressing the water scarcity until the new water points were constructed by World Vision and its funding partner UNOCHA. The community members contributed in the excavation works as well as activities requiring labour.
"I am almost six months pregnant now. Until this new water point was constructed in my village, walking to the spring that is almost three hours away and carrying back whatever amount available was a daily painful task," says Alif.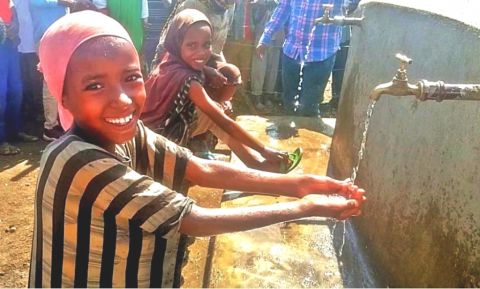 Fatima Ali, 9, is a fourth grader at Burka Sawa Primary School, where one of the water points was constructed. She is among the children in that community who have subjected to water borne illnesses and tasked with helping their mothers carry water from the far fields.
"I'm just so happy, water has arrived. There's nothing that makes us happier than this. It means so much. We get healthier, more time for school and more time to play," said Fatima, with smile all over her face.
The local government supported the construction process of the water supply system and expressed delight over the quick response by World Vision to the urgent needs of the community.
Ibrahim Juhar, Melka Belo district government representative says, "Accessing clean water in our villages is something that took long time coming. But thanks to World Vision, we have these water points in place in just few months after their promises. Now it's our turn to protect this life saving gift. The water Committes and the community has promised to do that and we also take this responsibility from now on."
"Organizational guidelines and processes are put in place for a reason. That is something we respect. Sometimes it may be difficult to cut the processes short and respond timely. But as humanitarians, we should find the spaces and options to be able to respond in emergency situations. That is what we did and it gave us lessons for our future interventions in terms of speeding up processes and partnering," notes Mr. Alex Whitney.
The Emergency WASH program at World Vision Ethiopia is one of the humanitarian response programs where urgent needs for clean water, sanitation facilities and hygiene interventions are implemented. In the fiscal year 2017, more than 250,000 children and families were reached with WASH interventions.
Story by: Yosef Tiruneh