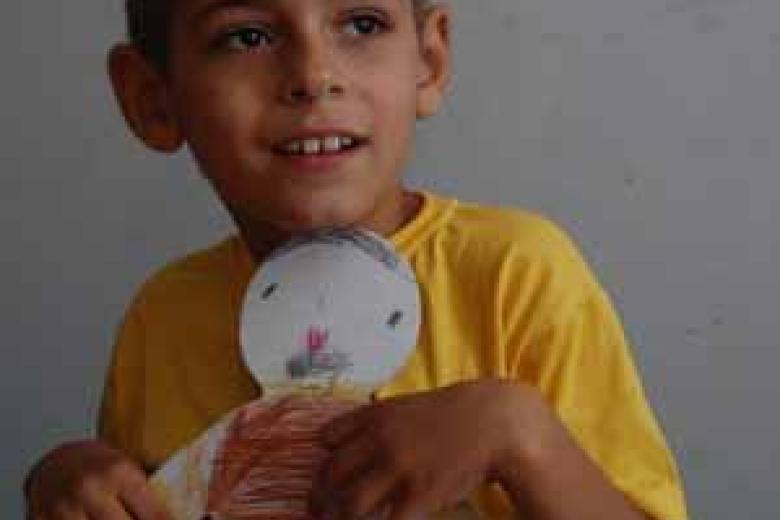 Robert, 8, lives with Cerebral Palsy enjoys life to the full
Friday, July 16, 2010
Each of these children, who live with various conditions such as Down Syndrome, Autism, Cerebral Palsy or mental delays, have the right to education and World Vision helps them to get prepared for accessing pre-school and school education. All children have impressive stories to share. Visit them once during their weekly occupational activities and you will discover in the eyes of each of them more feelings and challenges than a regular person can experience in a lifetime.
There is nothing more exciting than going to school
Robert, 8, is a handsome boy: his fair hair and light-suntanned skin emphasize his bright eyes. At first sight, you become fascinated by his vibrant laughter that transmits a positive energy all around. "Robert is a very optimistic person, who has a strange power to make everybody around feel better", says Lucian, World Vision therapist, while smiling and playing with him.
Robert is one of the first beneficiaries of World Vision several services designed for children with disabilities. "We first came to World Vision centre when he was one and a half years old. He was fragile and shy. He didn't want to stay without me and cried a lot", remembers his mother. In time, the centre has become for him like his second home: a place where he plays and meets his friends. There is a true friendship between Robert and his therapist Lucian. Robert looks at him in admiration. The therapy activities are followed by several discussions, jokes and story-telling. Their favourite game is "the fishing one": "We can spend hours playing, without getting bored for a second", says Robert.
According to the Romanian National Authority for Disabled Persons (December 2009), Dolj County is home to 2,017 registered children with disabilities. In Craiova, there are no private recovery service centres, apart from the World Vision centre and no more than three centres- two belonging to the Child Protection Department, and the other belonging to the county hospital. All three of these centres are limited in terms of number of children assisted (almost 100 places). Home therapy with a specialist amounts to almost US$20 per session. "Taking into consideration that Robert needs a complex and permanent treatment, this is extremely expensive for us", says his mother.
As a result of the physical therapy and hydrotherapy undertaken at the centre, Robert has visibly improved his movements and balance. "If at the beginning he was moving his limbs with great difficulty, now he runs and plays unimpeded with the other children", says his mother.
At the recommendation of World Vision specialists from the centre, Robert visited the Mangalia Orthopedic Centre and underwent tendon stretching surgery. After the surgery, he spent a month in plaster without moving or playing.
"It was the most difficult period for all of us. Robert was lying most of the time in bed, sometimes crying because of the pain and because he felt unsure of his own abilities". Even if the recovery process was a little bit harder, the results were significant. "We started little by little, from simple and easy exercises to more difficult ones. In time, the surgical intervention proved to be an important step in his development, helping him improve his stepping, stamina and reflexes", says Lucian.
Within The Inclusive Access to Education for Children with Disabilities project Robert participates in special education classes and occupational therapy activities. He is also involved in social activities developed with children without disabilities and project volunteers such as birthday parties, field trips and also church celebrations.
Robert loves to participate, twice a week, in the occupational therapy activities that are a great support and builds skills needed for school education. While in the beginning, he was shy and unsociable, now Robert is one of the most active and dedicated children. "I like drawing and painting, but also building different things and playing with my peers. Once, we built a cardboard house…and it was so lovely!" Robert shares.
God gave my son a disability, but also faith and strength enough to fight and overcome it
During individual classes of special education, Robert learnt for the first time about the world of figures and letters. "He was always very attentive and eager to learn more. I was very glad about that because I knew it would help him in school", said Daniela, the World Vision special educator who prepared Robert for school and facilitated his access to public education. Since 2009 Robert has attended a regular public school, which he enjoys very much. "I no longer want to be on vacation, I miss my teacher and my colleagues a lot; I just want homework again…"
Regarding the school integration process, Robert's teacher is confident:"It is not easy to be different from other children but Robert compensates through his attitude and will. Because of his disability he cannot write by himself but he is very good at reading and adding numbers."
He has a close relationship with his schoolmates who help him whenever he needs:"In the morning, when his mother takes Robert to school, his mates welcome him warmly, help him with his schoolbag and treat him like other children", the teacher adds.
Robert is a boy who smiles confidently at life. He visits the centre every day and when school begins he attends both. Nothing is easy and everything requires double efforts but hope comes from Robert's mother's words: "God gave my son a disability, but also faith and strength enough to fight and overcome it."
Background information:
Since October 2007, the Inclusive Access to Education for Children with Disabilities project, developed in Craiova and Bucharest, reached out to 58 children with disabilities who were successfully integrated into local kindergartens and schools. Sixty educational professionals (pre-school and school teachers) were trained to tailor their educational services and provide high quality support for children with disabilities and 50 parents were trained to become co-therapists for their children.