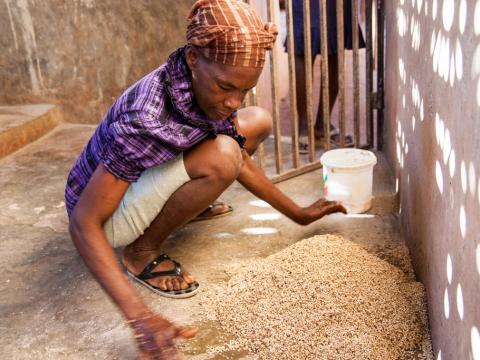 Small loan brings big impact
Monday, April 11, 2016
Lack of access to credit is a particular problem for many people in poor communities, even more so for impoverished women whose economic status is more insecure than that of men. For the women in Latore, Haiti – a community where World Vision works – this issue can mean the difference between life and death.

Fifty-one year-old Francimise knows what it means to have your life weighed by how much you can pay, when she was facing a medical emergency and didn't have any money to go to the hospital; it was a loan from the solidarity group that helped her. "My life was saved," she shares with piercing eyes.

World Vision started the Solidarity Group as a way out of the cycle of poverty. Solidarity groups are formed by people who guarantee each other's loans. World Vision provides support on how to start and manage such financial groups with trainings in saving, handling credit, and basic business.

While many of the working poor have the ideas and ability to create a small business, few can access the capital they need to begin. Because they are asset poor (without the physical assets like a car, home, etc., that can be used as collateral) and are in need of only small loans; banks will not lend to them. The only other option is the burdensome cycle of borrowing money from local moneylenders at high rates of interest.

Ghislaine, 50, works as the treasurer for the group and testifies that "the group is a great thing. I have borrowed US$75 to start a business selling hardware. Now I pay for my three children to go to school and I just bought myself a donkey to go to the market." Dieudonne, a 53 year-old widow, is also in the hardware business and has been able to support her six children and even sending her daughter to nursing school in the city.

With a loan, these women were able to improve their lives, create jobs and generate additional goods and services, and the whole community benefits. Parents are able to give their children more nutritious food and the family health improves. Parents have enough money to send their children to school. "If it wasn't for the solidarity group, this area would be in great misery. Our lives would have gone down the drain," shares Francimise.