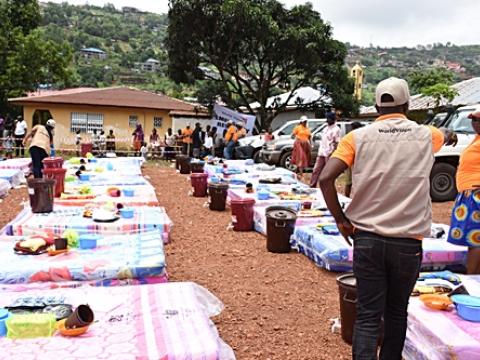 When resources mobilisation means saving lives in Sierra Leone
Tuesday, October 3, 2017
The GAM Unit contributes to change the lives of 500 households affected by devastating floods and landslide in Freetown
 Heavy rainfall led to devastating floods and landslides that hit Sierra Leone capital city Freetown on 14th August 2017. The disaster left hundreds of people dead and destroyed thousands of homes. It is estimated that approximately 2,000 households have been affected in this new crisis. This is happening at a time where the population is still trying so hard to recover from the terrible tragedy of Ebola.
The initial rapid assessment conducted by the Government of Sierra Leone and stakeholders indicated important needs in the area of Shelter, Food and Non Food Items with NFIs being the most important as the people could not recover anything from their homes. In addition, contamination of drinking water due to the destruction of water and sanitation infrastructures and sewage overflow was expected and access to safe drinking water was soon becoming a priority.
In the face of this new life-threatening situation, World Vision Sierra Leone (WVSL) worked alongside the government, UN agencies, and other stakeholders to provide the needed support to the affected population.
Under the leadership of the National Director, WVSL declared the emergency as a Category I National Office Response and came up with a statement of strategic intend with a budget of $536, 043 to provide emergency assistance to 500 households.
However, WVSL only had $100,000 from his National Emergency Preparedness Response Fund (NEPRF) to kick start the Response. The Grant Acquisition and Management (GAM) unit therefore took the task as per his mandate to lead the resource mobilisation for WVSL response.
Through regular communication with Support Offices and Regional Office; internal coordination meetings (leading a RAM hub); external coordination meetings (active participation in UN cluster meetings and government task force); mapping and engagement with donors (RAM team listed a number of donors that can fund such emergency); and the collaboration with WVUS which led to the development of a concept note submitted to Bill and Melinda Gates Foundation; the GAM unit raised $490.000 so far.
The total amount of money available for WVSL response is now $590.000 ($100,000 NEPRF + $490,000 grant), thus $51,957 above the initial target.
With the fund raised, WVSL provided first aid in the sectors of health, water, sanitation, hygiene, education and child protection to more than 500 households including orphans. Like Amina and her baby Moses, Santigie and SammaTwo siblings orphaned, or Gifty and her three children, the affected families received blankets, mattresses, buckets, water purification powder, cups, spoons, towels, water filtration cloth, books, bags, pens, pencils and other household supplies. The little but meaningful articles in this context, transformed their lives especially those of their children. World Vision also worked with the Government of Sierra Leone to provide counselling and support for children who are going through trauma and psychological torture.
With continued assessment on the response, the government has made additional appeal on the emerging needs among the affected communities. This includes Food for affected communities and education for children who are going back to school.
The GAM unit, WVSL, the regional office, all national offices and the affected population of Sierra Leone are so grateful to the generous donors in US, in UK, and in Korea. It was also tremendous to see WVSL dedicated staff on the ground providing moral support, looking for ways to offer answers, distributing NFI with big smiles, and finding the inner strength and faith to share hope in this chaos.
A lot has been done but there is more to be done to help those orphans, windows and affected Sierra Leoneans to reconstruct their houses and their lives above all.  
Read the following stories and learn more about the transformation your donation brought to the lives of the thousands of Sierra Leoneans affected by the recent floods:
My baby was really exposed to cold and mosquitoes:
http://www.wvi.org/article/%E2%80%98my-baby-was-really-exposed-cold-and-mosquitoes%E2%80%99
Santigie and SammaTwo siblings orphaned by a single-day flood and mudslide in Sierra Leone's capital, Freetown, find help in the midst of a crisis http://www.wvi.org/article/help-midst-crisis
My children and I will no longer sleep on bare floor
http://www.wvi.org/article/i-and-my-children-will-no-longer-sleep-bare-floor
''How was life going to be like for my unborn child?''

http://www.wvi.org/article/how-was-life-going-be-my-unborn-child
Magloire Nkouannessi
West Africa Regional RAM Director