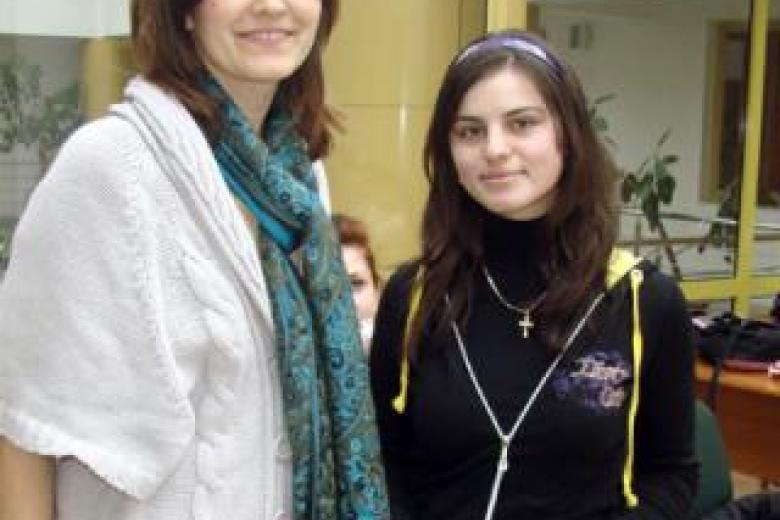 Without a father, the only chance in life is education
Tuesday, November 9, 2010
When 15-year-old Ana found out that she would receive support to go to high school she was afraid she would not 'cut it' in the big city, which she thought was a much tougher environment than her rural community of Galicea. Added to the surprise of receiving the World Vision scholarship was the news that she had been accepted into one of the best schools in town.
"Scholarships, equal chances for the children from Valcea" is a World Vision project that supports students from rural areas, like Ana, to continue their studies in the city after middle school.
Only one in four children from rural areas in Romania has the chance to continue education after middle school. In 2009, the number of poor children increased to 350,000 and the school drop-out rate tripled—in part because of the economic crisis. More than 40,000 children leave school each year, mostly from rural areas according to Romania\'s National Statistics Institute and Ministry of Education.
Only one in four children from rural areas in Romania has the chance to continue education after middle school
Ana's first year was indeed a learning curve. Many of the students from town treated her differently because she was from a small village.
Her daily commute during the first year meant she left classes at eight in the evening and arrived home at ten. In the morning she had to get up to take care of her brother, her grandmother and the house chores because her mother had to go to work.
A classmate and a project manager with World Vision's Valcea Area Development Programme helped her to get through that first difficult year.
But Ana is also tougher than what she gives herself credit for—her strength of character sadly grew after the death of her father when she was just eight years old.
"I was the first child and dad's 'favourite'. When I was eight, my brother was four. We were a happy family despite the money problems. One morning my father left and he didn't come back.
He left to take the cows grazing and he drowned in a river near the village. From that day on, my life and my family's life was about to change", Ana remembers.
All her dreams and carefree childhood disappeared in an instant.
"Eight years ago, when Ana's father passed away, I found myself in a desperate situation, with two children and an old woman to take care of. I had no job, I simply didn't know how to support my family", shares Marinela, Ana's mother.
After her father's death, Ana remained with her brother and mother in her grandmother's house. Without a stable income, Ana's family passed through very difficult times.
The only source of survival was working in the fields. Every day Marinela would go to work on the farm land in the village and Ana would stay at home to take care of her brother and to do the house chores.
The first question that Ana asked her mother was if she would ever go to school again. It was difficult for a mother to see that she had nothing to feed her children and that she alone was responsible for meeting their needs.
But together they pressed on with Marinela working in the fields until Ana was old enough to look after her younger brother and she got a job at the hospital as a cleaner.
Apart from the grandmother's pension of 140 lei (US), the family's only current income is the mother's cleaning salary 600 RON (US$200). Most of her income is spent on the commute and the rest covers utilities. The children also receive a state allowance after their father\'s death.
Ana's mother has also completed courses in mother care (child care?) and hopes to find work in this area in order to support her children while they are still at school.
Speaking of her daughter Ana, Marinela says, "She washes, cooks, helps me in the garden and takes care of her brother.
I work night shifts and when I come home, I find everything done. I would like Ana and her brother to study at the university. Education is important for each child and therefore I want them to attend a university and not to study like me at this age," says Ana's mother.
After her father's death Ana realised that to succeed in life one has to have a lot of faith and achieve excellent school results. Ana has proven that she has both. She was awarded many prizes and diplomas in the first eight years of school and she scored high in the ninth grade.
For all the young men and women in our parish Ana is a real example
Despite her financial situation, Ana achieved a score of 9.80 in the tenth grade. She has always liked studying, even before coming to high school as well as building good relationships with her teachers and especially with the village priest.
Ana visits her father's grave every Sunday to tell him what she has done during the week and what she is going through.
"For all the young men and women in our parish Ana is a real example. As a priest it is very easy to speak about such a young person only by referring to her qualities. Ana is a very sensitive, religious, responsible person, with a lot of love for God and for her family. Even if she had to go through a very difficult time in her childhood due to her father's death, the love of the great grandmother and of the other members of the family managed to help her overcome the loss of her parent", says the village priest.
"From that moment on Ana has taken part in every religious service and prays to God for her family's health", he adds.
As a beneficiary of the project "Scholarships, equal chances for all the children from Valcea", initiated by World Vision in Valcea County, Ana receives 100 Ron (US$40) every month, which she uses to pay for food, school books and clothing.
She also takes part in the social activities organised through the project and attends camps and trips organised by World Vision during school holidays.
"If I didn't have this scholarship, I couldn't go to school anymore. It was a good opportunity for me to continue studying in town. The social activities have also been very important to me to because they have helped me make new friends, discover myself as a person and manage to overcome any situation", says Ana.
Taking part in the conference "Social inclusion of excluded children and/or risking to be socially excluded" in the capital Bucharest was a challenge for Ana because it was the first time away from home She also took part in a working group where students had to create a poster and a song for their cause.
The dictionaries, educational materials and textbooks that Ana has received through this project have also helped her to develop and grow. Informal educational modules in English have also increased her self-confidence.
If I have a problem to solve, the teachers help me; they trust what I say and I am appreciated
"At 'Team Work' I learned leadership and team building methods that I managed to put into practice with all the students at the training. I am grateful to World Vision for offering me the chance to take part in these workshops and to learn new things. I don't think I would have ever had the chance to get the money and go to such a workshop and also receive a diploma", says Ana who was among 30 students from Valcea who took part in the workshops.
Ana is now appreciated by all her classmates and she has a relationship of trust with her teachers.
"If I have a problem to solve, the teachers help me; they trust what I say and I am appreciated", says Ana.
Ana says that for her taking part in this scholarship project is a great achievement and the result of all her study efforts to date.
"I am very happy that World Vision has been able to offer a scholarship to this young girl and also that Ana managed to prove that she deserves to be helped for the effort and courage of trying to give her life meaning through faith, skill and studying", adds the village priest.
-Ends-