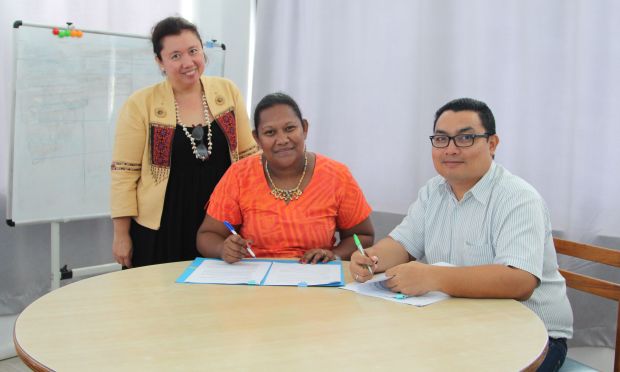 October 03rd, 2017 Honiara - World Vision Solomon Islands has this week, signed an agreement with the Ministry of Women, Youth, Children and Family Affairs (MWYCFA) to develop a Monitoring and Evaluation framework to support the implementation of the National Action Plan (NAP) on Women, Peace and Security in Solomon Islands.
Supervising Permanent Secretary for the Ministry of Women, Youth, Children and Family Affairs, Justus Deni signed the agreement on the Government's behalf with World Vision.
The agreement mandates World Vision to provide technical assistance to the Ministry of Women to develop the framework as part of its partnership agreement with UN Women, under the UN Peacebuilding Fund.
NAP is the culmination of a 4-year initiative by the Ministry of Women, with support from the Australian Government, to bring together stakeholders to address peace and security issues in the country. This draws from the common lived experiences in the country's recent history, and the lessons learned.
The Action Plan also represents the Solomon Islands Government's commitment under the Convention on the Elimination of all forms of Violence against Women (CEDAW) and the UN Security Council Resolution 1325.
Under the agreement, World Vision will work with the Ministry and stakeholders to ensure that various initiatives to implementing NAP will be properly monitored and reported. This will also provide opportunities for timely evaluation and necessary adjustments.
In May this year, World Vision supported a cross-learning trip between the Solomon Islands Government and the Republic of Philippines on the implementation of their respective National Action Plans on Women, Peace and Security. Representatives from the two countries visited their counterparts and shared their experiences.
This new agreement marks World Vision's continued support for the Solomon Islands Government in their commitment to gender equality and women's development in the country.