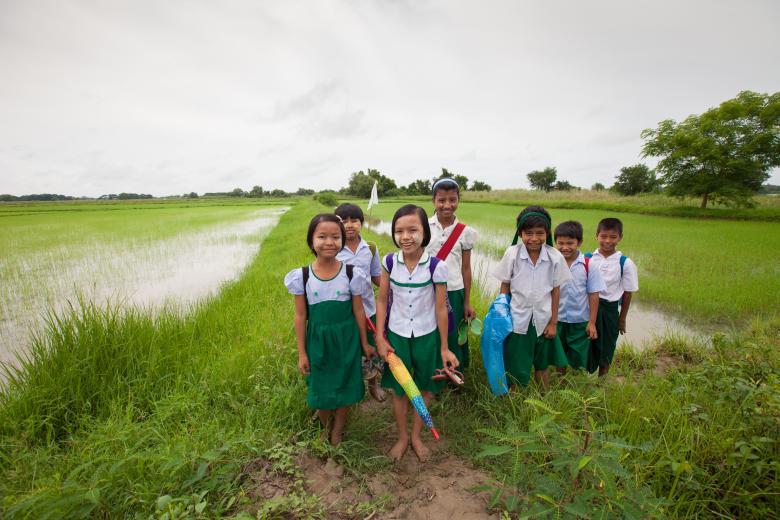 12 Incredible journeys to school
Friday, September 4, 2015
How did you get to primary school?
A yellow school bus, a stroll down the sidewalk, or a ride from mom or dad?
What about by horse or boat?
Access to education is a major challenge in Asia and the Pacific. In remote villages, schools are often far away and difficult to reach. The distance from home to school is one of the reasons that 26.3 million children are out of school in Asia and the Pacific says UNESCO.
On World Literacy Day - 8 September – we're celebrating the children who embark on extreme, sometimes dangerous, journeys to school, so that they can learn and continue their education.
1. India – Follow Sarvan and his friends through the desert
Ten-year-old Sarvan and his friends leave their village by 7am, trying to get a head start on the heat. In the summers, the Thar desert can soar up to 50 degree Celsius. His feet often burn walking in the sand but Sarvan is determined to get his education. Journey with Sarvan
2. Vietnam - Through the streams and hills

Linh and her friends walk around 3 km from their village to school, crossing a river and scaling steep slopes. In the rainy season, the slopes become slippery and dangerous. Trek with Linh
3. Laos – Better with a bicycle
Children used to cross leech infested waterlogged fields in central Laos to get to school. But that's changed. To ease access and boost attendance, World Vision is working with the local government to improve roads and school facilities in central Laos' rural heartland. Cycle along with Tay
4. Indonesia – Climbing rocks, crossing streams
Melvi and his friends leave early for their school-day trek. Although the rocky hills and rivers they cross can be dangerous, it is the only way to reach school. Trek with Melvi
5. Papua New Guinea - Walking the miles with smiles
Schools in Papua New Guinea are so far from villages that only half of the children attend. Children in remote communities in Madang Province walk long distances to school. "I have blisters sometimes when I walk. When I get home from school I am so tired to do my homework but the next morning I can't wait to go to back school." Learn more about Sandra's journey
6. Cambodia – The long road
Sreyneang (right) likes to walk to school with her friend, Layhorn. "I always walk to school at 6:00am and school will start at 7:00am, but I am tired and my legs are tired too."
School day with Sreyneang
7. Philippines – Jenel's 2-hour walk
In the vast mountain ranges of Moises Padilla, where the grey cloudy sky meets the lush, green trees and sugarcane plantations, lays an isolated structure - a school. Like an oasis in the middle of an arid desert, this structure serves as a haven. Walk with Jenel
8. China – Through the mountains of Guangxi
Meiqian is from a small village located deep in the mountains of Debao county and walks 1.5 hours to reach school, but she is always on time.
Walk with her to school
9. Myanmar – Across rice fields, knee-deep mud, and a river
During the rainy season, Aye Aye faces a 1.5-hour journey to reach school. Taking care to keep the mud off her uniform, she glides over slippery roads and river banks. Let Aye Aye show you how it's done
10. Indonesia - Little knights on horses
These boys ride their horses more than one hour to school, since a horse is the only available transportation in their village. Along the way they chat together, tell stories and jokes. Ride with them
11. Bangladesh - One girl's long walk
Crossing three rickety bamboo bridges each day, and the 1.5km walk cannot discourage Opi from her dream of finishing her education and becoming a doctor. See Opi's journey
12. India – A tale of two children
Anaya attends a private school in Delhi which she can reach by bus or car. Parmila lives in rural Barmer, part of the Thar desert, where most children walk to school. See the contrast