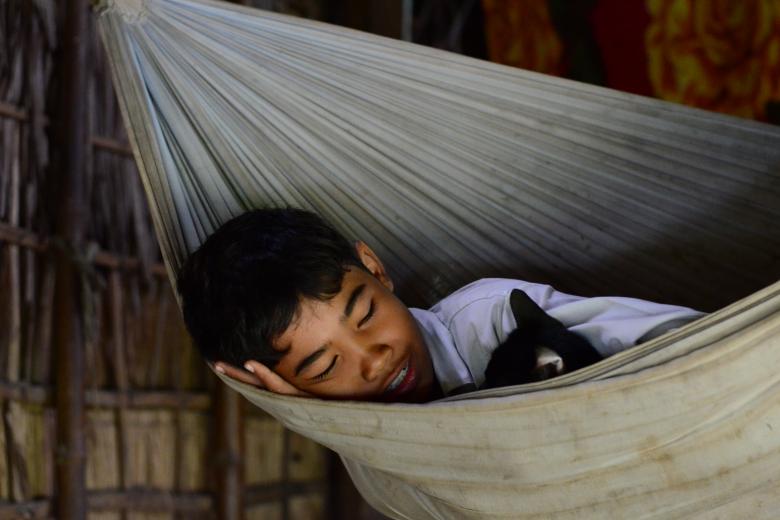 World Day Against Trafficking: Paradigm
Wednesday, July 29, 2015
A friend of mine recently wrote about how our eyes actually project the world upside down to the retina. It is only when our brain flips it over that we see things right side up, literally. We don't perceive it this way because the brain has learned to perceptually interpret the image as up instead of down.
What if we actually saw the way our eyes did?
Waterfalls flowing upward, motorcycles gliding across the sky, and clouds below our feet.
Even though our brain does a good job of correcting this for us, our circumstances can occasionally make us feel like our world has been turned upside down and it takes time to see the world right side up again.
I met my friend Sochea through my work with the End Trafficking in Persons (ETIP) programme.
His world had turned upside down.
When his mother passed away last year, Sochea took on the responsibility of caring for all 5 of his siblings in a one-bedroom house. And if that wasn't painful enough, his father remarried and moved away from the family. Even though he makes occasional visits to see Sochea and his children, he does not support them financially anymore.
Sochea used to spend his spare time reading books and studying. He had dreams of working abroad and supporting his family, but he soon realized that dream would be almost impossible to accomplish now.
Not only did he have to deal with the grief of losing his mother and losing a father figure, he had to make some hard choices about the future.
He was making decisions at the age of 18 that I've never had to make and despite all of the odds stacked against him, his strength and courage to care for his family left me speechless.
To put food on the table for his younger siblings, he dropped out of school. He took on a small job as a day labourer to pick beans and chili, just to make some extra money.
"I want to see all of my brothers go to school like other children. I want them to have knowledge," Sochea murmured to me when he reflected on the sacrifice; the sacrifice of putting his education aside just to keep his brothers in school.
Even though this experience has shaken his world, he is committed to ensuring that his family's dreams are fulfilled.
"Sochea is a dynamic leader," his friend from the club told me. He had seen him in action and knew that he had potential.
Fortunately, Sochea didn't stop coming to the youth club meetings after dropping out of school. He told me that the youth club was a safe and supportive community, where he learned about other stories similar to his own.
The youth club also taught him the importance of education, through lessons on how to stay safe if and when he does migrate for work abroad. He learned how to avoid the potential dangers of trafficking; the kind of life lessons that you don't always learn in school but often end up leaving the deepest impression.
When one of Sochea's friends from the club learned about his situation, he and some other ETIP staff did what they could to raise funds so that he could go back to school.
When I delivered this news to Sochea, I've never seen someone light up with so much joy.
Tears welled up in his eyes as he sat in disbelief. I could see how much that small gift meant not just for him, but also for his whole family. With this gift, Sochea could re-enroll in the 10th grade and still be involved in the Smart Navigator youth club.
Among his many dreams now, he plans to share these life lessons with his peers.
Today, Sochea sees the world through a new lens; one that has been shaped and molded by his circumstances. He has learned to adapt his vision for the future, and the youth club and his community have helped him to see right side up again.
About the author | Amy works for the ETIP programme and manages the prevention activities across the East Asia region as the Regional Prevention Project manager.