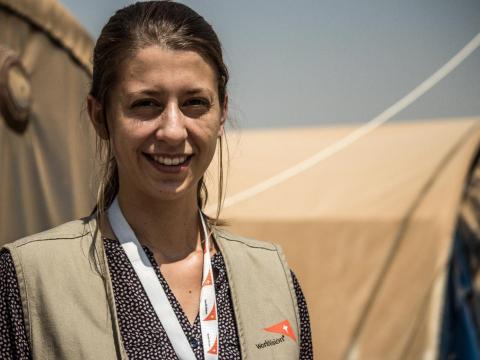 Mosul's children suffer in sweltering camps
Wednesday, September 6, 2017
By Anna Zuegner, World Vision International's Program Officer, Kurdistan Region of Iraq
Thirst
 After spending hours in Hassansham – one of the camps set up for people fleeing the violence in Mosul – all I want to do is drink cool water. Thirst consumes my every thought.
 My skin turned red within minutes of my arrival in the camp, despite using sun-screen. Temperatures of around 50 degrees Celsius have transformed the gravel on the ground into what feels like lava, melting the soles of my shoes and burning my feet.
The heat was mentally and physically exhausting and pushed me to my limits.
Children trapped in sweltering tents
The truth is, I can come and go, one of the lucky few who can escape this searing heat. Life is very different for more than 350,000 people – half of them children – who now live in the camps around Mosul.
Children are confined to their tents and spend the days waiting for nightfall to bring a slight drop in temperature.
There's almost no shade to provide much needed relief as the camps have been built in a deserted landscape with no vegetation or trees.
A crisis far from over
When Mosul was re-taken, international donors quickly shifted their attention to other emergencies.
But the humanitarian crisis in Iraq is sadly far from over.
In some cases, families have left the camps to return to their homes in and around Mosul, only to come back shortly after, when they found their homes destroyed, the infrastructure demolished and their hopes crushed.
For them, the camp became the only safe place that offers peace and safety, despite the heat.
Support for children
Aid agencies are providing support to the families in the camps as much as possible.
World Vision is delivering safe and clean water daily for more than 6,300 children and adults living in camps around Mosul. We are providing hygiene kits with items such as soap and toothbrushes, and we have installed water tanks, showers, latrines and handwashing basins.
Many parents bring their children to World Vision's Child Friendly Learning Spaces where we have installed water coolers. This safe and nurturing environment brings short-term yet vital relief to children who have been through so much during the last two years, allowing them just to play and start to experience childhood once again.
Desperate need for life-saving services
Although aid is reaching some of the most vulnerable people, it won't be enough in the months to come.
Funding for much needed psychosocial support, schools, water, food and health services is decreasing, leaving thousands of people at risk of not receiving lifesaving services.
The humanitarian community, governments and all of us must step up and ensure the children of Iraq are not forgotten.