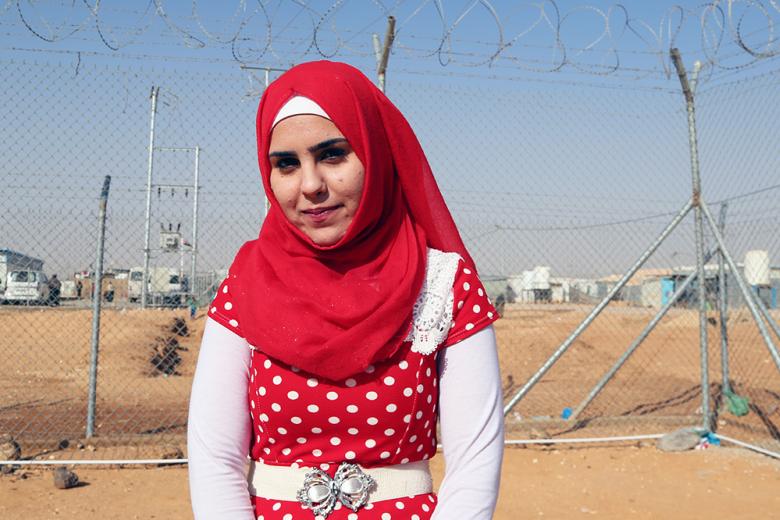 Stories After Syria: What 'home' looks like now
Monday, March 12, 2018
Nisreen,16, had to flee from Syria six years ago, leaving behind family members like her aunt, uncle and grandfather. 
Now she lives in Za'atari Refugee Camp with her immediate family, but thinks about the family members she left behind all the time. She only speaks to them every four or five months. 
"My family gives me strength," she says, thankful that at least she has her mother, father and nine siblings with her at the camp.
When I asked her why family is important, she laughed. Rightfully so.
No matter where you live, it's comical to think of a reality where family is not important. But especially in fragile contexts, family is sometimes, literally, the only thing people have to hold on to.  
Seven years ago, when families first started arriving at Za'atari Refugee camp, they lived in tents. Today, more than 5.6 million Syrians have fled Syria and the war continues. 
As the hope of going home in the near future faded, their homes needed to become more permanent. Now, it's common to see five family members living in a single room, or "caravan." What's concerning is, those living in overcrowded spaces are twice as likely to experience violence in the home. 
For every sixth family member, another caravan is allocated, thanks to foreign aid. Large families like Nisreen's will connect their rooms to create a home that includes a small kitchen and living space with pillows on the floor. 
This is Tabarak's home. She's 16 years old and remembers her home in Syria, fondly. "It used to be big and spacious. It only became two rooms. One living room and one bedroom," she said.
But like Nisreen, she has her immediate family with her in the refugee camp. "Thank God we're alive. We are adapting to the bad situations we went through," Tabarak said.
Also similarly to Nisreen, Tabarak says having her family what makes her happy in the the camp.
"My mom is my idol in this life because she encourages me," she said. "When I'm surrounded by my family, I feel secure." 
One family member that Tabarak left behind in Syria was her cousin, Tasleem. Tabarak has not seen her since she left Syria, five years ago. 
We asked her if she had a message she's like to share.
"Hello, how are you Tasleem? Any news? I miss you a lot. I hope I can see you again," she said. "I remember you whenever I do anything with my friends in the Za'atari camp."