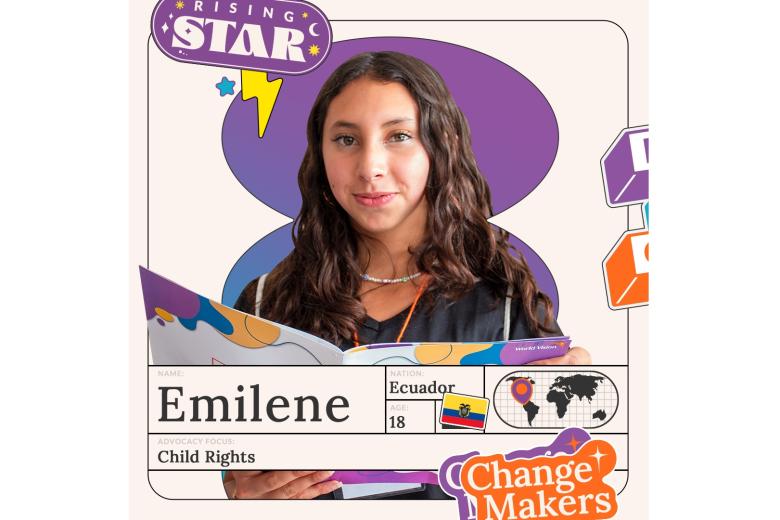 Emilene
Tuesday, May 9, 2023
Part of a network of young people and adolescents in Ecuador, Emilene, an 18-year-old Changemaker, helps to create space for children and young people participation, empowers their voices, and promotes their rights. Inspired by the love she received from her grandfather as a child, she hopes "to be able to transmit that love he gave me" to the children around her. "There is a right to life, to have physical integrity, personal freedom and security, and equality in front of the law," Emilene proclaims. "Violence should be eliminated. We deserve to live because it is a right and we must be respected. And if it is not being fulfilled it must be claimed."
Q&A with

Emilene
lightly edited and condensed for clarity
What is your favourite food to eat? 
I love shellfish very much. What I like most is the "encebollado".
What is your favourite thing to do for fun?  
I love doing sports, spending time with my family, getting involved in youth groups, sharing with other people doing interesting activities.
Who is your favourite actor/singer/dancer/influencer?
My favorite actress is Millie Bobby Brown, who is a 19-year-old and has participated in a well-known Netflix series. She was recognized by UNICEF as a goodwill ambassador when she was 14. She loved hearing stories and realities from many children and adolescents sharing their voices. She has been working on creating a platform so that children and young people rights are not violated. She says, "Kids are the best defenders of themselves."
Seeing that a young girl almost my age, apart from being famous, has a big heart and is contributing to a good cause. It is amazing to see how she motivates and inspires more young people to get involved in issues of participation and leadership by vulnerable people who really need it.
Where do you get your information – social media, peers, friends, TV, other?
Well, I like to listen to people and from there I get most of my information based on the realities and situations of many people in issues of rights violations. I love talking to older people, teenagers, children, young people, adults because they always give you a moral and make you think a lot. I have seen a lot of this on social networks, such as programmes, meetings and projects, because it is very popular. I also love to read about global issues on a website, from several countries. And finally, I also read the newspaper here in my area to learn about problems, issues of injustice, among others.
What is your favourite memory from your childhood?
My favorite memory will always be the moments I spent with my grandfather on my mother's side who already passed away. He was a carpenter, and I always spent time with him. He taught me to sing, and I helped him in the carpentry because I was very curious, and I liked to learn. He was a very special person for me because I could talk with him for hours. I felt loved. I didn't feel alone. I knew he was always there to help me in everything. I can say that is the reason why I have been able to form myself with good values and to be able to transmit that love he gave me - I can provide it to other children.
What I will always remember is that whenever I was sad or there was some difficulty, I do not know how, but he always got a smile from me. I felt that he always understood me, and I was always told to value that because many people do not have someone in their lives.  When he died, I was emotionally affected but he motivated me to be able to help other children and young people, since that is essential because many people with a simple hug or a greeting feel loved, and that is very important.
What would you tell a future Changemaker?
I would begin saying that being a changemaker, helping other people, it is not only doing activities to help, it goes beyond; it is a way of life, a reason to live. For this we must keep in mind something super important which is love. If you love what you do you will be able to achieve great things.
I want to motivate them to get involved within these spaces of participation and community help. Among other aspects, this entails having a very important value which is empathy. It is a value that is being built little by little and makes us see many hard realities that other people are facing, and when they think they are alone, in that moment we are there to support from the heart.
We must ask ourselves whether it is fair that a child or a young person is suffering from violence, or their rights are being violated or that they are not being heard. The answer is obvious, and it is not; it is not fair.
I want to invite you to listen to anecdotes, stories of life, of agents of change. Being a Changemaker changed my life, the way I see the world, and especially the desire to help and bring a smile to people who need it. It fills me with satisfaction to be able to really help, and help from the heart, and know that many people are very grateful, and you were the reason for someone else's happiness. To fight for something that sometimes other people keep in silence, it really fills your soul.
I would give some advice: never stop dreaming, dream big. We can all dream, but let's be unique, different; let us put our feet on the ground and make those dreams come true that only very few of us achieve by persevering and with much love.
What would you say to yourself 5 years ago?
I would say thank you for letting yourself be helped by others. You are very brave for daring to dream and moving on despite the adversities you have had to go through. You are very brave - only you know how hard it has been to express yourself in public, to socialize with others. You are very strong for facing your fears despite everything you have been told. Thank you for daring to speak. I admire you too much because only you know how hard it was to be happy. Thank you for keeping those same values and being that cheerful girl who never gives up no matter how much the world falls on you. Thank you for teaching me that life isn't easy. And thank you for helping me love myself the way I love myself.
What is the issue you advocate on and what made you decide to take on this issue? 
I defend children's and young people's rights. I have made this decision because when I was little, I went through a difficult situation that I have not told anyone. I came out of it, and I saw that other people suffered worse. I live in a small town where there is a lot of violence. You see children that cannot study, pregnant teenagers, teenagers involved in alcoholism and drugs and especially sexual, physical and verbal harassment addressed to women.
I want to emphasize that sometimes mental health is not valued. I went through a difficult situation, and I didn't even know what I felt. So I asked: why there is so much evil intentions in the world? why do husbands beat their wives? why do we have sick children who are dying? because they have no money? why are there so many pregnant girls? why do we have child marriage at an early age? and young people cannot study? and there are so many in this situation. "WHY?" I slowly asked myself about these injustices and very strong scenarios that I have seen or someone told me, and with tears in my eyes, I did not know what to do to make a pregnant girl smile again or to prevent them from being forced into marriage, or to stop a teenage girl who was raped be blamed as her fault and be looked at as a weird person. So here I said: this is wrong. Can I do something to help?
I was involved in participation spaces since I was 4 years old, and I saw that World Vision always helped and provided us with the instruments we needed. I was always present, and everyone in my community was happy when World Vision arrived. Little by little I got involved, understanding what was happening, and it made me make the decision that I wanted to dedicate my life to this.
I am a very sensitive person who does not tolerate any act of violation of rights and that is why I have come here to encourage the children and young people who speak not to remain in silence, but to make a change together in favour of monitoring and compliance with the rights of children and young people.
Why is ending violence against children and the issue you advocate on so important to you? 
There is a right to life, to have physical integrity, personal freedom and security, and equality in front of the law. Children and young people must live through our development stages - violence is not necessary and goes against rights in general. Children must be raised with tenderness so they can grow up with values, love, respect, and honesty.
Violence should be eliminated. We deserve to live because it is a right, and we must be respected. And if it is not being fulfilled it must be claimed.
What difference would you like leaders to make to create real change on the issue you advocate on?
I believe that one problem is adult-centrism. I want this to end so that leaders listen to us, listen to our ideas, and above all trust what we propose and take it into account.
Something super important is that they include us in their work plans so we may know that we have the support to fight for the rights of children and young people, to have teamwork, joining efforts where we can make and bring a truly meaningful change in society.
What would you say to leaders if you had the chance to talk to them directly? 
First, I would ask them what they think of youth, then I would talk to them about the different realities that exist in vulnerable communities and that rights are being violated. And finally, I would teach them about all the work that we have been doing for the non-infringement of human rights because it is important to emphasize that we children and young people do not stand with arms crossed - we make them see that we are concerned, and we act on it for a better society.
I would ask them to work together and propose activities together and solutions so that we have a community and a better environment to live in without so many children and young people suffering.
What is something you hope to accomplish in 1, 5, 10 years?
In a year, I want to achieve the legal life of the network where I live, and work with vulnerable areas and fulfil all the activities on the agenda so that the authorities can hear us and see that there are many problems that are really affecting society.
In 5 years, I want to finish college. I want to study medicine, and I want to fulfil that big dream of being able to do it because I think it's a great opportunity to be able to help others who really need it. In addition, I also want to continue participating in these volunteer spaces to continue motivating more young people to raise their voices and not remain silent and fight for their rights and grow as people to continue motivating more and more people.
Finally in 10 years, I hope to be doing a specialisation in my career, and I want to create a social aid NGO, where I provide my services as a professional in vulnerable areas and complex diseases to families that do not have an economic livelihood for medical attention.
What is the most encouraging thing that has happened during your work with this issue? 
The most motivating thing that has happened to me is to see the smile of a boy, girl, teenager who looks at you and thanks you. Once someone told me, "You are the person that I want to become in the future," and I said, "You are going to be a better person than me, and you are going to achieve many other things bigger than me because you have that desire to grow up and help others." This fact motivated me a lot to keep doing what I do because it is very beautiful, and you know that you are doing things well when other people tell you that you are the one who inspires them.
What five words would you use to describe why the issue you work on is so important to you? 
Fighter
Empathy
Persistent
Resilient
Supportive
What is the funniest thing that has happened during your advocacy work? 
The funniest thing that has happened to me is that when I was involved in any activity, I had to put myself in the place as a child to play, to stain my hands with paint, to leave shame aside and do the same activities as a child, and remember moments from my childhood that at some point I wanted to return to that stage again.
What challenges have you encountered in your advocacy work?
This has been a little difficult for me, the "challenges", because I am a very sensitive person and sometimes other young people or people close to me have asked, "What is the point of doing what you do if you do not earn anything?" It's like they're trying to discourage you, and one of the biggest challenges has been facing the comments of society because they don't really understand what it means that I've been building.
Another aspect that I could mention is that I implemented a project in my community and needed help from young people to participate and many refused to help me, and it was difficult how to face reality and see that people do not care about the same issues as you and cannot help you as simple as you see.
Finally, I think it would be the fact of raising awareness of people in my community about taboo topics because they have thoughts from before and believe in stereotypes that are false. But all this I have been able to overcome thanks to my patience and my predisposition with what I propose.
Do you advocate alongside other children and young people, and how do they inspire you?
Yes, I currently belong to a network of children and young people where we work for monitoring, enforceability, and compliance with rights. We are based on 5 important lines of action, and we carry out advocacy activities with these approaches at territorial and national level. We are inspired by our own achievements to see how little by little we have generated very important things, how to reach authorities, make norms, talk when something is wrong, and there we are motivated because our work is noted, and we see that little by little we are generating actions that are giving results based on our effort.
If you could pick one personal memory or achievement around ending violence against children, what would it be? 
A very touching memory I have is that I could be a participant in a project where several children, girls and teenagers dared to talk and tell the reality that they were living. While there I could be a participant and see how they felt free and calm to tell what was happening, knowing that they will be in a better world without violence because they told us their life testimonials. It was something unique, because there I also learned to value the life I have and see that sometimes I have very small problems, and sometimes I complain knowing that other people are going a thousand times worse, and that has made me stronger and more eager to continue helping.