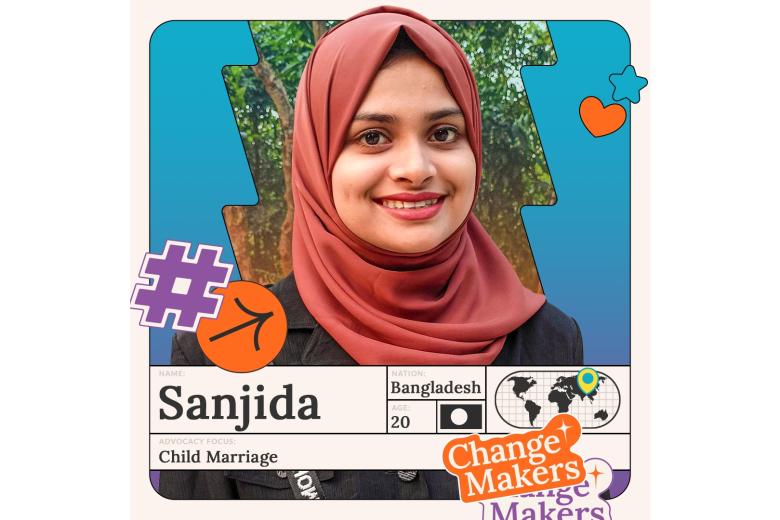 Sanjida
Wednesday, May 10, 2023
Growing up in Bangladesh with a mother who was married as a child, Sanjida knows first-hand the adverse effects child marriage can have on a family. In 2015, she began to participate in rallies, meetings, and gatherings to encourage child protection in local communities. Eight years later and now 20, Sanjida continues to be a Global Changemaker, raising awareness of child marriage and empowering others to speak out against it. She also supports poor students in their studies, distributing relief and winter clothes, and helps provide wheelchairs to disabled children.
Q&A with Sanjida
lightly edited and condensed for clarity
What is your favourite food to eat? 
My favourite food is Biriyani.
What is your favourite thing to do for fun?  
I like to spend time with family and play with children. I enjoy traveling, planting trees, growing vegetables, and applying new designs on clothes.
Who is your favourite actor/singer/dancer/influencer?
My favourite actor is Humayun Faridi.
What is your favourite memory from your childhood? 
When my cousin got an opportunity to study in medical college, my grandmother was very happy and also expressed some disappointment about me because I was not so focused in my studies.
Then I said to my grandmother, "Don't worry, one day I will achieve something good through my work, then you don't have to be disappointed anymore."
She said, "No, no, it is not just about achieving good things, you have to do something so that the people of the country and abroad know and like you as a good person. Not only that, you should meet the Prime Minister."
My grandmother is not here but these words of hers are the best memories for me today.
What would you tell a future Changemaker? 
For the future changemakers, I want to say that before changing the society, you have to make a positive change in yourself. You have to try until you succeed. Must study well and participate in social work. To actively participate in the establishment of children's rights. You have to prevent yourself from various bad addictions.
What would you say to yourself 5 years ago? 
I would say to myself - Sanjida, keep up the good work. Someday your dream for establishing child rights will be fully filled.
What is the issue you advocate on and what made you decide to take on this issue? 
I am advocating for the prevention of child marriage. The reason for advocating this is because my mother was admitted to child marriage so she could not study and become independent. Due to father's low income, he was deprived of basic rights. From there, I realized that not only my mother, but everyone has to suffer if there is a child marriage. Malnourished children are born and there is a risk of maternal death. So, I am working to prevent child marriage.
Why is ending violence against children and the issue you advocate on so important to you? 
I want to end violence against children. First, I saw my mother suffer as a result of child marriage. Moreover, I saw a child in a child's arms. I saw disabled children being born. As a result of child marriage, I have seen divorce due to not being able to adapt to the in-laws' house. Ignorance, child marriage and poverty are the obstacles that lead to violence, torture, and torture against children. Therefore, I stop child marriage to save children's dreams and ensure women's rights and empowerment to move the country forward.
What difference would you like leaders to make to create real change on the issue you advocate on? 
To really make a difference in the issues I am advocating for, we need to increase youth participation, raise awareness, bring punishment and provide alternative solutions to the victim as a solution to the problem.
What would you say to leaders if you had the chance to talk to them directly? 
If I get a chance to speak directly to the leaders, I would like to say - awareness and financial support are the most important to bring about change in our social infrastructure. Because of lack of awareness and financial inefficiency, children are subjected to child labour, child marriage, reduction of school going students and child abuse. I think it is possible to get out of this problem through the collective efforts of the youth with the cooperation of all.
What is something you hope to accomplish in 1, 5, 10 years?
First of all, I dream that I will be an upright, ideal person and a successful social worker. For that requires strong morale, financial solvency, proper planning, collective efforts and cooperation.
Also, I dream of becoming a philanthropist. So I have some dreams like:
I want to transform my village into a child marriage free and ideal village.
Open a training centre with a sewing machine to empower helpless women.
I dream that one day the helpless people will get free training in sewing work, computer, fashion designing, and mobile servicing in my training centre.
I want to support poor students through monthly scholarship.
Since we don't have a house, we dream of living in our own house.
I would like to study abroad if I get a chance.
To ensure children's rights, I would like to speak in parliament and at the United Nations to free society from child marriage forever.
What is the most encouraging thing that has happened during your work with this issue? 
When I stopped one child marriage after another, I had to be a victim of criticism and threats, I had to hear various insults. In spite of all this, when someone would come and express their gratitude that they have benefited from ending child marriage, and the smile on their face at that time, it was a source of achievement and inspiration for me.
What five words would you use to describe why the issue you work on is so important to you? 
Preventing child marriage is of utmost importance to me and society. The five words I will use to describe its importance are - Essential, Life Saving, Dreamer, Encouraging, Peace Building.
What is the funniest thing that has happened during your advocacy work? 
We got into trouble while stopping a marriage, and Alam Farazi, regional correspondent of Kaler Kantho newspaper, was with us. The girl wanted to get married because the groom will go abroad after getting married. At one stage of persuasion, the girl refused to accept and said to the journalist, "Will you marry me if the husband does not return to the country and marry me?" That moment was very difficult but funny.
What challenges have you encountered in your advocacy work?
Many calls came to my father to stop me. My father used to work in Dhaka. Naturally he used to worry about me. Many people threatened me, then my father forbade me to go. But I would have left right after hearing the news of a child marriage. As a result, my father used to get angry with my mother and for this he would go away for months without contacting us. It became difficult for my mother to take care of me and my brother. She was forced to work in various organisations and told us to continue our studies.
Moreover, in most cases, I have to hear abuse in the houses of those who I used to visit to stop the marriage. In some places they tried to hit me with bamboo and broom sticks. People used to criticise me, saying I don't like anyone, so I stop marriage etc.
Do you advocate alongside other children and young people, and how do they inspire you?
I have been associated with Word Vision since 2015. Earlier I was in Child Forum. Now I am in Youth Forum. I work together with children and youth. They help me by giving me information, encouraging me. Which gives me courage and motivation to continue working.
If you could pick one personal memory or achievement around ending violence against children, what would it be? 
If I were asked to pick a personal memory or achievement to stop violence against children, I would say, I don't just stop child marriage. With the help of Shuvosangho, we have opened a training centre to empower helpless women. The best budget newspaper of Bangladesh Kaler Kantho wrote: Shuvosangho works for the needy people, monthly scholarship, distribution of relief, distribution of winter clothes, distribution of sewing machines, etc.
After the marriage of a girl, we admit her to college and make all the arrangements for her studies. With the help of Shuvosangho, she now gets a monthly scholarship of 2000 taka.
This is how my activities have been going on for a long time. In recognition of which, the British media has nominated me in the list of 100 influential and powerful women in the world in the 2022 report by BBC.
Not only that, I have been awarded the 2023 Nasreen Smriti Padak in recognition of the youth of 'women who have set an example in stopping sexual harassment, abuse and child marriage' under the management of ActionAid.
Honour is always a pleasure. Getting an award as a recognition of work increases motivation, mindset, passion, and interest to work.