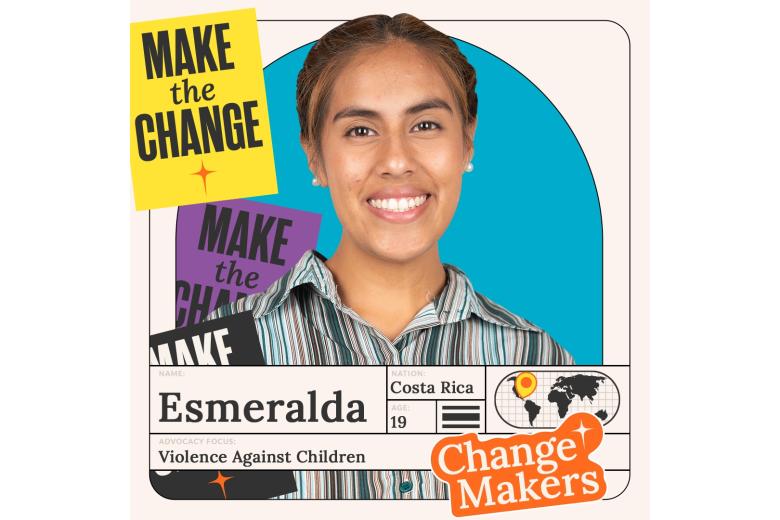 Esmeralda
Tuesday, May 9, 2023
Esmeralda, a 19-year-old Changemaker, is an active member of an advocacy and social mobilisation group. She works to end violence against children and promotes proposals and initiatives on issues of interest to young people. Together with the Costa Rican Legislative Assembly, Esmeralda trains children and young people to know their rights. "Since I was a child, I have always liked to help other people. When I started my training in the field of human rights, that passion became greater."
Q&A with Esmeralda
lightly edited and condensed for clarity
What is your favourite food to eat? 
My favourite food is pasta in its various forms of preparation.
What is your favourite thing to do for fun?
There are really many things – I just really enjoy being able to watch movies with my little brother or alone and also going out to see new places in the country.
Who is your favourite actor/singer/dancer/influencer?
I have several. These are the main ones: Shawn Mendes, Becca Fitzpatrick, Antonio Santa Ana, and Tammy Parra.
What is your favourite memory from your childhood?
I remember that as a child I used to play different games with my cousins. They always told me that I had to be strong and brave, even though they defended me.
What would you tell a future Changemaker?
That no action is too small to generate real change, that you continue to believe in yourself, and that the world is waiting for you.
What would you say to yourself 5 years ago?
To myself from 5 years ago, I would say that I am extremely grateful and proud, that I never allow that desire to learn and dream be taken away from me, to believe that the world can be a beautiful place for all people, and that no dream is too big to be conquered.
What is the issue you advocate on and what made you decide to take on this issue? 
I consider myself a young woman who is committed to defending and guaranteeing human rights, especially of children and adolescents, thereby eradicating the violence that this population lives with day by day. And not only that, but also the sub-issues that concern them. Since I was a child, I have always liked helping other people. When I started my training in the field of human rights, that passion became greater.
Why is ending violence against children and the issue you advocate on so important to you? 
More than important, it is essential that violence against children and young people ends, and the rates of violence would be reduced (poverty, malnutrition, physical, verbal, psychological abuse, aggression, among others). This would give us societies based on good treatment. Homes and communities would protect and care for them knowing that this population will always make a positive impact.
What difference would you like leaders to make to create real change on the issue you advocate on? 
I really believe that everything begins when we become aware of the impact that we can generate. Starting from that, I would like the different political, economic, social and some faith leaders to always opt for horizontal processes where they can build together. I would also like you not only to work on economic and political issues, but to work on prevention in the many ways that exist.
What is something you hope to accomplish in 1, 5, 10 years?
On a personal level, I hope to conclude my university career and continue collecting memories with the people I appreciate. At the advocacy level, I hope I can continue to contribute, that from my experience I can influence other people when implementing projects and proposals. To continue in the spaces that I am currently. Also, to be able to collaborate with certain NGOs at a professional level. Perhaps not 10 years, but a few more years I can create my own NGO for children and adolescents with the aim of providing tools for life.
What is the most encouraging thing that has happened during your work with this issue? 
You always have motivating experiences, although one that I remember very well was when I was a speaker at a youth event addressing the issue of leadership. A teenager came to me and told me that she would like to be like me. It was very cute, and it inspired me to be that example for her and others.
What five words would you use to describe why the issue you work on is so important to you? 
-Kindness
-Courage
-Passion
-Creating
-Building
What is the funniest thing that has happened during your advocacy work? 
I have had many funny anecdotes. One of the most recent was when I was able to accompany the mission group of my church to certain communities of the North Caribbean region in the month of December. I remember that we were all wet from the rain in a truck to get to the first community. The truck trip was a lot of fun, dodging branches and leaves from the trees.
What challenges have you encountered in your advocacy work?
Along the way one finds everything, opportunities and challenges. For me the main difficulties to be able to influence is that adult-centrism is still present. Also, the issue that resources are usually not enough to continue with some prevention project. And finally, sometimes I could not be in certain spaces because the educational schedule did not allow me or shocked me.
Do you advocate alongside other children and young people, and how do they inspire you? 
Yes, being able to collaborate with children and young people is the most wonderful thing. I also consider that in the end all of us end up inspired because each one has their own essence, so when you propose some topic that we care about, we see that it is necessary to address it, or because we have lived it, we do it from different perspectives.
If you could pick a personal memory or achievement around ending violence against children, what would it be? 
To be able to be involved in the construction of the National Public Policy on Children and Adolescents, as a teenager making a voice whenever they must be the most inclusive and integral for this population.

Participating as a speaker in two topics with a partner in an event (Campaign) both national and regional on violence from our perspectives as young people.