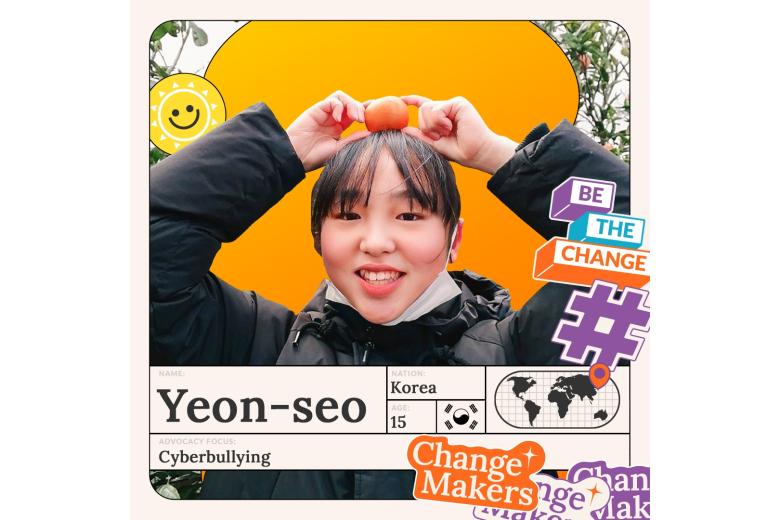 Yeon-seo
Wednesday, May 10, 2023
15-year-old Global Changemaker Yeon-seo advocates to end cyberbullying. "Cyberbullying is happening not only in Korea where I live, but also all over the world," she says. Yeon-seo mobilises children and young people to "be brave and speak your voice" because together, their voices "gather and become the power to change the world." She hopes her advocacy can provide comfort to victims who feel helpless and anxious that they may experience cyberbullying again. "Let's all work together to solve cyberbullying. Let's go for it!"
Q&A with Yeon-seo
lightly edited and condensed for clarity
What is your favourite food to eat? 
My favourite food is tteokbokki, because it has a very addictive spicy taste and goes well with all my favourite foods (e.g. chicken).
What is your favourite thing to do for fun?  
My favourite thing to do for fun is to play the piano. It maximises my mood when I'm excited and comforts me when I'm stressed or sad.
Who is your favourite actor/singer/dancer/influencer?
My favourite singer is Tori Kelly, because her voice gives me courage. And my favourite song among her songs is Don't You Worry 'Bout a Thing.
Where do you get your information – social media, peers, friends, TV, other?
I usually get information by watching news videos on YouTube's official press account.
What is your favourite memory from your childhood? 
My favourite childhood memory is the first time I went to the sea. I don't remember exactly how old I was when I went there, but the first sea I saw was a very beautiful blue colour, and the unique scent of the sea made my heart race. So, this memory is still vivid in my head.
What would you say to yourself 5 years ago? 
I want to say to myself 5 years ago, don't be afraid of others' eyes and words, don't give up no matter what happens, and voice your own voice. Because at that time, I was very insecure, and I was hurt by every single word of others, so it was difficult to speak in front of people. (So, ​​I really wish I could deliver this message to myself 5 years ago.)
What would you tell a future Changemaker? 
I want to tell future Changemakers to be brave and speak your voice to the world in your own language. It is because the voices of us now and you in the future gather and become the power to change the world.