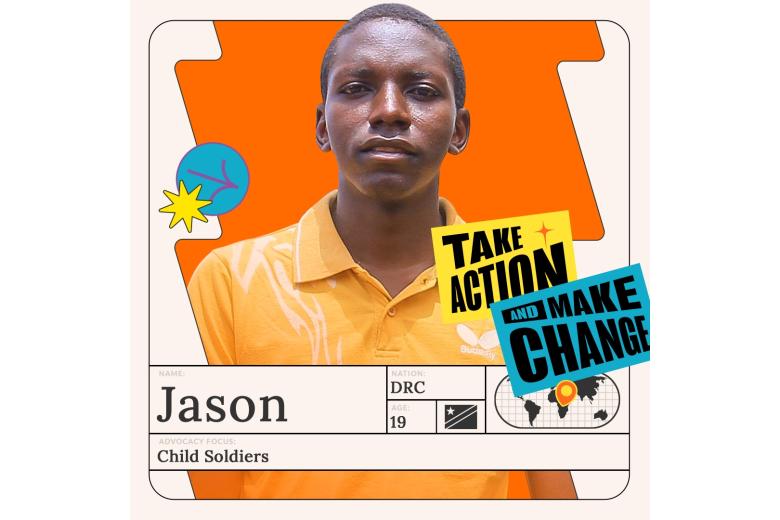 Jason
Tuesday, May 9, 2023
Jason, a 19-year-old Changemaker, works on the issue of armed conflict and its effects on children in the Democratic Republic of the Congo. As an ambassador for youth and children, he champions peace in the face of harassment and violence, even spending a few nights in prison after participating in a peace sit-in two years ago. Today, he continues to advocate for child protection at the National Council for Children.
Q&A with Jason
lightly edited and condensed for clarity
What is your favourite food to eat? 
Rice and meat.
What is your favourite thing to do for fun?
Watching television (movies, music).
Who is your favourite actor/singer/dancer/influencer?
Jackie Chan and Maître Gims.
What is your favourite memory from your childhood? 
The scholarship at my High School.
What would you tell a future Changemaker?
To work hard while initiating the next generations in a responsible struggle.
What would you say to yourself 5 years ago?
To accelerate actions for change and create a changemaker education school.
What is the issue you advocate on and what made you decide to take on this issue? 
The fight against armed conflict, because I was born into war and I have seen all forms of violence come to light.
Why is ending violence against children and the issue you advocate on so important to you? 
Because my combat is the better future, and to succeed, children must be protected so that they can make the future better. And my fight for peace is very important because the success of all development struggles, including children's rights, will depend on it.
What difference would you like leaders to make to create real change on the issue you advocate on? 
Enough involvement in the problem from the causes to the consequences.
What would you say to leaders if you had the chance to talk to them directly? 
To consider children in decision making, and to carry out our advocacy.
What is something you hope to accomplish in 1, 5, 10 years?
I hope to bring peace, create a school for change and write books about my experience to advise the next generations.
What is the most encouraging thing that has happened during your work with this issue? 
The confidence of the national and international community in the struggle that I and other young leaders are leading every day and the encouragement I receive every day.
What five words would you use to describe why the issue you work on is so important to you? 
Education, work, health, housing, peaceful life.
What is the most fun thing that has happened during your advocacy work? 
Meeting the young leaders for ending violence against children at the World Vision Triennial Council 2019.
What challenges have you encountered in your advocacy work?
I cannot talk about advocacy work without talking about the challenges and difficulties we face. There are the harassments we face, the threats, and even imprisonment.
For example, between 22 and 29 April 2021, during the peace sit-in organised by the pupils in front of the mayor's office of Beni in the province of North Kivu, we were harassed by law enforcement officers, even though we were just demanding the return of peace in our area so that the children could study in good and peaceful conditions. Because of this plea, I was arrested and spent a few nights in prison at the State Educational Custodial Institution (Etablissement de Garde et d'Education de l'Etat). That is, from 29 to 30 April 2021.
I also receive threats and insults on social networks because of my advocacy work calling on the Congolese state to prosecute and judge people who are allegedly involved in the insecurity in the Eastern part of my country.
Do you advocate alongside other children and young people, and how do they inspire you? 
Sharing their experiences and conditions in this war brings tears to my eyes and strengthens my hope for a better world.
If you could pick one personal memory or achievement around ending violence against children, what would it be? 
I met our president of the Democratic Republic of Congo during his visit to Beni. It was on 17 January. At that time, President Félix Tshisekedi was also the president of the African Union. During a meeting he had with the various members of the community, I spoke and pleaded on behalf of the children of the DRC for the establishment of the National council for children in the Democratic Republic of Congo. I also pleaded for the improvement of the conditions of children because Beni is facing a permanent armed conflict and children are victims of it.
A year later, the Ministry of Gender, Family and Children issued a decree establishing this National Council for Children. Today, along with other children, I continue to advocate that the national child protection policy comes into effect. This structure works as a support to the Government's efforts in the fight against violence against children.