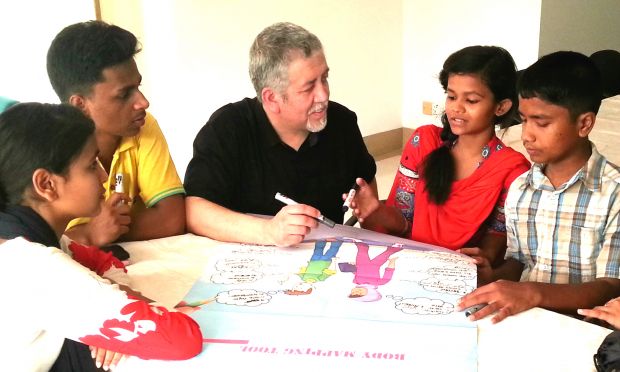 One of the international days officially observed by the United Nations that touches my heart the most is World Refugee Day. This day reminds us about the tragedies experienced by millions of people who have been forcibly displaced by armed conflict, violence and human rights violations – including more recently environmental degradation and climate change.
Throughout my professional life, I have met many child refugees who have been cruelly persecuted in their own countries and badly welcomed in their host countries. Some weeks ago, as part of research I was conducting, I met a group of refugee children who have fled Syria seeking safety from the civil war. Despite the loss, suffering, pain and hurt, they greeted me cheerfully and affectionately, and they shared with me their feelings and desires for the future.
During my conversations with them, they told me that they experienced violence every day, whether in the streets, in the community and at schools. They are beaten, harassed and bullied just because they are refugees. They are even abused by those who have the mandate to care and protect children such as school teachers and educational staff.
World Refugee Day was established by the United Nations General Assembly in 2000 to mark the anniversary of the Convention relating to the Status of Refugees and to raise public awareness about the refugee situation worldwide. This date also aims to call governments and organisations to act with solidarity and to promote life-saving interventions for refugees.
According to the United Nations, in 2016 there are more than 20 million refugees, and children make up 51 per cent of the total refugee population. During armed conflict, children and young people are immediately impacted by the consequences of a crisis that restrict their access to protection, housing, education, health, recreation and participation. Furthermore, children, as they move to informal settlements, face a lack of social cohesion, hostilities, fear of persecution and abuse.
Recently, I read the WV Germany report "Arrived in Germany" that highlights the lack of attention paid to child refugees, as they are virtually invisible in the broader category of refugees. As a result, there is not a clear understanding of the complexity of children's needs in a refugee situation and how their everyday lives are impacted while on the run. I recall clearly that the Syrian children I met complained that their needs were not always taking into account as the adults were also very affected and traumatised. They said that the violence they experience at schools was not considered that significant when compared with the thousands of people that have suffered persecution or death. However, they said the daily violence they face at school has an immense negative effect on them, and that they desperately want solutions to those problems.
As we commemorate World Refugee Day, I would like to invite you to stand with World Vision as we demand greater protection for children and that more be done to strengthen and listen to the voices of children.
There is a lot we can do. We can call on our governments and the international community to address the root causes of this humanitarian tragedy and provide immediate support to refugees. We can conduct awareness raising activities to promote a change in traditional mindsets that see refugees as a heavy burden and reverse this by showing the contributions and positive impact that refugees can bring to the host countries. How big a contribution each of us makes is not as important as each of us working together to achieve the vision of a society where everyone can have all of their human rights respected and protected.
About the author
Patricio Cuevas-Parra is Senior Policy Adviser, Child Participation and Rights, Advocacy and Justice for Children, World Vision International. Patricio leads and develops the cross organisational implementation of resources to carry out child participation initiatives at the local, national and international levels. He also leads broader efforts to ensure the development of policies, practices and programmes in order to strengthen child participation in advocacy.