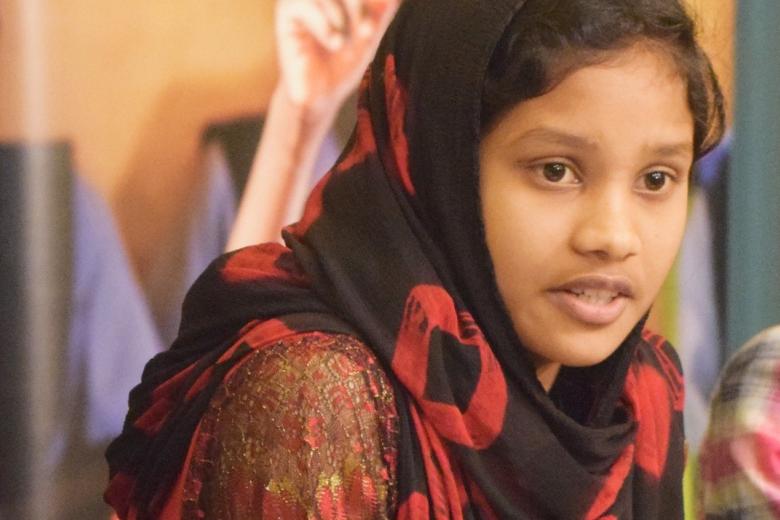 My dream for the International Day of the Girl is to see our world free from child marriage
Wednesday, October 10, 2018
By Samia, aged 15, young leader from Bangladesh
I am a Young Leader and a member of the Child Forum, Ashar Alo, which means 'hope of light'. I am from Bangladesh, a place of natural beauty, full of rivers and the largest mangrove forest in the world. I believe that many of you have heard of it. However, apart from all the right things, we have many problems, such as poverty, child marriage, child labour and both physical and emotional violence against children. For this reason, many girls who come into our world cannot realise their rights and suffer every day because of this.
In our Child Forum, we come together to help those children, especially girls, because, in our society, girls are still left behind, and are vulnerable to superstition and many forms of abuse. Many girls are unable to enjoy their rights as human beings. For example, in my country, if you read the UNICEF report, you can see that the rate of child marriage is 54 per cent and the rate of physical and emotional violence is 82 per cent. These numbers are very high and terrible for any country and society.
These are big problems in my country, but for me, the main issue is the lack of protection based on illiteracy and the cultural beliefs of people who maintain and accept violence against girls as a regular thing. However, besides the old traditions that support violence and child marriage, many parents feel like they have to marry off their children due to poverty. 
Cultural beliefs, illiteracy and a lack of knowledge cannot be an excuse to justify violence anymore. If we give people knowledge, they will understand what is right and what is wrong, and hopefully they will use this to end all forms of violence. Luckily, my parents are conscious of violence against girls and child marriage because they have learned that these things have a negative impact on children's lives. But many parents do not understand these problems. They think girls are born to do household work, and if they get married early, they can be happy in life.  Many of my friends' parents believe this.
 want to say here that everyone is equal; girls and boys are the same. I firmly believe that we girls can equally contribute to society, and, together with boys, we can end violence against children.  We, however, need encouragement from the people around us. Sadly, all over the world, girls are prevented and discouraged from talking and making their voices heard. In my community, people think that girls are a burden. This is not right! 
We as girls can do many things to change the world and attitudes of society. This is what we are doing in my Child Forum, and this is the reason why I am writing this blog. I am here to show my determination to work together in ending child marriage and all forms of violence against girls. My dream for the International Day of the Girl is to see our world free from child marriage, free from child labour and free from all forms of violence against children because we are girls, and we do not want to be the victims of any type of violence. 
About the author:
Samia, aged 15, is a Bangladeshi member of World Vision's Young Leaders Network. She is also a member of the Ashar Alo Child Forum. She is a child advocate who actively participates in leading community change by engaging with her peers at the Child Forum to address issues around children's rights, participation and protection.