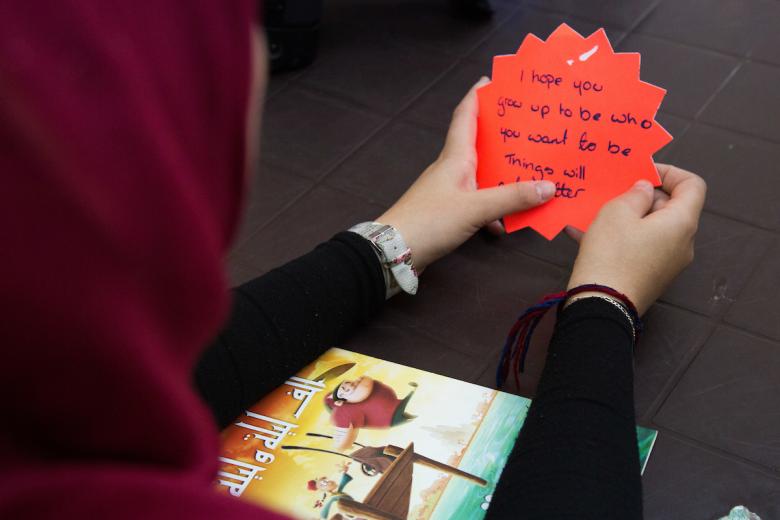 Truth comes out from the children's mouth
Friday, November 18, 2016
Today, 65.3 million people are on the run in the world.  It's 65.3 million people labelled as "refugees" "migrants", "internally displaced", "stateless", or "asylum seekers" on the run. Ultimately, it's 65.3 million HUMANS that are running today. All are trying to save their lives and the lives of their loved ones with the hope that they might have a better, hopeful, dignifying and peaceful future. Nearly half of these 65.3 million humans are children under 18 years of age.  As we celebrate Universal Children's Day, I would like to dedicate this day to the millions of girls and boys on the run.
World Vision has been striving worldwide, from the smallest rural village to the biggest metropolitan city, for the rights of our children and our youth to be promoted and protected, working side by side with their families, communities and institutions so they can become the champions of peace and justice. Children and youth are the treasures of our communities and we often forget about this truth which our entire societies lay its foundations upon.  A new World Vision global campaign will soon be launched to End Violence Against Children aiming  to shed light on the violence children are experiencing so intensely and too frequently and to promote, protect and defend children's rights. Until and unless we understand that violence against children and youth – no matter what form it may take- hinders the progress and the well-being of all mankind, we will never live in peaceful and sustainable societies.
The extreme violence children are experiencing nowadays in this migration and displacement setting is unprecedented since the Second World War. Nobody can deny that for a child to live in such conditions for even a day is one too many. One may ask then, "what solutions do we have before us to remediate this reality? How do we end this violence against children? How do we promote a more peaceful and sustainable environment for our children to grow and prosper spiritually and materially so they can contribute towards the betterment of the community they live in?"
One of the solutions to end violence against children I've encountered in my path since I joined World Vision, actually comes from the process of involving children themselves in forming solutions at the local, national, and international levels. If only we, as humans over the age of 18, would "just" make the effort to listen to children and implement what our girls and boys are telling us and what they are telling each other, we would surely be happier and our children would be happier. As a matter of fact, "just" imagine what our world would look like?
A few months ago, I travelled to Turkey with World Vision Ireland and visited displaced children, mostly from Syria. I asked them: "If you had one message to give to the children in Ireland, what would it be?" Almost instantly, children from 5 to 12 years old replied: "We hope the children in Ireland don't suffer the same way we did. We hope they don't have to leave their home like we did."
A few months later when the Irish Government organised an event around humanitarianism in Dublin, we decided to not only display our humanitarian work funded by Irish Aid, but also to create a "wall of hopes and dreams" where this message from the displaced children would be shared to the children present that day. Regardless of age or gender, children who heard these words from Turkey were moved and wrote what their hopes and dreams were for these children. We assured them that we would give these cards to children in displacement when we will meet them, which we did a month later in Jordan.
As to how to promote environments conducive to children and youth becoming active agents of change and peace, the answer is simpler than we think and comes, yet again, from the most vulnerable people on this planet. Anybody in the humanitarian or development field would tell you that when you pause and ask these same vulnerable people what they want the most, they often use two words to reply to this question: a "Job" and an "Education" and this regardless of gender, faith, ethnicity and age.  
"Stay strong good luck Ireland is behind you from Noah (heart)" "To the children. God bless you all. Love Evan Age 6""I hope your houses will get build again." "Keep going and never give up" "I hope all those children won't suffer anymore. Peace (sign). Sarah age 10""World peace. Katie. Age 6""I hope all the wars end soon. Alex age 10", "I hope you grow up to be who you want to be. Things will get better"., "I hope that you get the wishes you want come true. Sarah Kellett. In Ireland" "Stay strong! Be brave! Be safe! You're a star! Well done! Jamie 10 years old" "Stay strong and never give up. Helen 13." "We are all equal" "I hope all the war will stop and there will be peace. Emma, 11 years old" "I hope you live like us some day and have peace. Liam 8 years" "We hope for peace for you" "I hope it gets better soon".
The compassion, love, humanity and justice emanating from our children's mouths are living proofs of what our world could look like if only we would hear their words and "just" implement. If the most powerful weapon we can use to change the world is Education , let us continue to be champions of education –no matter in what context it may be- for our children and youth so they become active agents of change and peace.
 About the author
Carmel Irandoust is the Advocacy and Policy Officer at World Vision Ireland. Her role is to represent the voice of the most vulnerable children, families and communities by inspiring, informing, engaging decision makers, and the general public, to be active global citizens in our fight against poverty and injustice.