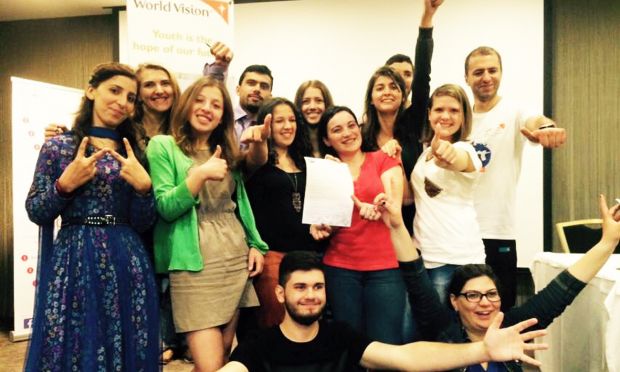 By Nana Berdzenishvili, Youth Empowerment Manager, WV MEER
As a passionate advocate for young people's participation, I was honoured to meet 13 youth representing their peers from seven countries in the Middle East, Eastern Europe and Southern Asia. They gathered as part of the World Vision International ART Youth Forum and discussed the challenges that youth face in their countries sharing best practices and future plans in the areas of child protection, youth empowerment and civic engagement. ART stands for "Be Aware, Raise your Voice and Take Action. It is a regional project that connects thousands of rural and urban youth from Albania, Armenia, Bosnia-Herzegovina, Georgia, Lebanon, Pakistan and Romania.
I was amazed by the energy, determination and commitment of the youth delegates to social justice. I was also very proud of the ART project because I noticed that ART has contributed to youth empowerment and has helped to reduce, to a certain extent, the vulnerability of children by strengthening child protection systems. Over the lifespan of the project nearly 9,000 children and youth were directly involved in different types of training, awareness raising and advocacy campaigns, while the number of people/youth affected indirectly reached 35,000. It is also worth mentioning that the project managed to build partnerships with more than 80 informal and formally registered stakeholders and this made an important step towards increasing sustainability and the sense of ownership.
During the forum and after extensive consultations and hard work, participants developed a World Vision Youth Declaration underlining three major areas for ongoing intervention that need to be addressed in order for their countries to be transformed into peaceful, just and prosperous societies where they, their peers and the next generation can live and thrive: (a) Education; (b) Unemployment; and (c) Youth Participation.
The 13 youth will use this declaration to work with their peers and engage with decision-makers at local, provincial and national levels in order to build a better world for children and youth.
When I see the individual and societal changes as a result of the ART project, I feel satisfied at the efforts we have put into this initiative. In my case, as the initiator, manager and creator of this project, I am proud of the young people and their work.
I would like to invite you/everyone who reads this blog to see a video that the young delegates created. This is a message for the World Vision leaders where the youth have a clear message: "We are capable: hear our voice."
https://www.youtube.com/watch?v=j5tZoOzOZiA&feature=youtu.be