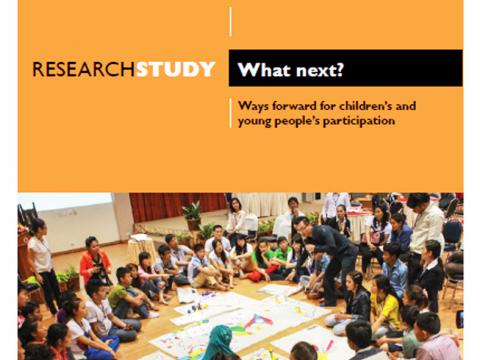 Research study: What next? Ways forward for children's and young people's participation
Tuesday, July 7, 2015
In recent years, we at World Vision have witnessed new and ever-increasing ways in which children and young people are participating meaningfully on issues that affect them and their communities. Our organisation has responded by strengthening guidance and technical support to staff while increasing the commitment of our board and senior leaders to children's and young people's participation. This is becoming an important area of focus for World Vision, as participation is about voice, the lack of which is well known to perpetuate poverty and inequality.
The purpose of this study is to review key theoretical perspectives and practice in relation to children's and young people's participation. This review is being undertaken in order to enhance World Vision's understanding and practice in the field of participation. Our desire is that the findings from this study will contribute to the development and implementation of World Vision's Strategic Direction for Child and Youth Participation. This will be one among other vehicles that will enable our staff to tap into the largest demographic force in the world today as we rally behind our vision of life in all its fullness for every girl and boy.
The study sought to address two questions:
What is the understanding in relation to children's rights to participate in collective decision-making within academia, practice and policy?
How can World Vision use this understanding to strengthen children and young people's participation from both a development and an advocacy perspective?
The research is based on two main sources of information. The first involved an extensive literature review with an emphasis on theories and models of children's and young people's participation, including a review of lessons learned from existing practices. The second analyses the results from a survey of six world-leading participation experts in the United Kingdom and the United States of America, both academics and international independent consultants.
This research adds to previous World Vision contributions to this field in collaboration with other child-focused agencies, such as the 'Toolkit for Monitoring and Evaluating Children's Participation', which was produced alongside The Concerned for Working Children, Plan International, Save the Children and UNICEF.
We hope that this study will provide a a solid rationale as we continue to work towards shifting the preconceptions of children as passive subjects or mere recipients of aid towards the reality of children as active agents. Children and young people are not only capable of proposing and joining in the implementation of solutions to problems that affect them; they are a necessary part of these solutions.
This approach will certainly lead towards discovering paths of innovation in addressing poverty, in partnership with children and young people.
Corina Villacorta, 
Executive Advisor on Child Rights, Advocacy and Justice for Children, World Vision International