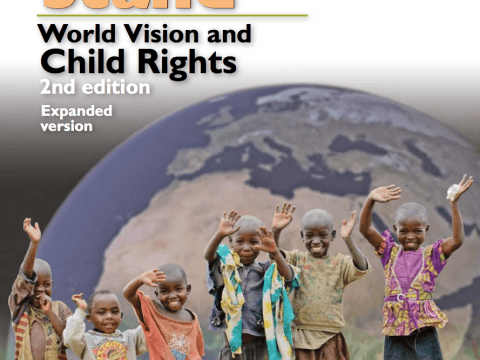 Here We Stand: World Vision and Child Rights (2nd edition)
Thursday, October 25, 2012
World Vision advocates to secure protection for children and respect for their rights. The Convention on the Rights of the Child (CRC) is a tool that has provided a clear framework for ensuring children are protected and able to achieve their full potential. World Vision endorses the principles and articles of the CRC and its two Optional Protocols2. World Vision believes the CRC states the minimum standards relating to survival, development, protection, non-discrimination and participation of all children, as well as the obligation to keep the best interests of children in mind.
The CRC and its Optional Protocols are consistent with World Vision policy on the rights and protection of children, and the organisation's Core Values and Mission Statement. World Vision recognises that the CRC and its Optional Protocols are complemented by additional human rights treaties, which also promote the well- being of boys and girls. World Vision acknowledges and supports the important protection provided to children by such instruments.
World Vision has special responsibility for the children who participate in our programs, and our innovative work on child protection is a critical part of our approach to children's rights. Our commitment to building a child- safe organisation includes mandatory training for all staff on principles of child protection, with special in-depth training and assessment for those working directly with children.