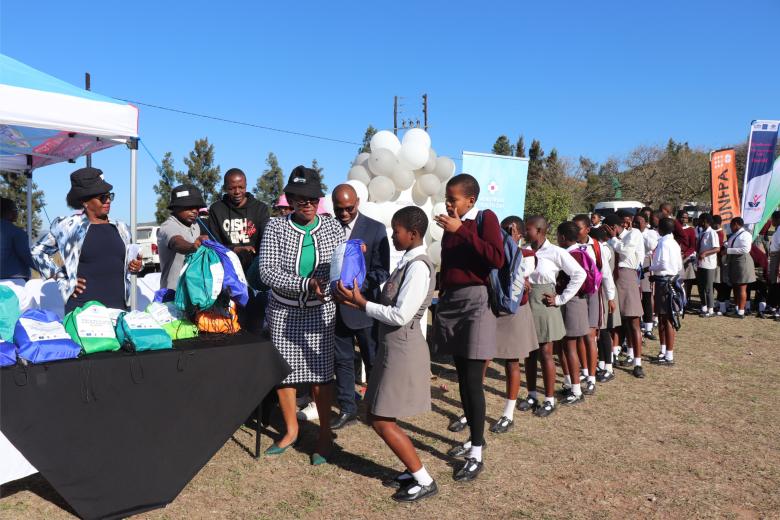 Menstrual Hygiene Day 2023: 200 sanitary pads for Gebeni High School learners
2 June 2023
In commemoration of Menstrual Hygiene Day, World Vision Eswatini, in collaboration with other child and health focused organizations convened at Gebeni High School under Ntondozi Inkhundla on the 2nd of June 2023.
Edutainment for and from the high school pupils were the order of the day, including discussions around what can be done to improve menstrual hygiene in schools.
World Vision Eswatini donated a total of 200 packs of sanitary pads.
"I think that the government should consider including free packs of sanitary pads in school fees because menstruation is not a choice", one of the Gebeni High School pupils explained.
A lot of learners expressed their opinions concerning menstrual hygiene.
"As girls, we should know that having our periods is not something to be ashamed of", one learner stated.
Another learner supported this;
"We must also be clean when we are having our periods. We must wash our hands and not skip school".
The Aids Healthcare Foundation's (AHF) Director, Nkululeko Dube, emphasized on the need to educate boys about menstruation.
"There are some girls whose periods last up to two weeks. We need to educate boys about such things so that they understand what the girl child goes through and not make fun of them. We can actually introduce sanitary pads which will be produced using locally available resources".
To close off the event, every pupil from the school received a dignity pack which consisted of a pack of sanitary pads, a towel, a toothbrush, a toothpaste, a facecloth and a bathing soap.
See the Event