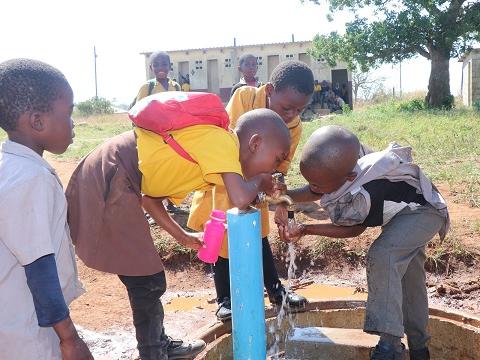 About Us
World Vision Swaziland (WVS) began in 1992 as an emergency relief organization before transitioning to transformational development and advocacy for the most vulnerable children, people and communities in Swaziland. With a high HIV prevalence, Swaziland has a significant proportion of children without parents (orphans) who generally tend to have poorer health, nutrition and education outcomes. WVS supports broader government initiatives targeted at these and other vulnerable children, and further works with traditional structures existing within the communities, to ensure sustainability. The transformational development programmes in WVS include maternal, newborn and child health and Nutrition, Education, HIV and AIDS, Water sanitation and hygiene (WASH), Livelihoods and economic development, Child protection and the spiritual nurturing of children.
WVS works very closely with the communities served, including children, parents and caregivers, partners, faith leaders, government departments, parastals, international agencies, and the civil society. The active participation of children in designing, delivery and review of programs is highly emphasized.
Efforts and achievements this year are contributing to the 5-year strategic goal (2016-2020) of contributing to a measurable improvement in the well-being of 400 000 vulnerable children and improved quality of life of people in their households and communities.
Achievements -- 2018 AT A GLANCE
In 2018, work- was done through the 4 administrative clusters, implementing sponsorship and grant-funded programmes in 18 constituencies. There are 16 Area programmes, 2 grant funded sites namely Ngwempisi and Shiselweni 11.
Programming focus and achievements
Water Sanitation And Hygiene (WASH):
Work in this sector aims at achieving universal access within programming areas, to safe drinking water and basic sanitation and hygiene for 63 000 households by 2020. This is done through the construction of water supply systems, and sanitation facilities as well as sanitation and hygiene behaviour change education, in schools, communities and at the household level.
A total of 55 756 people have been reached in FY18 with access to basic drinking water sources in communities and 42 428 children in 115 schools. These are benefiting from 871 taps installed, 32 boreholes completed and commissioned, and 41 rehabilitated water sources. FY18 Efforts were on sanitation and hygiene promotion and 650 households and 5 schools were supported with material for the construction of VIP latrines.
Education:
Work in this sector ensures that children are educated for life by improving the quality of education and learning outcomes, for children, focusing on the lower levels/grades of primary school. This is done through in-service training of teachers on effective teaching methodologies, after-school literacy activities for children, parent's engagement on participation in children's school work, monitoring school attendance and retention, strengthening school management committees, increasing access to school for the most vulnerable children and promotion of ICT for education in rural schools.
In 2018, a total of 61 000 children were reached with education interventions, including 320 who were supported with school fees and uniforms.
Livelihoods and Economic Development:
The goal of the Food Security and Economic Development technical program is to improve the livelihoods and resilience of 40 895 households to lead and manage their own development in a sustainable way by 2020. The focus for this sector includes improving household income (through establishment and monitoring of savings groups and promotion of local value chain development initiatives), improving household food security (through the promotion of climate-smart agriculture) and humanitarian support to affected households.
About 333 New Savings Groups have been established across all the area programmes implementing Livelihoods technical programmes and grant-funded projects like SALP and Farmer Group Strengthening Project (EU Funded), contributing to the accumulated savings of $288,530.00, amongst these, 29 New Savings Groups for children have been established to ensure children's participation as well as instilling Savings Culture. About 9541 households were supported with cash transfers in 6 constituencies, to improve household food security. In the same constituencies, 6000 farmers (38 001 beneficiaries), were supported with chickens, goats, sorghum and cowpeas as part of the Agriculture Recovery Project.
Maternal, Newborn and Child Health and Nutrition:
Effort in this sector aims at improving health and nutritional status of vulnerable children and mothers in 63,000 households by 2020 and reducing the prevalence of HIV/AIDS amongst adolescents and pregnant and lactating women. World Vision implements the Timed and Targeted Counselling (ttC) model, to reach pregnant and lactating mothers, newborns and children within their first 1000 days to reduce morbidity and mortality around the pregnancy, delivery and after delivery. This ensures that all women of reproductive ages and their families have access to information on essential quality health care which informs decisions for better outcomes. The issues addressed include birth preparedness, immunization, nutrition, utilization of health services, prevention of Mother to Child Transmission of HIV/AIDS (PMTCT) and breastfeeding. This year, a total of 250 trained Rural Health Motivators have reached 2413 pregnant and lactating women and their families with counselling.
A UNICEF funded project was implemented in Lubombo covering Mpolonjeni and Lomahasha constituencies. This project aimed at strengthening community growth monitoring and nutritional assessment. This was essential to promote early linkage to care for children identified with moderate to severe malnutrition as well as to promote early childhood development. This year, a total of 1,658 children were reached with nutrition and growth monitoring services. Of the children reached, 7 presented with acute malnutrition and were referred for treatment.
HIV/AIDS Prevention and life skills for adolescents: The focus of this sector is HIV Prevention amongst adolescents and young women; treatment literacy among adolescents. This technical program is donor-funded. This year a USAID project was implemented through Pact and another project implemented in Gege that is funded by WV Malaysia.  
In FY18, A total of 1713 adolescents aged 12-19 years were reached with a standardised, comprehensive HIV Prevention curriculum in 3 Area Programmes implementing REACH 111. These were Mahlalini, Maseyisini and Hosea. In this project, layered interventions were delivered to priority populations with a high incidence of HIV infection. OVC, adolescent girls and young women were reached with HIV prevention, life skills education and socio-economic empowerment initiatives. Malaysia funded HIV prevention project aimed at improving HIV prevention awareness and life skills for adolescents. An additional 3322 adolescents have also been tested for HIV and received their results.
Child Protection Advocacy:
Advocacy efforts are meant to improve the protection and well-being of all children in the countries. It is mainstreamed across all the programming sectors and includes local and national level engagements with communities, partners and government. WVS role at the local level is to strengthen the capacity of communities to advocate for improved implementation of policies and hold government accountable for improved service delivery. This is mainly done through the Citizen Voice in Action (CVA). At National level, our advocacy includes the development of policy briefs, partnerships with other civil society organisations, participation in sector clusters/consortia, as well as engagements with government and parliament for the amalgamation of bills into law as well as review and amendments of laws and policies.
Main highlights for the year was the launch of the "It takes a world campaign" for Swaziland focusing on the elimination of sexual violence against children in Eswatini. The campaign was launched by the prime minister, at the national level and panel discussion held with key stakeholders such as development partners, parliament, traditional sector representatives, the church and community representatives on what it takes to eliminate sexual violence against children in Eswatini. World Vision and the Children's consortium also celebrates the passing of the Sexual Offences and Domestic Violence (SODV) Bill of 2015
into law the passing of the Sexual Offences Bill is a step in the right direction for the protection of the most vulnerable groups in Eswatini and it signifies a victory for the women and children who have been victims of abuse and violence at the hands of their perpetrators.