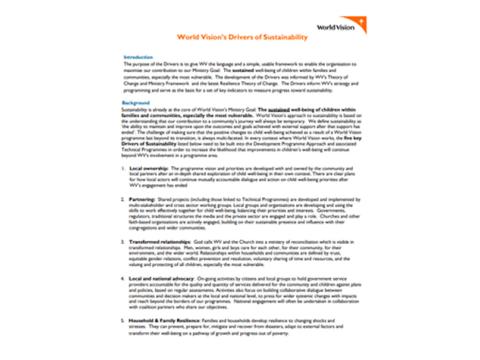 World Vision's Drivers of Sustainability
Tuesday, October 4, 2016
World Vision talks about sustainability but what is it really? How do we work toward sustained child well-being? 
WV has identified 5 Drivers of Sustainability which are explored more in-depth in the paper drafted after a series of webinars on sustainability.  The following highlights some of WV rationale.  Read the paper for more information.
SO WHAT ARE THE SUSTAINABILITY DRIVERS?
Local Ownership

Partnering

Transformed Relationships

Local and Nat​ional Advocacy

Household and Family Resilience
The attached document gives a 2 page summary of WV's sustainability drivers.  Those interested in knowing more can also contact Guy_Calvert-Lee@wvi.org for more information.