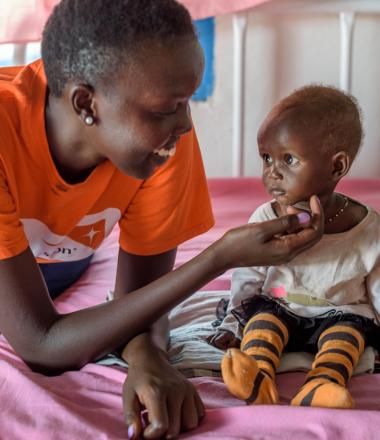 DISASTER MANAGEMENT
Our Approach
Our approach in Disaster Management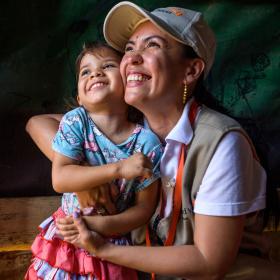 Before. During. After. We are there. And we stay.
Before disaster strikes, we work hard to make sure children and their families understand how to reduce their vulnerability to disasters. During humanitarian crises, our staff on the ground in nearly 100 countries are in communities helping children and families. Following a disaster, we continue to help children and their families rebuild their lives.
We have worked and lived through decades of humanitarian emergencies from the Korean war in the 1950s, to 1970s cyclone in Bangladesh, 1980s famines in East & West Africa, 1990s Balkans war and the Rwandan genocide, through 2004's Asian tsunami, Haiti's 2010 earthquake and this decade's conflict in Syria, we have been on the ground with children and families, responding to their immediate needs, adapting and learning what works best to restore children's hopes, and belief in the future. And we are still there.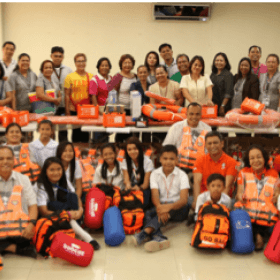 Early Warning
We monitor signals and indicators of natural and man-made threats, ensuring a heightened awareness of emerging events, such as typhoons, flooding, the precursors of famine and stirrings of conflict, so we can anticipate and reduce their impact.
After over a year of building the Bohol educators' capacity in disaster risk reduction and management, World Vision handed over the early warning device to Dr. Cecilio Putong National High School (DCPNHS), Tagbilaran City Central and Cogon Elementary Schools, as part of its commitment to help create safer schools for students. The device and kits, which include hand-held radios, megaphones, life jackets, hard hats, life buoy rings and fire extinguishers, were given, based on their contingency plans.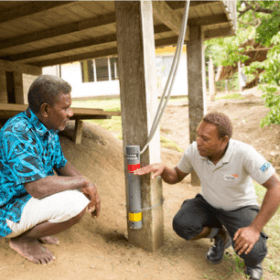 Disaster Risk Reduction
Understanding what the big risks and vulnerabilities are when it comes to a disaster or a potential emergency and knowing how best to either reduce them or in many cases, react when the disaster strikes, can save thousands of lives. Together with local, national and international partners, we focus on reducing these vulnerabilities, including physical, social, economic and environmental factors and strengthening people's ability to reduce risk and build up resilience.
Silen Koeni, Chairman of Village Disaster Risk Committee with Nicholas Fiula, Community Development Facilitator, World Vision. World Vision presented Numbu community with high visibility vests, and solar batteries for their World Vision-supplied flood gauge.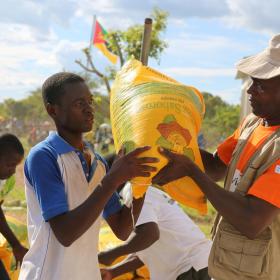 Readiness
We are there and we are ready to respond faster. With pre-positioned stocks and relief items, trained local response teams and emergency-ready funding we move at the first signs early warning triggers. We rely on strong partnerships to ensure our aid is delivered to the right people, in the right ways, on time.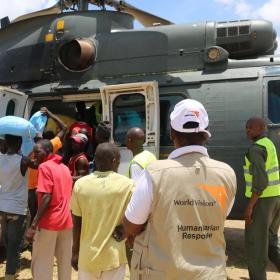 Emergency Response
Building on 70 years of experience, we know what to do when disaster strikes. And we do it.
When many emergencies strike, as was the case in Indonesia in 2019 where we responded to an earthquake and a tsunami at the same time, our local teams were on the ground and were able to respond quickly to support the immediate food, shelter and protection needs and assist recovery of children and their families. Not only were we able to give lifesaving food and shelter supplies, but as one local survivor told us what mattered most was "you are here with us, you know us and understand what we're going through"
In April 2019, Our Global Rapid Response Team of emergency management experts was deployed within hours to Beira, Mozambique to support the local team and community, allowing the team to understand the scale and scope of the disaster and work together with local governments, the UN other local aid agencies to find the best and most effective response for the children and their families at risk.
After a disaster, we shift our focus to recovery and transition, helping children and their families rebuild their lives.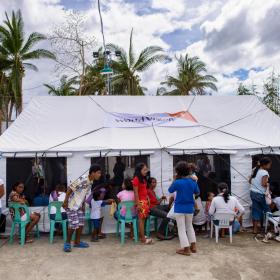 Recovery & Transition
Through the recovery and transition phases from a disaster, we stay on the ground, helping children and their families with improved access to clean water, sustainable sources of food, access to education. We work with partners and local communities so they can re-establish their livelihoods and be more resilient to future disasters.