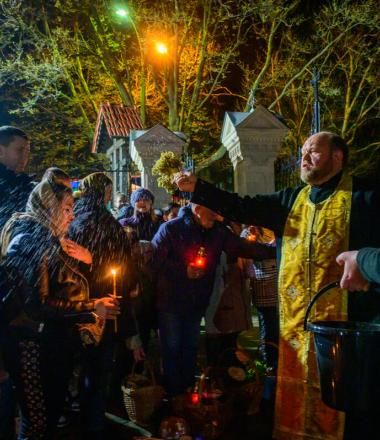 faith leaders mobilized to disseminate preventative COVID-19 messages
Dignity, accountability and local ownership
Faith actors play a central role in the traditions that mark the most important milestones in many community members' lives, and are often well-trusted and well-networked. The credible presence of faith leaders and faith communities far outlasts the cycle of governments and political parties as well as international actors. Faith leaders are embedded in communities.  They understand a community's changing needs, pre-existing coping mechanisms, self-protection activities, and critical cultural traditions. Meaningful engagement and partnering with local faith communities in humanitarian responses can ensure local ownership, context-appropriate responses and accountability.   
Access and presence
More than 85% of the world's population considers themselves religious. Recognising and understanding that spiritual well-being is essential to overall well-being, faith actors have access to spaces and can mobilise networks closed to secular actors. Given the unique access and sustained presence of faith actors in many volatile contexts, meaningful partnerships between faith and humanitarian actors ensures those in the most hard-to-reach areas are served in the immediate as well as the longer-term.  During COVID, for example, in the face of lockdowns that kept international NGOs from communities, faith actors were fully present, aware of emerging needs of the most vulnerable in their community and able to respond in real time. 
Protection and Peace
While religion has often been used as a tool in conflict, time and again faith actors have also proven powerful advocates for peace prior to, during, and following conflict . Partnering with and equipping faith leaders to counter attempts to co-opt religious identity to perpetuate violence or oppression can strengthen efforts towards achieving durable and peaceful solutions to conflict.  World Vision's Do No Harm for Faith leaders was a vital tool for Christian and Muslim faith leaders in Kenya to build relationships.
more than 500,000 faith leaders trained in Channels of Hope programming
Faith actors– formal and informal – are integral members of the disaster-affected communities which humanitarians seek to serve. In many contexts, faith leaders are go-to authorities in times of personal and community distress and provide spiritual comfort, practical advice, and refuge for those in crisis. They occupy a unique space amongst influencers and often speak to areas of individual and community life to which other actors do not have access. The value of faith actors in responding to humanitarian crises has been established. The majority of humanitarian organisations appreciate the utility of including the faith community in humanitarian response at the most basic level. By utililising program approaches which catalyse faith communities to come alongside humanitarian actors, relationships with communities are strengthened, assistance programs are better aligned with community needs, and grassroots support for longer term impact is enhanced. This policy note offers a summary of those unique contributions and recommendations for humanitarian actors. 
Faith leaders create awareness about Ebola