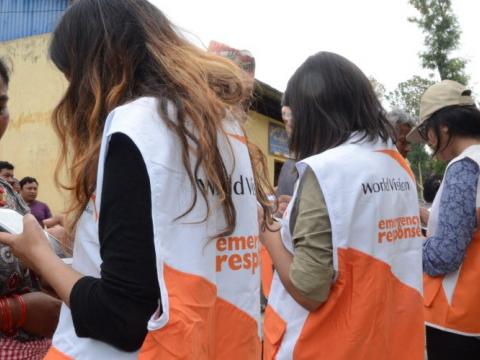 Technological innovation
The right tools, whether they include a notice board used for communication with communities, or a system that facilitates cash transfers to refugees, have always played an important role in the efficiency and effectiveness of humanitarian programming.
As technology has advanced, we have continued to adopt and develop tools that contribute to the efficiency, impact and tracking of our work, as well as the work of the broader humanitarian industry. Technology like our 'Last Mile Mobile Solutions' has now been adopted by peer agencies including Oxfam, Medair, Save the Children, International Committee of the Red Cross, CARE, the Norwegian Refugee Council, Food for the Hungry and Mercy Corps, improving collaboration and coordination between agencies.
While technology and innovation are not synonymous, the right technology can inspire and facilitate new and better ways to achieve our goal to protect children from the impact from disasters.
Geographic information system (GIS)
In the immediate aftermath of most disasters, incomplete and inaccurate data are the norm. Lack of valid data hinders the ability of humanitarian organisations to understand and anticipate the rapidly changing needs of affected populations and predict the required scale of a response. It also limits robust engagement with other stakeholders such as affected communities, donors, media and UN/peer agencies. Affected communities often find themselves in an information vacuum, where rumour and counter-rumour are all they have to make the lifesaving and supporting decisions necessary for them and their families. All this results in lost opportunities to appropriately assist affected populations.
GIS gives us the ability to visualize, analyse, interpret, and understand data to reveal relationships, patterns, and trends. It harnesses the next frontier of data analysis & visualization, using maps to provide a common operating picture as emergencies develop across the globe. We can use GIS to visualize rapid & slow onset emergencies as they develop, tracking the rapid urbanisation of the world's population, and predicting future points of conflict & political instability.
We first explored the use of GIS for disaster response following the magnitude 7.0 earthquake that struck Haiti in 2010 to track the cholera outbreak that spread among refugee camps. Building on the lessons we learned in Haiti, GIS has been used across a number of different emergency responses. It allows us to perform statistical & geospatial analysis to enable greater understanding of program impact and beneficiary profiles, bring together data from a variety of sources to map impact, vulnerability and response activities, providing crucial information we can use in communicating with communities and designing an effective response.
The 'Last Mile' is the critical stage of humanitarian aid delivery where essential supplies reach the people most affected by disasters.
In developing LMMS, World Vision sought to challenge the aid industry, including ourselves, to find new solutions to old problems. We wanted to make vital donor dollars go further in supporting children and their families, to demonstrate comprehensive accountability to donors (including reports that provide information specific to each individual that receives humanitarian aid), and to ensure this work can be done in a manner that preserves the dignity of disaster victims, so they are not treated as passive recipients of other's generosity, but rather as partners in the community transformation process.
The last mile phase of humanitarian delivery presents a series of challenges for implementing agencies including the ability to measure reach and demonstrate accountability and impact at agency and sector level.  Increasing humanitarian need and growing costs of implementing relief programmes has prompted the humanitarian industry to critically review the way in which aid is delivered.  Aid agencies, like us have an obligation to be innovative and technologically progressive to mitigate the traditional last mile challenges and empower communities.  This rapidly emerging "humanitarian innovation ecosystem" has suffered from duplication of effort, fragmentation, lack of standardisation and system interoperability as well as compliance issues related to data protection and privacy concerns. Data and information from innovative solutions that may be applicable across sectors remains in "silos", preventing knowledge sharing and successful models from being replicated.
LMMS is a proven field technology innovation that supports a rich set of 'last mile' management functions in humanitarian service delivery.  Its development and innovation has been incubated within our organisation and field tested by 12 humanitarian agencies in 27 countries.  Through its ongoing development and expansion into providing cash delivery services, digital identity and interoperability with existing sectoral monitoring and evaluation systems, LMMS provides the humanitarian industry with an efficient and effective last mile solutions platform.
Non-food item tracking system (NTS)
While LMMS, focuses on the "last mile" the focus of NTS is the other end of the supply chain, ensuring efficiencies through real-time information of procurement, logistics and warehousing. Through NTS, our staff are able to monitor the entire journey of items from procurement through to dispatch. The system was piloted in the response to Typhoon Haiyan in the Philippines allowing challenges to be identified and managed. It has since been fully deployed in our response to the May 2015 earthquake in Nepal.
The urgency of needs in the initial weeks of an emergency response usually make it difficult to track goods coming in and going out. For example a shelter program may borrow materials from the WASH team without the change being appropriately and efficiently captured. NTS ensures that we can maintain tracking and accountability while giving our emergency teams the flexibility that they need.
The system also provides more accurate estimates of item costs, which may change over the course of an emergency response, providing better information with which to make procurement decisions, which reduces the risk of over or under spending.
Key benefits of the system are:
Ability to centrally track procurements from the point of raising a purchase request through to the delivery of goods to the field
Improved efficiency and staff productivity 
Improved decision making through easy generation of reports 
Improved budget monitoring and control.
Improved turnaround time for purchase request processing
[1] LMMS Haiti Case Study, Accenture Development Partnerships, 2010.
[2] Using the Last Mile Mobile Solutions (LMMS) in Liberia, Norwegian Refugee Council Liberia, 2014.