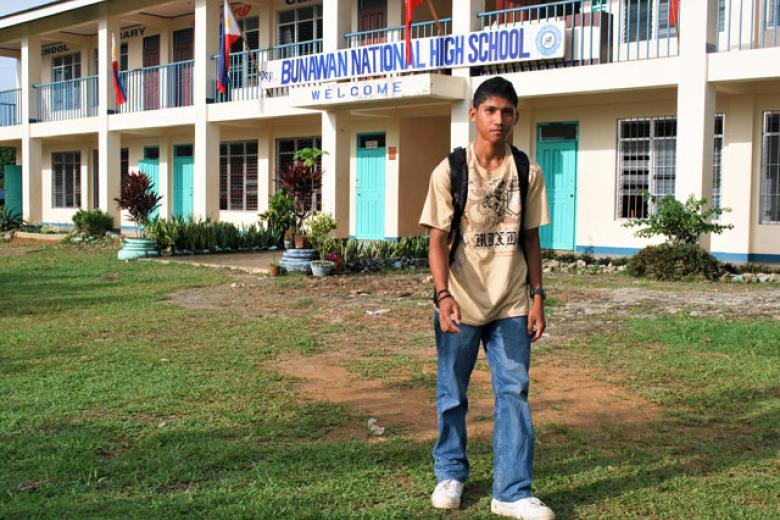 Education is more precious than gold
Friday, October 19, 2012
Jestoni, 18, used to shovel mud and bend over a large pan in search of a tiny speck of gold. When he was 14 years old, he was engaged in a small-scale mining – searching for gold smaller than the size of a rice grain.
Gold mining is the major livelihood of the people in Agusandel Sur, Mindanao. The province has been known as the top mining area in the Philippines. Jestoni's family used to depend on farming but most of their crops were destroyed because of frequent flooding in the province. "We didn't have any other way to earn. Besides, mining is an easy money," Ceasar, 52, Jestoni's father says.
Jestoni, being the sixth child among seven, learned to search for gold from his father and older brothers. Unfortunately, he had to quit school when he reached 14 to contribute to the family's income. Mary, Jestoni's mom recognised that small-scale mining is very dangerous for her kids. "As a mom, I worry about their safety but we have to go on. We have to earn to provide our daily needs," Mary says.
Mary and Ceasar were only able to reach Grade 4. "I don't want my children to be like me. I want them to finish school and find a job they want but I don't have money for their education," she adds.
Dangerous labour
Alas, Jestoni plunged into the depths of a mineshaft to dig for gold. Unfortunately, many kids in Agusandel Sur, Mindanao are engaged into small-scale mining. However, this livelihood uses low technology methods, such as carrying bags of mud on their heads or back, and doesn't follow safety standards. It's sad to say but children labourers are exposed to dangers of landslides and falling rocks including mercury-based chemicals in the mining sites. At a very minimum, Jestoni needed to carry sacks of rocks, which will processed in search for gold. "I used to complain on body pains due to heavy loads," Jestoni remembers.
When Jestoni was in second year high school, he decided to quit his studies. "I was so tired, so weak since I had to work at night and go to school the next day," Jestoni recalls. He reached a point of working full time when his parents could not afford to send him to school anymore. Every day, Jestoni had to work for eight to 12 hours or longer to earn a maximum of P200 (USD 4) a day.
Jestoni's most dangerous experience turned out to be a real eye-opener when he almost met an accident inside the tunnel. "There was a sudden landslide. It was too dark but I ran as quickly as I could. I felt so miserable, and then I realised that I didn't like what I was doing. I just wanted to go back to school," Jestoni narrates.
A Survey on Children conducted by the National Statistics Office of the Philippines in 2011 says that a total of 5.5 million aged five to 17 years in the Philippines are engaged into child labour, of which 3 million were in hazardous work. Over 20,000 children are engaged in mining and quarrying. "Because of mining, children often quit school to work all day to earn income," says Frank Salindato, a World Vision program officer.
Regaining lost childhood
Thankfully, through World Vision's sponsorship programme, Jestoni's happy to go back to school. World Vision staff in Agusandel Sur province has been doing special visits to those kids who are engaged in small-scale mining. "We reach out to their parents and endorse the children in labour to the schools nearby," Salindato says.
Jestoni along with other kids in the community are actively involved in World Vision activities like everybody's birthday, children's congress and youth camp. "Through World Vision, I was given another chance to learn in school, play games with friends, and dream of my future," he says gratefully. "Nothing can replace the importance of education, even the most expensive thing in the world."
At the age of 16, Jestoni went back to school. At present, he's now excited to graduate high school next year to fulfil his dream in becoming a police officer. He's also taking the initiative to encourage his friends who are still in the mining site to go back to school. "I hope they'll realise the importance of education before it's too late," he adds.
Happily, Jestoni enjoys his life as a student. "Having left the dark tunnel in the mining site, I can now see a brighter future ahead," Jestoni concludes.