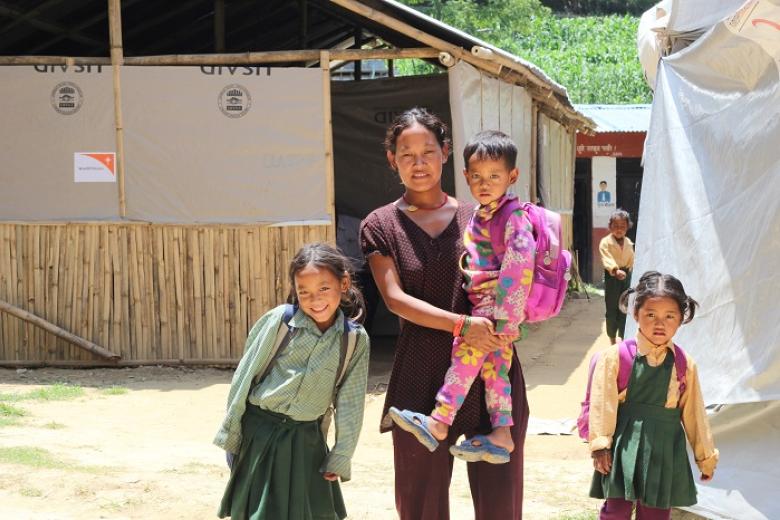 Temporary Learning Centre provides safer environment for children affected by the Nepal earthquake
Friday, July 24, 2015
The cracks and damages around Purmina's house, reminds her of the horrible earthquake that might have taken her life. "I'm not comfortable to stay at home, but my family chose to stay in the damaged house over putting up tents in an open space because we're scared of leopards," says 7-year-old Purmina.
"I was inside the house and suddenly, the wall swayed violently. The shaking continued, accompanied by a loud rumbling. It's the sound I will never forget."
Purmina lives in the village of Doleswor, located on the top of a high mountain in Bhaktapur. She couldn't forget how she managed to run quickly outside their house before the fallen bricks hit her. "I was inside the house and suddenly, the wall swayed violently. The shaking continued, accompanied by a loud rumbling. It's the sound I will never forget," she added.
The young quake survivor is thankful that all of her family members are safe, but the unpredictable aftershocks have been scaring her even more.
Thankfully, the government of Nepal reopened the school last May 31, following the two major earthquakes last April 25 and May 12.
However, Purmina's school, Doleswor Lower Secondary School, which sits on the foot of the mountain where she lives, is also damaged. But Purmina along with a hundred students at her school is glad that small classrooms made out of bamboo, wood, and tarpaulins were being put up.
"I love to be in school. I feel safer and secured here," says Purmina.
World Vision, in partnership with the Ministry of Education in Nepal and its other partner agencies are in the process of setting up more Temporary Learning Centers (TLC) for children in the quake-zone areas. They target is to establish 54 TLCs in Sindhupalchwok, Sindhuli, Gorkha, and Bhaktapur districts of Nepal.
Rajani Maharga, World Vision' Education Coordinator in Bhaktapur, highlighted the necessity for children to receive a proper education after the earthquake.
"World Vision aims to get all children back to school, while also assuring safe learning environments," says Rajani.
Since the earthquake last April 25, World Vision put up 35 Child Friendly Spaces tents with more than 3,500 children attending (as of this writing) in order to provide psychosocial intervention to children who experienced distressed from the earthquake.
Aside from the TLC, World Vision will facilitate training among teachers to respond to the emotional needs of the school children.
Children play outside the TLC in Bhaktapur district, Nepal. (Photo credit: Crislyn Felisilda / World Vision)
"Here, children will have an opportunity to study in a safe and fear-free environment. They play, learn, dance, sing and interact with one another," says Jeevan Suwal, health teacher of Doleswor Lower Secondary School in Bhaktapur district.
"However, we need a more permanent structure for the longer term, but in the meantime, the TLCs would suffice," adds Jeevan.
Purima, a first grader, goes to school along with her younger sibling, Puja, 5 years old. Her mother, Mira, 26 years old, fetch the kids to school everyday.
"I'm happy to see the smiles of my children. I could only see them when they are in school," shares Mira.
Purima's family along with other families in Bhaktapur also received tarpaulins, food, aquatabs, blankets, mosquito nets, and ropes from World Vision.
Before the earthquake happened, World Vision put up water system facilities in Doleswor, Bhaktapur giving the families access to clean water.
Related links: