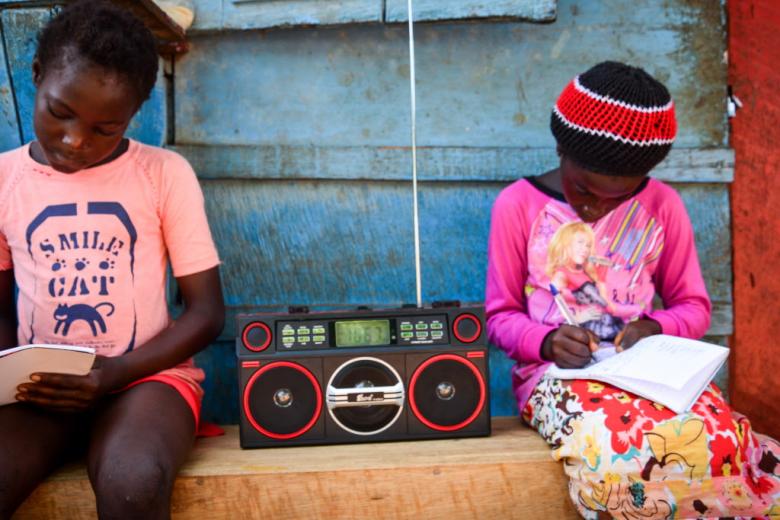 Education after Ebola
Wednesday, June 22, 2016
Sierra Leone is the 72nd country I've visited, personally and professionally. As I board the boat from the airport to the capital, Freetown, I am hit by how unique its 'welcome' is: palm trees sway against the beach, the waves crash against our vessel as we speed across the sea and the buildings ahead show a bustling capital city in the distance.
Waiting for my boat taxi to take me from the airport to Sierra Leone's capital, Freetown. (Photo credit: Craig Geddes / World Vision).
Every time I set foot on new ground, in a new place, entering a new country, I always have to remember that each nation, each community, each person has a different story. That story, however light or dark, is a critical story to millions of people and to those of us working alongside them.
Sierra Leone, the "mountain lion", is a country that has seen devastating war and conflict and has survived one of modern day's most devastating diseases, Ebola. Over the past 20 years, Word Vision has stood with the beautiful people of this country, working together in health, livelihoods, nutrition and education. World Vision, the Government of Sierra Leone and the communities across this country have learnt the value of restoring and rebuilding and my trip is part of seeing that – yet again – come  to fruition.
Vendors sell palm oil at the local market in Bo, Sierra Leone. (Photo credit: Craig Geddes / World Vision)
As part of World Vision's commitment to helping children live life in all its fullness, we are working together with our partners to roll-out literacy programming in key areas of the country. The project, Literacy Boost, will help improve teachers' capacity, community support and children's literacy levels to ensure they have a better chance of educational success.
As I sit in the back of a small room in a World Vision office, in a town called Bo, I am struck by the men and women of different backgrounds  and faiths who have gathered to listen to a presentation on how we can ensure their children's reading success. Reading camps, reading corners, phonemic awareness, letter knowledge, sentence structure – these terms are discussed and debated as they plan how to help uplift their children.
With the education team from World Vision Sierra Leone. (Photo credit: World Vision)
This is the work of world changers, and it is desperately needed. In World Vision's baseline assessment of key areas of the country, we found that out of the children surveyed, only 3 per cent were able to recognise the sounds of a letter, and only 4 per cent were able to pronounce sight words. Sierra Leonean children need help. They need partners like World Vision to come alongside the government to train teachers, created community based reading clubs and support structures and tools to help monitor success.
I am happy to say, that through, Literacy Boost, World Vision is starting the process to do just that – change the likelihood that children will learn. Is it easy? No. Is it smooth? No.
In most countries where World Vision operates our educational projects, challenges arise at every corner – challenges that often seem insurmountable for the local government, for partners and for communities themselves. The key for us is to continue to keep hope where it may seem hopeless and to learn from the very people we are partnering with.
Learn more about World Vision's work in education in emergencies.
The impact of war, famine, disease and disaster doesn't leave the day doctors pack their kits away, peacekeepers go home and funding dries up. No. The impact remains for days, years and sometimes generations to come.
The stigma associated with Ebola still remains in Sierra Leone. Throughout Freetown, and in towns across the country, billboards remind passersby to "end the stigma on child survivors of Ebola – we are all one".  As we enter the World Vision office, handwashing stations and thermometers are present for 'check-in', and people are still haunted by a rapid, shocking disease that destroyed so many families and left so many children orphaned.
An "Ebola station" at the World Vision office. (Photo credit: Craig Geddes / World Vision)
After the newscasts go dark and the world's attention has moved on to the next crisis, the work for Sierra Leoneans remains. While health, food and security are all vital to survival, World Vision also believes that education is critical and life-saving. Watching this country recover reminds me once again that all children deserve to learn. Their future depends on it. Their future depends on our work today. 
Craig Geddes is World Vision International's Global Literacy Program Manager responsible for overseeing the roll-out of literacy programming in over 20 countries across World Vision's partnership. Craig has lived in Africa for over 12 years, has worked in and traveled across Africa, Asia, South America, Europe and the Middle East, and has extensive experience in grant management, program development and technical planning in education, gender equitable programming, nutrition and health. Craig is a graduate of The College of William and Mary in  Williamsburg, Virginia and the Spanish American Institute in Seville, Spain.
Related Links: