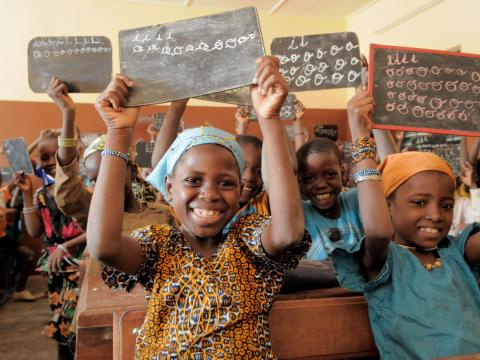 Making education safe for all
Tuesday, November 29, 2016
I stood at the front of a training room in West Africa, trying to moderate a heated discussion between some veteran teachers on how best to manage children in a classroom. In a workshop on reading skills, teachers began to express their frustration in trying to maintain class control for long enough to get kids to focus on their reading activities. According to them, behaviour management was an issue. Large class size was an issue. Getting kids to pay attention was an issue. So we began to strategise and brainstorm.
"What are some of the techniques you have used that work in managing the classroom?" I asked.
The teachers began to list some really great ideas – putting kids in groups with assigned tasks. Using chants or claps to get their attention.
Then, an older male teacher said "And, you can cane them."
Silence in the room.
I sighed. I'd heard this before. I'd seen it before in my travels. Overcrowded classrooms full of children that just won't settle down, until the teacher pulls out the cane. Large groups of children whipped to get in line in the school yards. Fear in their eyes as they try to comply.
How can anyone learn if you are in fear regularly? Corporal punishment is sadly not the only form of violence in schools.
Caning is a form of corporal punishment widely used in classrooms in Africa and other places where World Vision works. In many places in the world, violence against children in schools is not explicitly prohibited and is tolerated or viewed as normal practice for disciplining children.
I didn't know what to say to these teachers. As an outsider, I wanted to be culturally sensitive. I wanted to simultaneously understand that these teachers faced huge challenges and also cry out that caning children was not OK.
Thankfully, my co-facilitator stepped in to help me, citing World Vision's child protection policy. She stated that we do not support any form of violence against children, in schools or otherwise. We quickly moved on to other, more effective strategies for classroom management.
That's the thing about corporal punishment. It doesn't work. Multiple studies have shown that exposure to violence and resulting high levels of stress have been linked to poor learning outcomes and reading deficits amongst children.[1]
It makes sense. How can anyone learn if you are in fear regularly? Corporal punishment is sadly not the only form of violence in schools. Sexual violence, bullying, and other forms of violence are prevalent. The most vulnerable children in society are the primary victims of violence in schools. Children can also be perpetrators of violence in schools.
Safe schools prevent and transform violent behaviours
We need to make sure that we do more than merely prevent violent discipline in schools; we need to support teachers with other options. Children need discipline – anyone who has encountered kids or has kids of their own knows that! But positive discipline methods are not as widely understood and need to be shared in-depth with teachers. We also need to help transform social norms and attitudes so people will learn that corporal punishment is harmful and unacceptable.
World Vision works together with partners to create a positive school environment in which all children are able to fully develop their academic skills as well as increase the emotional confidence they require to thrive within their communities.  We are working to revise curriculum and improve teaching practices to promote respect and gender equality. We are directly training teachers in the use of nonviolent teaching and positive discipline practices.  Teachers are also learning to recognise signs of potential abuse in their students and how to take action in those cases.
But we are passionate about changing this practice so that all children can enjoy a safe and quality education free from violence and fear. 
For many teachers, this approach to positive discipline is practically intuitive, and its rewards are obvious. However, for others, such as the teacher I mentioned at the outset – ready to reach for his cane to instill order - this represents a distinct change from the methods they were taught to use as professionals, or experienced themselves when they were young students in the classroom. 
We at World Vision recognise that this change in attitudes and norms will be gradual at times. But we are passionate about changing this practice so that all children can enjoy a safe and quality education free from violence and fear. 
What you can do
Join us during our live tweet chat where you can chat directly with Lisa and our other education and gender-based experts. They will be online to answer questions and talk about what World Vision has been doing to help children be free from fear and violence at school!
When: 12.00-12.30pm EST on Wednesday, 30 November, 2016
Where: Twitter (Follow @WorldVision and @WorldVisionUSA)
Why: So you can help make education safer for all boys and girls
Lisa Easterbrooks is the Basic Education Specialist in the Education and Life Skills group at World Vision International. She has over 12 years of experience in international development with a focus on literacy, basic education and life skills programming. Lisa has a Master's in Education from Boston University. Follow Lisa on Twitter at @lmeasterbrooks.
[1] Delaney-Black, Covington, Ondersma, Nordstrom-Klee, Templin, Ager, Janisse, Sokol. (2002). Violence exposure, trauma, and IQ and/or reading deficits among urban children. Arch Pediatr Adolesc Med. 2002 Mar;156 (3):280-5.