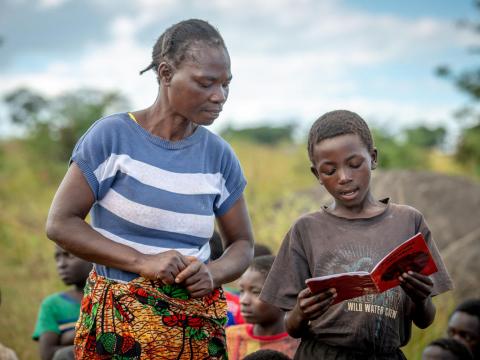 International Literacy Day
September 8 is UNESCO's International Literacy Day, which recognises literacy as a human right and the cornerstone for development.
Globally, 250 million children – including many of the most vulnerable – are not learning basic literacy and numeracy skills even though half have attended school for at least four years.[1]
In order to reach Sustainable Development Goal 4 and "ensure inclusive and quality education for all and promote lifelong learning," global leaders must refocus on the role of education in poverty reduction. We must ensure that children are not only in school but are learning when they get there.
Literacy and multilingualism
International Literacy Day 2019 will focus on 'Literacy and Multilingualism'. Embracing linguistic diversity in education systems and classrooms not only fosters respect for linguistic and cultural diversity, but also acts as a force for quality learning. Quite often, children from non-dominant language communities are required to begin their formal education in classrooms where the medium of instruction is a language they do not speak and barely understand.
World Vision supports children to have the opportunity to learn first in their mother tongue as a means of promoting education that is more comprehensible, as well as more valued by students, parents and communities. We believe the use of mother tongue based instruction leads to improved educational outcomes, makes a vital contribution to global citizenship by promoting intercultural connections, and supports the overall viability of the Sustainable Development Goals.
Unlocking literacy
Literacy unlocks human potential and is the cornerstone of development. It leads to better health, better employment opportunities, and safer and more stable societies. Developing literacy skills in the early years is crucial to a child's success in school and later in life.
World Vision works with communities and families to ensure that children – including the most vulnerable – access quality education and achieve functional levels of literacy through our Unlock Literacy programme.
What's your favourite book?
Ahead of International Literacy Day, we spoke to children and asked them, "What is your favourite book?" Watch the video to find out.
__________________________
[1] The Millennium Development Goals Report, 2015
[2] UNESCO Global Monitoring Report 2013/2014 pg. 18