International Literacy Day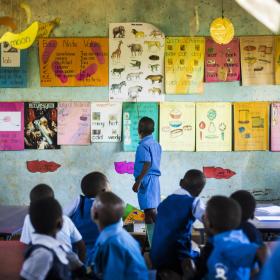 Find out how World Vision Education globally is improving literacy in a variety of ways ..
Unlocking Literacy!
Literacy unlocks human potential and is the cornerstone to learn for life. 
This is why World Vision is committed to ensure every child, especially the most vulnerable, attains literacy skills as an essential building back for learning through our whole child approach. Developing literacy skills in the early years is crucial to a child's success in school and later in life. It also enables having better health, better employment opportunities, and safer and more stable societies.
World Vision works with education authorities, local partners, teachers, communities, and families to ensure that all children access quality education and reads to learn through our Unlock Literacy and Catch Up Programme evidenced-based approaches.
We work in 66 countries across the globe supporting children in their learning journey from birth to adolescence. We are relentless in ensuring every child learns for life. Find out more below:
Our Promise to Children: Learning for Life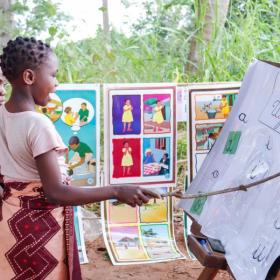 World Vision Literacy work across the world ...
World Vision across the world provides support to improve literacy and give vulnerable children the opportunity to thrive, develop and equip them for a brighter future: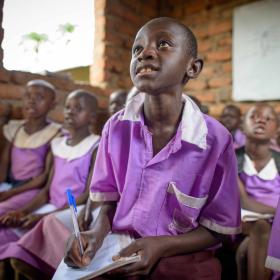 Did you know?
World Vision Nepal - In FY 2022 over 219 community based-learning reading clubs were created for more than 7,000 students
World Vision Cambodia - In 2022 835 reading clubs were established with over 111,600 story books and literacy materials distributed within the clubs
Teachers  Trained - 35,480
Community Facilitators - 17,080  community literacy facilitators were trained in 22 countries to support and improve literacy
Reading Materials - 777,695 reading materials were distributed to 24 countries
Literacy Support - 319,974 parents were trained and supported to ensure they were able to support their children's literacy in 24 countries
Overall Reach (aged 0-18 years) - 4,546,636 (including 2,382,119 girls) in  39 countries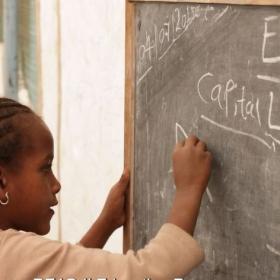 View World Vision Videos on how Literacy is making a difference...
READ II project in Ethiopia  - On this International Literacy Day we highlight @USAID's Read II Education Recovery activity which is providing critical support to children and their families in overcoming the trauma of the devastating war in Northern Ethiopia. Watch this video to see how Temporary Learning Centres, Parental Awareness Workshops and Psychosocial Support helps children return to school after conflict. @USAID, @World Vision, @1977Creative.  #LiteracyDay, #ILD - View the video for the full story 

With 9,300+schools damaged or destroyed during the conflict and 3.5 million students were out of class and feared for their lives 
82% of teachers now use self-care techniques to reduce stress and overcome traumatic experiences
READ II Education Recovery project transformed education into a life-sustaining activity that reached more than 816,000 students in 1,1,100+ schools

Unlock Literacy Learning Network Project in World Vision Nicaragua - For the past 3 years, Brenda has become a promoter of Reading Clubs in her church in Nicaragua and 7 other congregations. Her dedication to children's education has allowed her to bring great changes to both girls and boys aged 6-12 including children with disabilities! Take a look at Brenda's story 
Find out how how our UNESCO prize winning Unlock Literacy Programme on "Education for Sustainability" 2021 is improving reading countries such as Ghana increased to 15 books per child
WV Nicaragua - Reading Clubs -  View how 177 reading clubs were created at national level with 1,753 children including adolescents were supported by community leaders and churches to ensure education and development of children continued.  
Rapidly changing global context took a new meaning over the past years, hampering the literacy progress and widening inequalities across world regions, countries, and populations.  In low- and middle-income countries, the share of 10-year-old children who could not read and understand a simple text with comprehension has increased from 57 per cent in 2019 to an estimated 70 per cent in 2022.  
In this context, this year's International Literacy Day will be celebrated worldwide under the theme, 'Promoting literacy for a world in transition: Building the foundation for sustainable and peaceful societies'.   
Here are more ways to help unlock literacy
On

International Literacy Day 2023

, World Vision is joining with

All Children Reading: A Grand Challenge for Development - a partnership between World Vision, USAID and the Australian Government.   All Children Reading: Learn A Grand Challenge for Development's (ACR GCD) legacy is an Education technology game-changer in low-resource and crisis contexts to bridge gaps in access  to improve literacy, both in school and out of school including those with disabilities. Also improves reading outcomes through innovations like online digital libraries -  View the video below to find out how:
Unlocking Literacy - View step by step  "bringing to life" elements of teacher instruction to support master trainers literacy, displaying techniques in a classroom setting.

Measuring Evidence of Quality Achieved (MEQA)- MEQA is a digital coaching & monitoring system designed specifically for the Education project models. View a short synopsis on the mechanisms of MEQA. 
​​​​​​Global Reading Platforms World Vision Education recommends:
For any additional information please contact us at: education@wvi.org