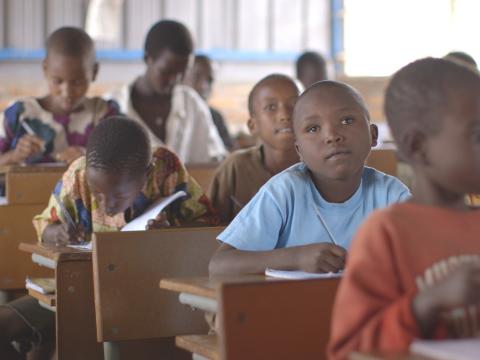 Literacy Boost
THE GLOBAL LEARNING CRISIS
Over the past decade, there has been a large investment in improving children's access to education. However, the resultant expansion in children's school enrolment has strained the capacity of education systems to ensure quality learning. Globally, 250 million children – including many of the most vulnerable – are not learning basic literacy and numeracy skills even though half have attended school for at least four years.[1] 
THE PARTNERSHIP FOR LITERACY
World Vision and Save the Children are working together to improve children's learning outcomes by providing early grade learners with quality literacy programmes – in school and out of school – that significantly improve reading skills acquisition and reading comprehension.
LITERACY BOOST
Literacy Boost[2] is a proven literacy programme that supports the development of reading skills in young children.  There are three steps in the Literacy Boost programme:
Reading Assessments – Baseline and endline reading assessments measure children's reading levels, evaluate their literacy learning needs, and help schools and ministries of education  track student progress.
Teacher Training – Training teachers to incorporate the five core reading skills into their regularly scheduled curricula in order to ensure that children are learning to read and remain motivated to learn while in the classroom.
Community Action – Mobilising parents and communities to support children as they learn to read through fun out-of-school literacy activities and through the creation of locally relevant reading materials.
These steps address the ways children learn to read, how teachers and parents can help, and create an environment for that to happen anywhere: in school, in the community and at home.
Learn more about how Literacy Boost is helping parents and teachers in Burundi inspire a love of reading in children. Watch the video.
RELATED LINKS:
__________________________________________________
1 UNESCO Global Monitoring Report 2013/2014 pg. 18
2 Literacy Boost is a copyrighted tool designed, developed, and owned by Save the Children.