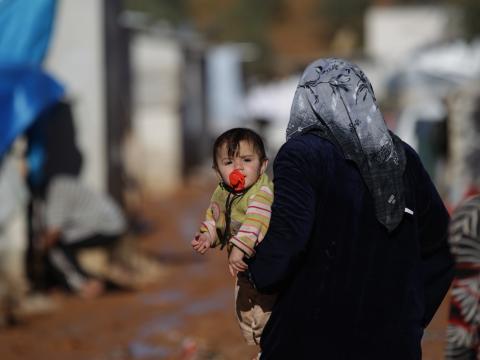 Failing Syria - Khaldoon's story
Thursday, March 12, 2015
Khaldoon fled from Hama with his family two years ago, settling in a camp for displaced people on the border with Turkey in the north of Syria. Khaldoon has six children the youngest of which is his seven month old daughter, Nadeen. His wife is pregnant with their seventh child.  
Khaldoon's eight year old daughter, Fatima, is suffering from a skin disorder that appeared on her legs four months ago. Her father has taken her to all the available clinics that he can afford but no one has been able to provide her with any treatment. Her condition is causing her a lot of pain and is affecting her ability to walk.
This month,  World Vision has joined with 20 other humanitarian and human rights groups to critique the UN Security Council for failing to alleviate the suffering of civilians, like Khaldoon and his family, amid intensifying conflict four years after the start of the crisis.
Khaldoon's story in his own words
I had my own land back in my village, and I used to be a farmer growing different crops that I would sell.
I had five children at that time and I had to save their lives.
I left my home and my land about two years ago because it wasn't safe anymore, and I had five children at that time and I had to save their lives. We went from camp to camp looking for a tent or any shelter where we could stay. I lived for many months in the mud and cold without any shelter to protect us. Four months ago I got this tent. It is not a good life but what can we do, we want to survive.
I have no work right now and I can't find any. We were surviving on aid before but now it has almost stopped. What should I do to feed my six children in such conditions? My youngest daughter is just a baby, only seven months old.
My daughter Fatima has been suffering from a skin disorder on her legs for the last four months. I can't do anything for her. I took her to all the clinics but they don't know what it is or how to treat it. Most of them said that it is not an emergency and that they have other critical injuries that they need to take care of. But her legs hurt a lot, and she can't sleep or walk normally anymore. I just wish that I had money so I could take her to Turkey to get treatment.
Scoring the UN resolutions
According to the scorecard that assesses the implementation of 3 UN resolutions passed last year,  "The spiralling catastrophe in Syria is a stain on the conscience of the international community." 
"Despite passing three UN Security Council Resolutions in 2014, violence in Syria has intensified, killings have increased, humanitarian access has diminished, and the humanitarian response remains severely and chronically underfunded."
Please support World Vision's response to the crisis - click here to learn more.
This story is one of several case studies that accompanied the Failing Syria report.