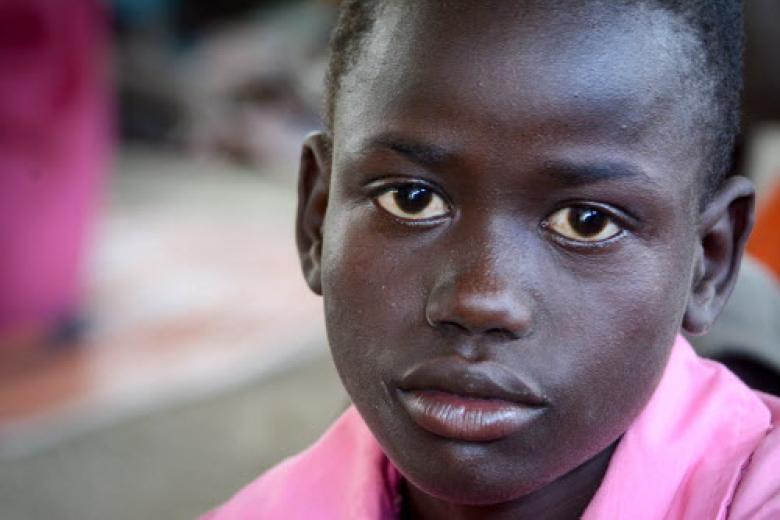 Six places in need of peace
Wednesday, September 17, 2014
Though their conflicts differ, six locations around the world share a common need: peace. September 21st is the International Day of Peace, so we are highlighting the six locations badly in need of peace where World Vision is working. 
Suffering the effects of an ongoing civil war between the rebel group March 23 and government forces, the Democratic Republic of Congo (DRC) is experiencing overcrowded hospitals, spread of disease, rampant exploitation and abuse, and the displacement of its people. Rebel groups kidnap children and force them into military or sexual labour. Cholera spreads through overcrowded refugee camps due to lack of sanitation and hygiene.
Many children are kidnapped and forced to fight or work as porters, spies, cooks or sex slaves. 
Women and young girls are victims to a sexual abuse rate of 40 assaults per day, according to the country's Ministry of Gender, Family and Child Protection. An estimated 2.6 million people have been displaced and forced to flee from their homes, where colder temperatures subject the majority of children to pneumonia as they lack proper clothing. 
World Vision operates in four regions of the Democratic Republic of Congo (DRC), focusing on transformational development programmes in the south and the west, and humanitarian and emergency response in the eastern region. World Vision is responding through its work in protection (including child protection), water and sanitation, health and nutrition, food security, HIV and AIDS, and advocacy.
The ongoing conflict in Israel/Palestine continues to threaten millions of lives in the region. Of the 2,131 people who have died in Gaza since July, 501 were children, according to U.N. reports. At least 10,224 people have been injured, including more than 3,100 children. More than 200 schools have been damaged or destroyed. 
The cycles of violence have far-reaching results on children. 
The occupation and blockade of the Gaza strip continues to jeopardize the lives of Gaza children, depriving them of their basic human rights and robbing them of their childhood and even dreams of a better future. This continues to spark the cycles of violence that threaten the lives and safety of children in both Israel and Palestine. 
More than 5,000 children in World Vision programs have been displaced. Eight children enrolled in World Vision programs in Gaza have died in the recent conflict. 
World Vision has suspended its regular development work in Gaza and has turned instead to relief operations. World Vision has distributed thousands of food parcels and hygiene kits, is providing medical supplies to private hospitals, and has set up 40 Child-Friendly Spaces to provide a safe environment for children to recover from traumatic events. 
A brutal conflict between former government partners and the government has led to the displacement of more than 1.3 million people, half of them children. One-third of the population of South Sudan (four million people) desperately needs food and immediate aid. 
250,000 children are at risk of severe malnourishment.
International humanitarian groups fear that if treatment for malnutrition is not immediately expanded, a quarter of a million children will be severely malnourished by the end of the year, and 50,000 children under age five may die. 
World Vision and other humanitarian groups like the UN are rushing food and other essential items out to remote areas of the country that have been embroiled in fighting and now risk being cut off by heavy seasonal rains.
World Vision is setting up water points and providing sanitation facilities in Malakal, the U.N. area where 20,000 displaced civilians are living in tarpaulin shelters. World Vision also is bringing relief aid to displaced families in nearby communities.
The conflict in Syria has already claimed more than 190,000 lives—at least 10,000 confirmed to be children. It has forced approximately 9 million people to flee their homes and 2.5 million to take refuge in neighbouring countries. In Iraq, Yazidis, Christians, and other religious and ethnic minorities are among the 1.8 million people displaced by conflict since January 2014. Displaced families are in desperate need of food, shelter, clean water, medicine, and protection. 
A whole generation of children are at risk. 
Experts warn that if the immediate needs for education, psychosocial support and protection are not met for the 5.5 million children currently living in desperate conditions in Syria and neighbouring countries, a whole generation could be lost. 
World Vision has been responding to the needs of refugees and their host communities since 2011 through the provision of food vouchers, access to education, heaters, blankets, hygiene kits, psychosocial support and water, hygiene and sanitation infrastructure. As the needs continue to grow, World Vision is also increasing our response across the region, aiming to reach at least 1.5 million people (across Lebanon, Jordan and Syria) in the coming months.
In Iraq, World Vision is prioritizing the needs of children in this crisis, recognizing that they are always disproportionately affected by conflict and displacement, and is working with local partners to respond to the immediate needs of displaced Iraqis who have fled attacks in northern Iraq.
The Central African Republic (CAR) has erupted in fresh turmoil in recent months. Widespread violence has killed thousands and caused about 1 million people to flee their homes. Those operating in the country say about 2.5 million people require assistance, but humanitarian groups have a difficult time accounting for the true scale of people's needs, because fighting has reduced their access to vulnerable people. 
According to the U.N., 3,500 to 6,000 children have been recruited into armed groups to fight, be used for sex, or serve as porters and spies.
World Vision has not previously worked in the Central African Republic, but has now sent staff to help meet vital needs in this difficult place. Partnering with the World Food Program, World Vision has fed more than 46,000 school children since May, distributing more than 155,000 metric tons of rice, peas, oil, and salt. World Vision is also working to establish local child protection committees to train community leaders and volunteers to care for abused children and prevent further harm. 
As a result of Honduras, El Salvador and Guatemala boasting three of the six highest murder rates in the world, tens of thousands of children are fleeing the daily threats associated with gang violence and extreme poverty. Many children seek to be reunited with family members previously driven out of their country by the same causes. 
Organized drug cartels and gangs, domestic violence, and scarce opportunities for the future force children to flee in order to seek safety and save their lives. Human trafficking, exploitation or abuse, lack of access to proper hygiene, and starvation are risks migrants face once they leave. 
Those who do not become members are often victims to gang activity, whether through murder, kidnapping, threats, extortion, abuse, rape, or a combination of all, a reality that is forcing thousands of children to flee their homes in search of safety. The exodus of children from these three countries is causing a large-scale humanitarian crisis throughout northern Latin America and at the U.S. border. Children are constantly at risk, whether at home or moving to another location. 
World Vision has worked for more than four decades to address these root causes. Working on a local and national level, World Vision works to strengthen child protection systems and create community mechanisms to ensure child protection. In the United States, Mexico and Central America, World Vision is working with churches and community partners to assist children caught in the growing humanitarian crisis caused by gang violence and poverty, and also offering community solutions so the families do not have to flee.