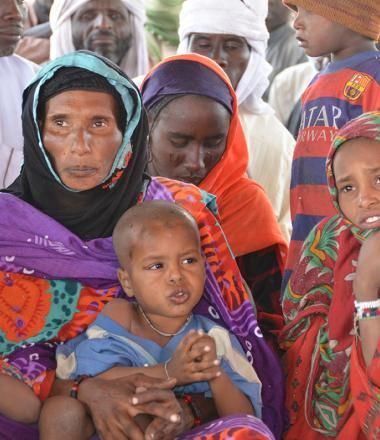 Lake Chad Basin Emergency
Children don't start wars
Lake Chad Basin Emergency
Since 2015, attacks in Chad by the jihadist group Boko Haram, have led to the deaths of hundreds, displaced nearly 200,000 people and damaged the regional economy of the Lake Chad Basin (LCB). The consequences of the crisis in the Lake Chad Basin have been catastrophic.
As of May 2019 more than 179,000 people have fled their villages out of fear and have settled in other areas of Chad, leaving behind their sources of livelihood. Women and girls are often the targets of physical and sexual violence, far too many have experienced or witnessed atrocities.
Since January 2018, more than 2,000 protection cases (rape, abuse, harassment etc..) have been recorded in the areas of displacement. In addition to physical dangers, there is limited access to basic social services (education, health care, water, hygiene and sanitation). Extreme poverty and the absence of development initiatives are root causes exacerbating the current humanitarian crisis. Due to the low level of funding, many critical needs have remained unmet.
By the end of 2018, only 33% of required funds (out of a total of $121 million USD) to meet the Lake Chad Basin's needs were sourced.
World Vision has been responding to the needs of families affected by the Lake Chad Basin (LCB) crisis since 2016 in both Chad as well as Niger (where many families have fled) through interventions focused on water, sanitation and hygiene (WASH), Food Security, Livelihood development and Resilience as well as protecting children and addressing issues caused by imbalances in gender. 
Our Impact
5,000
Number of families supported through non-food
6
Number of Improved Sanitation Facilities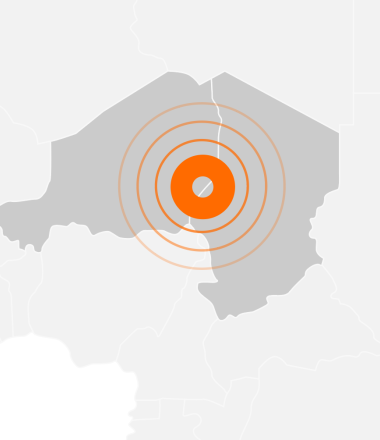 Chad and Niger
Lake Chad Basin Emergency Response
Learn more about how the Lake Chad crisis affects children and what we are doing to help them.
How We Are Helping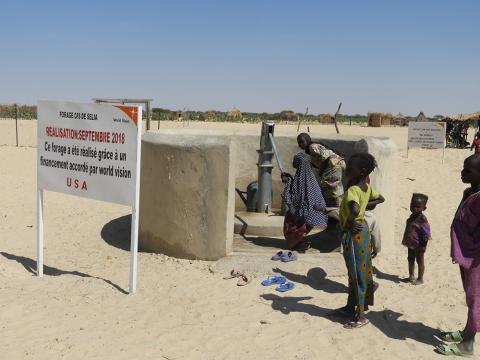 Water, Sanitation and Hygiene (WASH)
The continued influx of people is a burden on the already overstretched Water, Sanitation and Hygiene (WASH) facilities. As a result, access to clean water, proper hygiene and sanitation facilities remain a critical need for those affected by the crisis.
Although most people have access to water from the lake, 81% of the families interviewed by our assessment teams visited lacked access to clean water and many people do not have access to proper hygiene and sanitation facilities. Non-functional latrines and tube wells also need to be decommissioned, rehabilitated or relocated.
To address these needs, World Vision is working with communities to provide facilitates where families (both displaced and host community populations) can access improved drinking water as well as improve hygiene and sanitation conditions.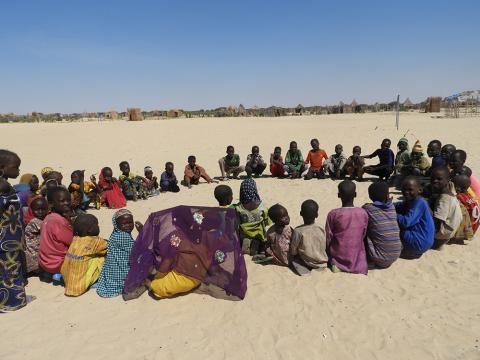 Child Protection and Gender
As in almost every emergency, children are most at risk and affected by the conflict in the Lake Chad Basin. This is especially true for unaccompanied children (children who lost or were separated from their parents during the conflict) and girls.  More than half of school-aged children (58%) are not attending school and child marriage is on the rise. Our teams are working to address these two issues by:
Increasing the access of girls and boys from displaced populations, refugees and indigenous peoples in the target area to safe and supportive environments that provide learning and recreational opportunities, psychosocial support and respect for human rights.

Educating parent and community members of children's rights and the negative and often longterm impacts of harmful behaviours, such as early marriage of girls, child exploitation and domestic violence.

Establishing structures, such as child protection committees, to monitor and report violence against children and adults, including sexual and gender-based violence.