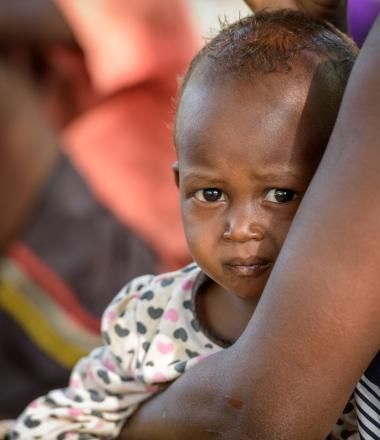 Responding to disasters with urgency
Climatic shocks, conflict and economic instability continue to drive food insecurity in the greater East Africa region with millions of people experiencing acute levels of food insecurity and malnutrition. According to the Intergovernmental Authority on Development (IGAD) and the Food Security Information Network (FSIN), the worst affected countries in 2018 were Ethiopia, Sudan and South Sudan. In Somalia, more than one in five people were acutely food insecure.
Help Now
East Africa Humanitarian Emergencies
Millions of children and their families in East Africa have been left extremely vulnerable due to natural and climate-related disasters. At least 30 million people are facing the threat of hunger and malnutrition, disease and exposure to more violence, exploitation and abuse. Of these, 9 million people have been displaced within their borders as a result of internal conflict in Ethiopia, Somalia, South Sudan and Sudan. 
World Vision is responding to the needs of families in crises across Burundi, Ethiopia, Kenya, Somalia, South Sudan, Sudan, Uganda, Rwanda and Tanzania. 
These lives are on the line, in the absence of funding to enable them meet their short term needs as well as future long-term needs. They are in urgent need of your help.
597,573
people reached with water, sanitation and
691,908
People reached with Food Assistance
244,377
Children supported through Education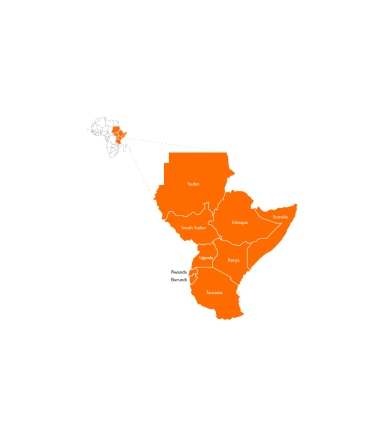 Helping Those in Need
Food Insecurity in East Africa
Some 30 million people are estimated to be in need of humanitarian assistance in East Africa, half of them are in need of nutritional support.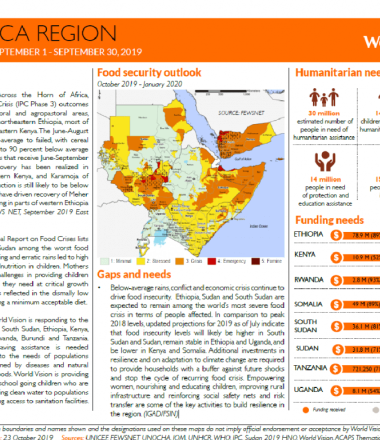 Impact of our Work
Situation Report September 2019
See the impact of our work and the outstanding needs in the most recent situational report from September 2019.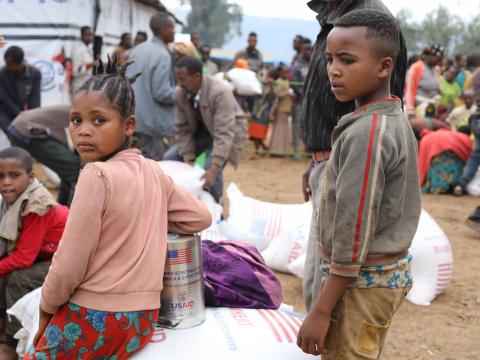 Ethnic clashes and conflict continues to affect children's education and disrupt livelihoods across the East Africa.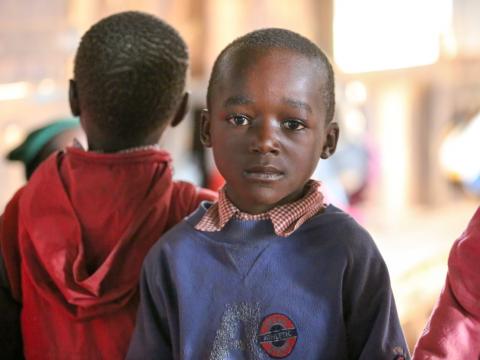 Areas previously affected by drought are hit by flash floods that destroys hundreds of homes, classrooms and businesses across East Africa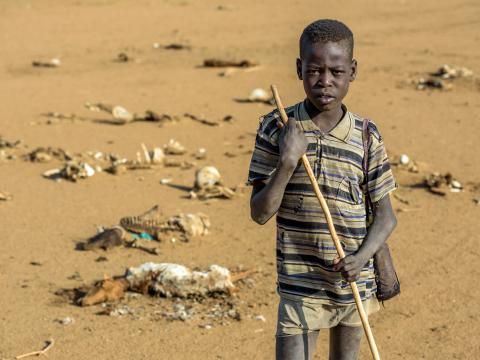 22 million people across East Africa are in crisis due to climate related disasters and conflict.