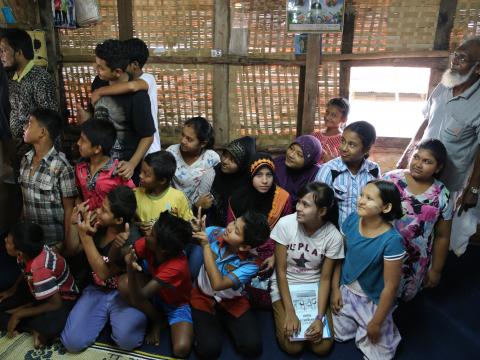 World Vision's anti-trafficking work expands in East Asia
Wednesday, June 14, 2017
Two years ago, a group of six Islamic communities that sit on the edges of Mae Sot - an industrial border town on the Thai side of the Thai-Myanmar frontier – collectively learned about the risks of human trafficking and commercial exploitation through child and youth-focused activities.
Hundreds of thousands of Burmese have crossed the Moei River into Thailand to shelter in this small border town. In 2013, the UN Department of Economics and Social Affairs estimated  more than half of Thailand's 3.7 million migrants were from Myanmar, making them, by far, the country's largest migrant community. The real number is likely much higher, with most undocumented[1]. Separated by 1,800 KM of dense jungle, mountain ranges and rivers, the Thai-Myanmar border provides ample cover to cross illegally between the countries. Those seeking a better life end up spread throughout Thailand, concentrated in industrial hubs where they are often exploited, working long hours for scant wages.
Mae Sot in Thailand's northwest Tak Province is one such place. A number of migrants  (some of whom have been trafficked without their knowledge and against their will) have lost their homes to fires, land mines and forced evictions; others left for Thailand to avoid political oppression and/or find better healthcare, education and employment opportunities. Living in basic shacks made from scavenged materials and with limited access to healthcare and education, youths are easily tempted by promises of better wages to move elsewhere in Thailand.
World Vision's End Trafficking in Persons (ETIP) programme ran from 2011-2016 in six countries in East Asia, reaching such youths and their peers, nearly 100,000 of them.  Mr. Bazar, who prefers to go by his family name, a local leader in Mae Sot, ran a community-learning centre under ETIP that helped adults and young people find ways to protect children, and provided referrals for help with a focus on trafficking. The program taught children and youths the skills and means to protect themselves from exploitation. At the end of five program years, regionally, there was a 17.2% drop in the number of children considered at "high-risk" to trafficking. 
World Vision Foundation of Thailand (WVFT) began implementing the follow-on to ETIP through the End Violence Against Children East Asia programme in Thailand in March 2017. This second phase builds on the expertise of ETIP and expands the focus beyond trafficking to examine multiple types of violence children suffer nationwide.
In Mae Sot, children and youth clubs as well as community groups have been reunited in Bazar's neighbourhood as well as in five other Islamic communities. This time, communities are not only focusing on trafficking, but also domestic violence, drug abuse, education, refuse collection/ sanitation and the impact it has on children being able to play safely.
Building awareness and capacity is one of the core objectives of World Vision's Child Protection Advocacy (CPA) model [http://www.wvi.org/local-advocacy/publication/child-protection-advocacy]. This project is designed to further strengthen children, caregivers, communities, including faith-based organizations, and local government to address violence against children in Mae Sot's most marginalised communities, including the place Mr Bazar has called home for more than 25 years.
- Philip Wilkinson, World Vision Foundation of Thailand Child Protection Coordinator
[1] Supang Chantavanich, Carl Middleton, Michiko Ito, 2013