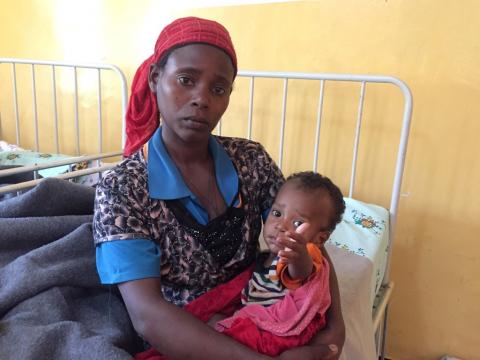 World Vision continues saving lives of thousands of internally displaced people
Friday, February 22, 2019
Since the onset of IDPs crisis in Gedeo zone of the South Nations, Nationalities, and Peoples Region and Guji Oromos in Oromia Regions in April 2018 WVE has been responding through WASH, Livelihoods and Food Security, Health and Nutrition, Education and Protection in order to save lives and ensure subsequent recovery of IDPs and returnees.
WV Ethiopia intervenes in six health centers in Kochere and Gedeb districts as part of the multi-sectoral lifesaving response reaching 46,800 beneficiaries. The response is meant to address the heath, nutrition, and WASH needs of children, pregnant and breast feeding mothers of IDPs, returnees, and host communities.
Berhanesh Abera, 25 is a mother of three. Berhanesh's nine months old baby, Mesfin Abera, was admitted to a stabilization center at Biloya Health Center due to severe malnutrition case six days ago.  "He gets sick frequently. He discharged from this same health center after staying for a month. Now it relapsed again due to lack of sufficient diet," Berhanesh explains with worry.
Mesfin has been receiving medical treatment since his arrival and he is getting better. "Now I am very happy. The health condition of my child is improving due to the care given here by health workers. He is feeling happy as he plays with the dolls here," she adds. 
Though Berhanesh and her baby have daily meal from the health center and her child medicated free of charge, she is longing for immediate discharge from the health center as two of her children left at home without care. "I wish Mesfin's health condition improved quickly so that I can go back home to look for daily labor, care for and feed my children," she continues. 
WV has been providing food aid, medical supplies, and medical professionals to support people like Berhanesh and other returnees who lost their livelihoods base and property due to the conflict.
Most IDPs and returnees in Gedeo have still concern despite aid agencies efforts to rehabilitate. In most parts of Gedeo zone coffee is the major source of income and 'Enset' is the staple food throughout the year. This year's coffee harvest is poor and 'Enset' was demolished during the conflict and it feared that this would exacerbate the situation.  
"Over the last three months there has been a decreasing trend in malnutrition caseload and number of children admitted to stabilization centers due to improvements in food and income as it is a harvest season. But in the coming months the situation will deteriorate due to declining trend in food supply and household income," says Abiyot Eyeto medical director of Biloya Health Center calling upon WV and other aid agencies to make a close follow up of the situation.
Photo and story by: Kebede Gizachew