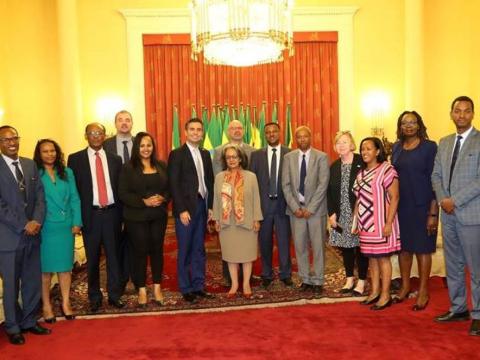 World Vision USA President pays a visit to Ethiopia
Monday, December 10, 2018
World Vision USA president Edgar Sandoval and Senior Vice President Margaret Schuler along with National Director of World Vision Ethiopia, Edward Brown, visited hundreds of internally displaced peoples (IDPs) and returnees in Yirgachefe woreda of the Gedeo Zone in South Nations, Nationalities, and Peoples Region from 4-7 December 2018.
The delegate also met President of Ethiopia H.E. Sahlework Zewdie and H.E. Prime Minister Abiy Ahmed at the National Palace to discuss various ongoing development works undertaken by World Vision in different parts of Ethiopia.
World Vision US President Mr. Edgar Sandoval, Mrs. Margaret Schuler Senior Vice President, and WV Ethiopia National Director Mr. Edward Brown with returnee students in a makeshift tent at Chiriku locality in Gedeo Zone.
The delegate visited WV's emergency response and rehabilitation efforts including food distribution sites, health facilities and reconstruction of damaged houses in different parts of Gedeo Zone and directly talked to affected children, families, and students learning in plastic tents.
"I am very impressed with the way WV Ethiopia is integrating and leveraging all resources to make the most impact for Ethiopian children. This is really the most organized response I have ever seen where food is distributed to beneficiaries using digitized technology," said Edgar Sandoval President and CEO of WVUS.
According to the president, the response is well progressing while meeting the immediate needs of affected families and children. "The good news is there are no malnourished children in the stabilization center because of all the great works WV is doing. WV Ethiopia staff are committed to teaching pregnant, expected, and breastfeeding mothers how to prepare food and feed children, and have a proper care to children," Mr. Sandoval added.
Over the last one year, WV has benefitted 1.6 million drought-affected people and IDPs through WASH, livelihood and food security, health and nutrition, education, and protection in addition to food assistance to 494,882 IDPs.